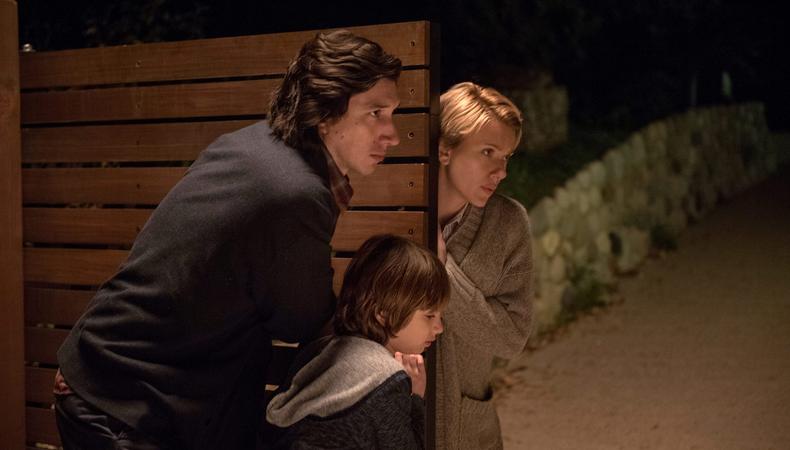 Want the inside scoop on all things awards? Welcome to Letter From the Awards Editor, our weekly series where Backstage's Jack Smart takes a look at the latest film and television news, industry trends, and awards projections that matter to today's working actor.
Dear Backstage reader,
Not long after I wept, uncaffeinated, through a 9 a.m. screening of "Marriage Story" at the Toronto International Film Festival, Backstage's senior editor Benjamin Lindsay asked me a question on every industry insider's mind these days: "Does it say something bigger? Or is it just the story of a marriage?"
Noah Baumbach's Netflix drama starring Adam Driver and Scarlett Johannson as a couple undergoing divorce on opposite coasts is absolutely a contender in the 2019–20 film and guilds awards season, and not just because of the A-list names attached. Its characters feel authentic and specific, it reaches emotional extremes while maintaining tonal coherence, and it features a Stephen Sondheim ballad so devastating that it ties with Lupita Nyong'o's alarming, darting movements in Jordan Peele's "Us" as my most unforgettable cinematic moment from this year.
Yet to answer Ben's question, I would argue, it is indeed the story of one marriage. It doesn't include anything about our current political climate, or want to preach some message about tolerance and identity politics writ large. That's not to say it doesn't resonate; whether or not you're a child of divorce, something about love or loss or being bicoastal-curious in "Marriage Story" will undoubtedly connect with audiences. But because Hollywood's tastemakers—particularly their climactic, final accolade, the Oscar for best picture—tend to crown stories that "say something bigger," implying something more universal or relevant to our times, a winning film may need to have more than just a specific, well-made narrative.
An Earlier Oscars Mean a Crazier-Than-Usual Awards Season
The Academy's best picture prize has always been both the pinnacle of and natural conclusion to awards season, so let's treat it like the cultural bellwether of prestige that it is. The New York Times did an interesting breakdown of "political" versus "apolitical" Oscar-nominated movies throughout history, which suggests Hollywood has always rewarded both crowd-pleasers and political or even preachy stories, with the latter earning the top prize more and more recently. The distinction I'm making, however, has less to do with strictly politics than with the subject matter's epicness versus intimacy, escapism versus realism, even highbrow versus lowbrow. Of course every film contains all of the above, but is there an exact formula combining those elements that results in a winner?
Let's look to recent best picture contenders. Last year's "Green Book," a buddy comedy about a black musician and his white driver navigating racial stereotypes and prejudice in the 1960s Deep South, fell somewhere between, and ended up prevailing over, what was considered two extremes: politically charged or stylistically edgier drama ("BlackKklansman," "Vice," "Roma," "The Favourite") and lighter fare more concerned with entertainment than with history ("A Star Is Born," "Bohemian Rhapsody").
(Groundbreaking Oscar winner "Black Panther," a politically engaged crowd-pleaser with its own dash of genre conventions, became part of the ongoing question of where blockbusters, and particularly superhero flicks, fit into prestige cinema. That, of course, is the subject of another letter.)
The year before, the narrative seemed to be younger, more progressive indies ("Lady Bird," "Get Out") versus more "establishment" epics ("Dunkirk," "Darkest Hour"). Perhaps splitting the difference, Guillermo Del Toro's gentle fantasy romance "The Shape of Water" emerged victorious over "Three Billboards Outside Ebbing, Missouri," which had looked promising with three SAG Award wins; maybe the lesson there was Oscar voters want their champion's politics to be tame subtext, less in-your-face. As the Daily Beasts's Cassie Da Costa puts it, the Oscars "are about achieving, by whatever means necessary, an incoherent American mythology of politically moderate greatness."
Letter From the Awards Editor: Welcome to Awards Season!
It's the year before that people point to as a real turning point for what's considered "best" picture material. "Moonlight" clinched the ceremony's big prize (after shoo-in "La La Land" had been mistakenly crowned) over more traditional films with much bigger budgets. Is Barry Jenkins' portrait of a gay black boy grand in its scope, proclaiming something overtly political? No, in fact its delicacy and specificity puts it more in the territory of something like "Marriage Story." But where it differs matters—not just because it featured an all-black cast, after two years of the #OscarsSoWhite controversy. Its victory suggested a larger message, from the Academy and by extension Hollywood, that portraits of gay black boys can be valued and considered universal. (Was it also that year's best film? Bias alert: It's the decade's best film.)
So how to campaign for 2019's awards? Judging by these recent trends, a film worthy of little gold men must be intimate, with maybe only a few characters, but vast in its resonance, seen by many. It must "say something"—but not too loudly. It must be just progressive enough, in style and substance, to suggest an industry and culture's forward progress.
You'll see studios and publicists start to hone the narratives around their films, pulling at levers to hit that exact sweet spot. Don't be surprised if you see flashy box office hits ("Avengers: Endgame," "Hustlers," "Us," "Joker") highlight their more dramatic material or point out deeper meanings. Projects from veteran filmmakers ("Once Upon a Time in Hollywood," "The Irishman," "Pain & Glory") might flesh out their innovations. Films helmed by non-white or non-male auteurs ("Little Women," "The Farewell," "A Beautiful Day in the Neighborhood," "Just Mercy," "Parasite") could leverage the narrative that Hollywood isn't all white men.
Edgy yet familiar, substantial yet entertaining, speaking to both a widely universal experience and a distinct one—no film's story could check all the boxes of what Hollywood, and by extension our society, wants to say about itself. But I'll tell you who the 2020 Best Picture Oscar winner will be: the film that checks the most of those boxes.
May the best picture win,
Jack
Some More Smart Stuff:
Backstage's editorial team has been hard at work putting together longform pieces on what we consider to be the top contenders for the SAG Awards' outstanding performance by a cast in a motion picture prize (the guild's equivalent to the Oscar for best picture).

Check those out

as they publish over the next month!

Dreaming of campaigning for an award of your own? Let our Experts provide all the career advice you could need. Brush up on the publicity terms you'll need to know

right here

.

This week's special

Directors Issue

of Backstage features longtime collaborators Pedro Almodóvar Antonio Banderas talking process, partnership, and their very personal awards contender "Pain & Glory."

Up next in awards world: the Film Independent Spirit Award nominations will be announced Nov. 21 by Natasha Lyonne and Zazie Beetz. Expect a glimpse into which American films made for under $22.5 million will be in the running overall. If you'd like to vote for your favorite indies in the Spirit Awards, consider

becoming a Film Independent member

(like yours truly)!