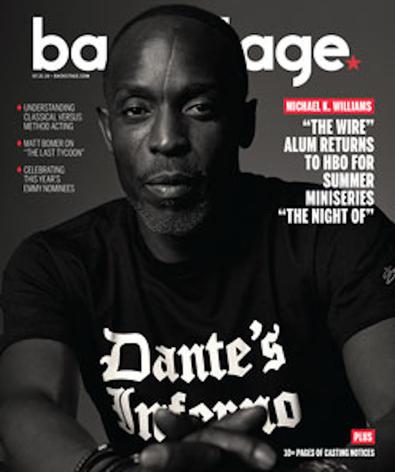 Michael K. Williams is at a point in his career where every role resonates on a personal level. Given the brutal subject matter of HBO's "The Wire," "Boardwalk Empire," and "Bessie," that's not necessarily a good thing—and he's the first to admit it.
"There's a little bit of me or my life in all of my characters," says the actor. "And these past few jobs, it's almost like free therapy!" Williams built Chalky White, the calmly violent racketeer of "Boardwalk," around the personalities of several deceased men in his family. "Bessie" reunited him with childhood friend Dana Owens, aka Queen Latifah, and had the two playing a couple eerily similar to Williams' parents. Even when starring in the quirkier "The Spoils Before Dying" on IFC and "Hap and Leonard" on SundanceTV, Williams sees his own life staring up at him from the page.
READ: "Why Queen Latifah Waited 20 Years to Make 'Bessie' "
"The flame is getting closer and closer to me," he says with a grin. "Like the universe wants me to look at some things in my personal life."
If that means more nuanced portrayals of some of the most magnetic figures on television, we have Williams' personal life to thank. Born and raised in East Brooklyn to a South Carolinian father and Bahamian mother, Williams remembers himself as a "misfit" and a "goof." "I just wanted to wake up one day and find out it was a dream and that my real last name was Jackson," he jokes. "We've got the same first name! I'll wear my mother's Afro wig and no one will know! I couldn't explain what it was, but I knew at an early age when I saw Michael Jackson, I could do what he was doing on some level."
By the time he saw Janet Jackson's "Rhythm Nation" video in 1989, Williams couldn't resist his calling anymore. He started doing backup dancing, a line of work that eventually led to music videos with Madonna, Taylor Dayne, and countless others. ("If the song moves me, I'll still do music videos today," Williams says. "It's music and acting: both my worlds.") He later took the stage in productions at La MaMa Experimental Theatre Club and the National Black Theatre Company, and used Backstage casting notices to audition for commercials and modeling gigs.
"In New York City you did it all," he remembers. "My three things were modeling, dancing, and acting.... You stayed in the city until you were beat tired. You went on auditions and met people and networked. You soaked up the energy. I lived in Backstage."
But when a drunken altercation on Williams' 25th birthday led to a scar running from forehead to cheek—"split the fuck open," as he puts it—he was sure he'd never act again.
"I thought I was screwed," he says. Rather than wallow in his misfortune, Williams invented explanations for the scar—a car accident, tribal markings—and kept working. "I dove into my dancing, told myself my modeling career was over. [There was] no room in my life for trauma, not in the community I grew up in. You gotta rock and roll, get your thick skin on."
As it turned out, the scar was just the beginning of his career. Photographers including David LaChapelle and James Minchin III asked him to model for them; before long, he was playing thugs in music videos. One of his first acting roles came about because Tupac Shakur saw a Polaroid of Williams and cast him in the 1996 feature film "Bullet." "It's the craziest story," he says sheepishly. "My complexion was horrible, I'm like a dot in a Polaroid. But he saw the scar."
Not long afterward, he got the kind of affirmation most actors dream of: Martin Scorsese asked Williams to read for a part in "Bringing Out the Dead," proclaiming after the audition, " 'Give him the part he wants! You're a damn good actor!' He said that in the room, and I remember my armpits felt like Niagara Falls," laughs Williams. "That was 1998, the moment I hung my dancing shoes up. If Marty says it, it must be gospel."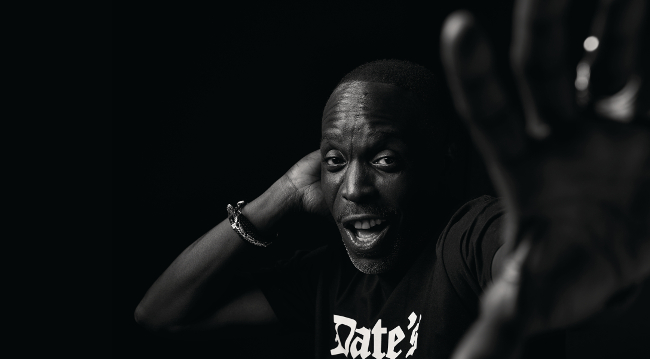 Williams has played his share of gangsters and thugs, but if there's a common thread to his work, it's that he somehow avoids or transcends stereotype. Growing up in the projects in Brooklyn, he says, equipped him with a nuanced understanding of the black experience in ways Hollywood and the media don't usually reach. "Just because two guys may live in the same building, in the same neighborhood, may be felons or even have gone to jail for the same damn crime, it doesn't mean they're the same person," he says. "I have an arsenal of so many beautiful personalities I grew up with. People who are beautifully flawed, who make bad mistakes."
One personality provided Williams the inspiration he needed to play Freddy, the unusually powerful Rikers Island inmate in HBO's new miniseries "The Night Of." Created by Richard Price and Steven Zaillian, the character is introduced in the third installment as a potential ally to Riz Ahmed's Nasir, a wide-eyed, Pakistani-American student who's been charged with murder. Freddy's influence at the prison is terrifyingly vast, another symptom of the flawed American penitentiary system that Price and Zaillian's story illustrates so vividly—and so convincingly.
The intelligence and protectiveness in Williams' portrayal, however, came from a family member serving time. "Unfortunately I didn't have to go far to research Freddy. My nephew...at 19 defended his twin brother against a mob that he was being jumped by and accidentally murdered someone in the gang. Twenty years later he's growing up in prison.
"But the strength I drew from him is from the man he became," says Williams. "I hope to have 10 percent of that in me. He's a model prisoner, never got in one bit of trouble.... With all that goodness, he managed to keep the respect you need to survive in jail. I've been around enough to know," he adds, "it's not Disneyland."
Nasir's journey in "The Night Of" focuses more on the nitty-gritty of police, lawyers, and criminals than on the question of his guilt. "We never know if he did it or not, but the sad part is, it doesn't even matter," Williams points out. How often does the notion of "innocent until proven guilty" fail people—disproportionately poor people of color—in the U.S. judicial process? "It's real. We've seen it time and time again play out in the news."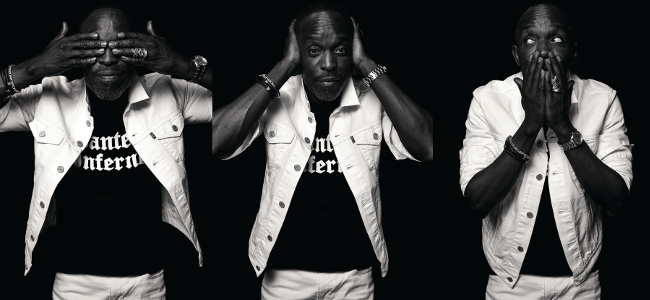 Williams is tackling such real-world issues head-on in his documentary series "Black Market," a project pitched to him by Spike Jonze, creative director of the new TV channel Viceland. "When the system fails you, you create your own system," explains Williams. The series treats those systems with empathy; Williams holds intimate interviews with poachers in South Africa and carjackers in New Jersey. "I'm going around the world and learning how people are living, surviving, falling through the cracks."
It's the latest in a series of efforts that prove the actor is unafraid of shedding light on tough subjects—and bringing his personal experiences to the table. "It's my goal to do one of two things, or both," he says. "To be a silver lining in [audiences'] clouds, maybe make their lives better, or, if I can't do that, then at least start the conversation." But how does an actor connect strongly with people, both real and fictional, while keeping his sanity intact? How does Williams empathize so beautifully with pain and then move on?
Because of "The Wire," and the role that made him famous, Williams says. "I grew up on 'The Wire.' I had no fucking clue what I had done with the tools I used to breathe life into Omar, but it backfired on me."
Omar Little, the quietly intimidating, profanity-averse, gay Robin Hood of David Simon's depiction of Baltimore's drug wars, was so iconic, he swallowed up the actor playing him. Williams says he envied Omar's nonchalance—"Here's this character who doesn't like fancy clothes, cars, homes, who is openly gay and walks the streets and robs the most notorious drug dealers? I was like, This is my Superman suit!"—and relished the newfound attention from fans. But they were praising the character, he says, not him.
"I decided to hide behind Omar and use him; it became an alter ego. I wasn't running around with lover in tow, robbing people! But the darkness, the psyche, I definitely wore that. I knew how to do the work, I just didn't know I was going that deep."
By the time Williams had helped make "The Wire" a game-changer for prestige TV, he was broke, living back in the projects, and using drugs. "When the show and the character ended I had no tools, no self-esteem," he says, adding that the experience humbled and prepared him for those later, equally intense roles. "Now I know how to wash those characters off—personal persona, professional persona."
Take it from the master: The best way to leave pain and beauty on the screen, to harness empathy without letting it ruin you, is to know who you are. "I have a healthier mindset about myself as a human being," Williams says. For actors who want the same, he advises, "Learn to like yourself a little bit more, so you don't fall so deeply in love with these characters that you don't want to go back into your own, dumb life."
Check out more great acting advice from our Backstage covers here!