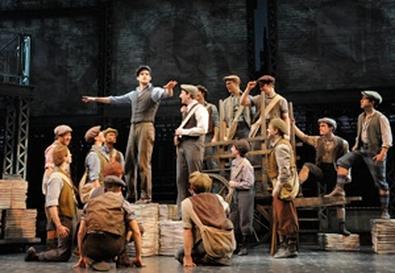 Disney Theatrical Productions has announced upcoming casting calls for union and nonunion actors, dancers, and singers to be potential replacements for the Broadway cast of "Newsies." Casting director Justin Huff of Telsey + Company is holding auditions in New York in July, and is also accepting video auditions for certain roles.

Equity principal auditions will be held Monday, July 9 for principal roles including teen newsboys Jack, Davey, and Les, newspaper publisher Joseph Pulitzer, strong-willed young lady Katherine Plumber, and more. Equity chorus calls for male and female singers will be held Tuesday, July 10, and Equity chorus calls for male and female dancers will be held Friday, July 13. Child actors auditioning for Les may also attend the chorus call for male singers on July 10. According to Actors' Equity, non-Equity performers will not be seen at these union-only calls.

However, open auditions for both Equity and nonunion male ensemble dancers will be held Saturday, July 14. Performers at this call should be strong, technically trained dancers who can play ages 16-22 and have a knack for physicality. Many of the dancers should also tap and sing very well, to possibly understudy principal roles.

For more information and audition details, view the full casting notices online at BackStage.com. (Subscription required.) Most characters are between 16-22 years old, but there are also roles available for younger children and older adults. Casting personnel state, "We encourage performers of all cultural backgrounds to attend." An effort will be made to see all actors who attend, but time may not permit all performers to audition.

Male actors who cannot attend or are not seen at these in-person auditions may submit a video audition, to be considered as a standby for the lead role of Jack Kelly or to cover the onstage newsboy ensemble. For more information and to upload your video submission, follow the instructions on BackStage.com or visit www.newsiesthemusical.com. According to casting personnel, "Auditioning in person is always preferable over video auditions."

Inspired by the real-life newsboy strike of 1899 and set in New York City at the turn of the century, "Newsies" follows Jack Kelly, a charismatic newsboy and leader of a ragged band of teenaged "newsies," who dreams of a better life far from the hardship of the streets. But when publishing titans Joseph Pulitzer and William Randolph Hearst raise distribution prices at the newsboys' expense, Jack finds a cause to fight for and rallies newsies from across the city to strike for what's right.

"Newsies" is currently running on Broadway at the Nederlander Theatre.