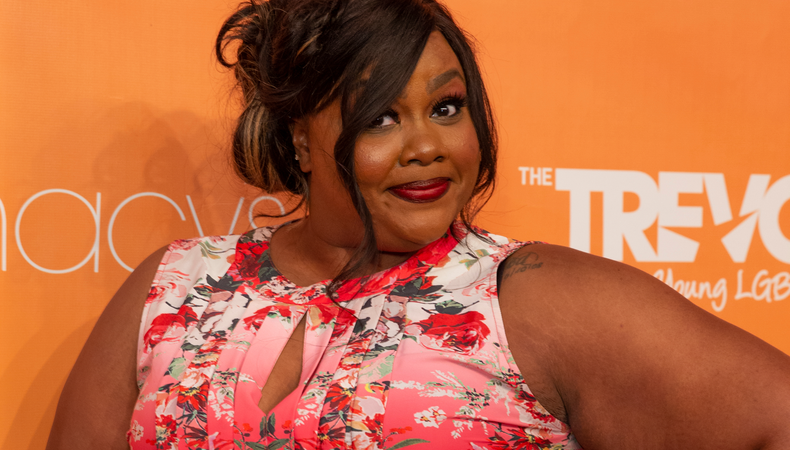 "In the Envelope: The Actor's Podcast" features intimate, in-depth conversations with today's most noteworthy film, television, and theater actors and creators. Full of both know-how and inspiration, "In the Envelope" airs weekly to cover everything from practical advice on navigating the industry, to how your favorite projects are made, to personal stories of success and failure alike. Join host and Awards Editor Jack Smart for this guide on how to live the creative life from those who are doing it every day.
Hollywood, as Nicole Byer aptly describes it, is "a very weird industry to navigate." The actor-writer-comedian knows a thing or two about pounding the pavement in the biz—until you're established enough that you no longer need to. Byer's ultimate advice to fellow artists is simple: "Play the game so you don't have to play the game.
"To get to mile one, it might take three years," she says of the winding journey toward success. "But at mile one, it might be a really cool job that you didn't think you were going to get. Then maybe getting to mile two takes three days. Then mile four is another three years." What Byer is always telling herself, and what other performers should remember, is to be in it for the long haul. "I don't plan on retiring anytime soon," she says with a laugh. "I hope to be doing comedy and acting until I'm in a bed and almost dead and I'm like, 'Let me just get one more take!' Because I love it."
Byer's hard work is paying off: She's hosting the 2020 Creative Arts Emmy Awards, and made history as the first Black woman ever Emmy-nominated for outstanding host of a reality program, for her work on Netflix's baking competition hit "Nailed It!" "Winning an award would be a dream come true," she says. "Anybody who says otherwise is lying." She's also sure she'll lose to the category's recurring winner, RuPaul: "A vote for me is a vote for Jill Stein in 2016."
Her series, which she calls "the silliest thing you've ever seen," is a prime example of what great hosting entails. Contestants on "Nailed It!" are the most amateurish of amateur bakers, but Byer and head judge Jacques Torres always avoid mean-spiritedness and read the room when giving critiques. "This person's face is telling me if I 'tee-hee-hee,' they may start 'boo-hoo-hoo'-ing. It's finding the balance."
Born in New Jersey with early dreams of superstardom, Byer trained at the American Musical and Dramatic Academy and Upright Citizens Brigade in New York City before moving to Los Angeles and participating in the CBS Diversity Showcase. Her comedy career kicked into high gear when she booked MTV's "Girl Code," becoming one of the show's most popular commentators. She's since written on UCB series and acted on "Pursuit of Sexiness," "Party Over Here," "Loosely Exactly Nicole," and in guest and voiceover TV roles, including recently on "The Good Place" and "Tuca & Bertie." This year Byer released her book, "#VERYFAT #VERYBRAVE: The Fat Girl's Guide to Being #Brave and Not a Dejected, Melancholy, Down-in-the-Dumps Weeping Fat Girl in a Bikini," and continues to be a prolific podcaster, hosting Earwolf's "Best Friends" with Sasheer Zamata and Headgum's hit "Why Won't You Date Me?" and "Newcomers" with Lauren Lapkus. Next up, she's hosting TBS' "Wipeout" reboot with John Cena.
"If I make it fun for me, hopefully it's fun for you to listen to," Byer says of her podcasting work. "My advice is to get into it. There's something for everybody.... If you tweet it enough, somebody will find it. Everybody starts at zero." As both a host and guest on other podcasts, Byer has also found ways to expand her stand-up comedy using material from her conversations on the air.
A key piece of advice for performers? Ask for the pay you feel you deserve. "If they offered you $10 that means they probably have $20 to give you," says Byer. "Ask for $20. You can settle on $15, $16, $17, $18, which is more than the $10 they offered you. Also, if you're a woman, find out how much your male co-star is making. You should be making the same thing if you were doing the same amount of work."
That goes for any artist, beginner or industry veteran. "You earned your place at the table so ask to be paid adequately," Byer recommends. "If you didn't earn it, it would have gone to somebody else. If they didn't want you, it would have gone to somebody else. So ask for the money that you deserve." In fact, don't accept disrespect of any kind, she says; the entertainment industry is still run by a vast majority of straight white men, making success for actors from various minority groups an uphill battle. Byer's 2013 UCB Comedy sketch "Be Blacker" was based on her real-life experiences in audition rooms, being asked to act out Black stereotypes.
Knowing what to accept and what to say no to is part of the working performer's job description. And although everyone in the biz is on their own path, Byer reminds "In the Envelope" listeners things will work out. "There's no need to feel like you're in competition," she says. "There's room for everybody." To hear her interview, tune in at any of the links below.
Listen now on:
Looking for remote work? Backstage has got you covered! Click here for auditions you can do from home!