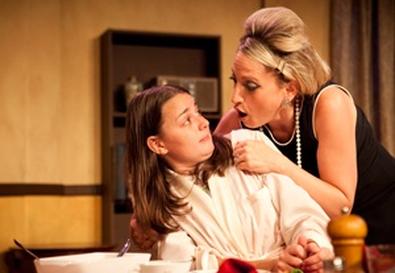 A playwright's first produced work after a tremendous hit usually suffers an ignominious fate based on unreasonable expectations. If the follow-up piece is not as brilliant as its predecessor, it's unfairly criticized, even if it's halfway decent. Paul Zindel's "And Miss Reardon Drinks a Little" opened on Broadway in 1971 just a year after his "The Effect of Gamma Rays on Man-in-the-Moon Marigolds" took Off-Broadway by storm, winning every possible prize, including the Pulitzer, and making a star out of leading lady Sada Thompson. "Reardon" lacks a strong central figure like the one played by Thompson in "Marigolds," and the writing is not as heartfelt or complex. The play closed after 108 performances, though Estelle Parsons received a Tony nomination, and Rae Allen won the award for her supporting role.
"Miss Reardon" is rarely done, despite four juicy female roles, some genuinely funny dialogue, and dramatic pyrotechnics such as a gunshot and a food fight. Unfortunately, these fireworks feel forced, and Zindel telegraphs them long before they explode, so their impact is minimal. The new Long View Theater deserves credit for making such an unusual choice for its first Equity showcase production. Too bad director Jeff Woodbridge and his earnest company aren't quite able to overcome the play's flaws.
"Marigolds" focuses on the psychological damage wreaked by a domineering mother on her two teenage daughters, and "Miss Reardon" takes on the same basic premise. The malevolent matriarch of the three Reardon sisters has recently died, and the adult siblings, who all work in the crumbling Staten Island school system, are coping with the wreckage she has left. Eldest sister Ceil, as no-nonsense and take-charge as her mother, has left the family apartment to marry and bury herself in a prestigious administrative job. (The father left long ago, when the sisters were children.)
The abrasive, foulmouthed Catherine (originated by Parsons) drowns her romantic disappointment in pitchers of Manhattans. She is the tippling woman of the title, and Ceil's husband is Catherine's former boyfriend. Worst off is the baby, sensitive Anna, who is undergoing a nervous breakdown after convincing herself that she has rabies and, Blanche DuBois
–
like, indulging in an affair with one of her male students.
The fourth plum part is Fleur Stein, an overbearing guidance counselor at the school where Catherine and Anna teach. This is the role for which Allen won a Tony, and it's clear that with the right actor, this deliriously flashy and obnoxious nudge could be the highlight of the show.
Woodbridge has compressed the play's three acts into one, and the show runs a fast 90 minutes. His staging and the acting are passable but fail to rise above sitcom or melodramatic levels. Molly Lovell comes closest to approximating human connection, subtly conveying Catherine's biting humor and the broken heart it conceals. Elizabeth Belonzi establishes Ceil's rigid facade but doesn't show us her lonely interior. Julia Giolzetti displays Anna's mischievous spark but only in flashes. Deanna Henson, as Fleur, and Isaac Platizky, as her lowbrow husband, Bob, don't get past the stereotype stage. The set design by John Cooper makes efficient use of the tiny Shell Theater space.
This is a basic, workmanlike production from a first-time company with some promise. Here's hoping it makes a stronger pick next time at bat.
Presented by Long View Theater at the Shell Theater, 300 W. 43rd St., 4th floor, NYC. June 24–July 8. Wed.–Sat., 7:30 p.m.; Sun., 3 p.m. (212) 868-4444 or www.smarttix.com.