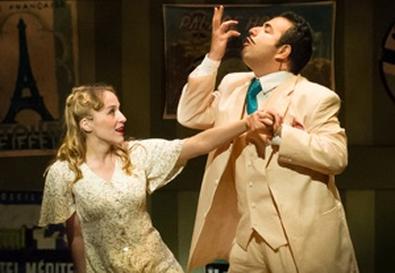 When I saw the American premiere of "Nymph Errant" in 1982 at the much-missed Equity Library Theatre, this "lost" Cole Porter musical—a 1933 vehicle for the English star Gertrude Lawrence that played the West End for five months but never got to Broadway—proved to be a surprisingly diverting lark of overwhelming Englishness and musical-comedy arbitrariness. An amber-bound period piece, it was clearly never going to be anything more than what it was. The Porter estate, however, seems to think differently. A campy 1999 revision of Romney Brent's witty but wordy original book played the Chichester Festival in England, and now we have Rob Urbinati's misguided attempt to introduce a Rodgers and Hammerstein aesthetic into this antic, "Candide"-like work. Combined with Will Pomerantz's flatfooted direction and choreography, the resulting Prospect Theater Company production doesn't fly.

Based on a novel by James Laver, the picaresque story follows the adventures of English lass Evangeline Edwards, who has just "finished being finished" at a girls' academy in Lausanne, Switzerland. Inspired by her teacher, Miss Pratt, in one of Porter's wonderfully insouciant ditties, to "Experiment," she allows herself to be waylaid on her journey home by a series of increasingly improbable men, beginning with André de Croissant, impresario of the Folies de Paree, who wants to make her a star.

In turn she becomes involved with a depressive Russian composer, a moralistic German nudist, an impoverished Italian count, a Greek carpet magnate, and a fashion-loving Turkish warrior, who ends up selling her into a sultan's harem. Through it all she somehow manages to retain her virginity, much to her chagrin. Freed by an American plumber, she makes her way back to Paris and eventually home, still frustratingly unsullied, to her genteel Aunt Ermyntrude, taking up across the class gulf with the family gardener as the curtain descends. During her travels she regularly meets up in absurdly coincidental fashion with various school chums and even Miss Pratt.

"Nymph Errant" is steeped in a high comic style that's as dead as the dodo today, but Urbinati finds no contemporary equivalent to replace it. Instead, he substitutes more-obvious jokes and romantic corn, the latter in the form of Oliver, Evangeline's pining boyfriend back home, who wanders around glumly singing "Dizzy Baby," imported for him from Porter's 1928 hit "Paris." The addition of Oliver is particularly distressing because it undoes the one thing for which the show remains notable: its transgressive lionization of female sexual empowerment.

Porter was fond of telling interviewers that he considered the score to "Nymph Errant" his best. It's not, but it is a strong one. Unfortunately, the mostly young cast of 10 haven't the sophistication to deliver it, and their attractive enthusiasm can't disguise their shortcomings, which also include inconsistent accents and pitchy singing. They're not helped by Pomerantz's choreography, which is really for the most part just musical staging. His work is overly literal ("The Physician," a saucy gem, should never be burdened by the presence of one) and full of effortful comic devices devoid of the sharpness necessary either to get laughs or firmly button a song. As for his direction, I can only say how much I felt for poor Jennifer Blood, as Evangeline, when she was required to deliver the simple charm song "It's Bad for Me" with busy, inorganic acting choices as if it were the bench scene in "Carousel." At least Broadway vet Cady Huffman gives "The Cocotte" a game go, and Abe Goldfarb proves that he understands the importance of stylization in comedy.

Frederick Alden Terry's orchestrations and arrangements occasionally sound more '40s than '30s, but he gets some pleasant sounds out of the five-piece band. Whitney Locher provides visual punch with an array of colorful costumes.

I greatly admired Pomerantz's work on the expressionist musical "The Blue Flower," so I was unprepared to find him so out of his element here. Everybody makes mistakes, and surely he'll bounce back. But "Nymph Errant" is a mistake.

Presented by Prospect Theater Company at the Clurman Theatre, 410 W. 42nd St., NYC. July 13–29. Tue. and Wed., 7:30 p.m.; Thu.–Sat., 8 p.m.; Wed. and Sun., 3 p.m. (Additional performance Sat., July 21, 3 p.m.) (212) 239-6200, (800) 432-7250, or www.telecharge.com. Casting by Jason Najjoum.