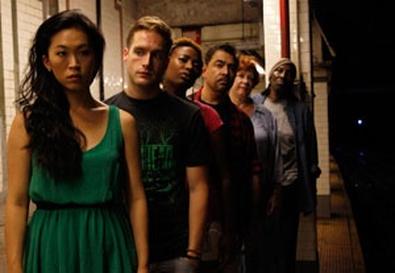 Every New Yorker knows what it feels like to be trapped on the subway: the frustration at being late, the pressure to make small talk with neighbors, the broken air conditioning, the fury at the MTA, the waves of panic and claustrophobia. Author Riley Thomas glazes over all of these stereotypically New York issues as he navigates other clichés of the racial and cultural kind in "Stuck," an emotionally draining, somewhat pleasing musical about human interaction that's part of the New York Musical Theatre Festival.
Six people are trapped in a subway car for unknown reasons, as is usually the case with the MTA. A homeless man, an illegal immigrant, an older religious woman, a young Korean woman, an apathetic hipster, and a young black woman stand around awkwardly, until the silence is too intense and they must converse. In this "ugly screaming melting pot of all the human race"—where it actually felt as if I was melting, as the theater wasn't air conditioned—each character has secrets, from a handicapped family member to being adopted to the death of a child to a pregnancy. The characters connect in ways that people in New York often don't, and Thomas, the show's book writer, lyricist, and composer, attempts to expose the humanity that lurks within this urban jungle.
Thomas' score is pleasing to listen to, and though the story may not successfully break down the stereotypes associated with the characters, the actors showcase their humanity well. Sometimes an emotional ballad sung by a talented performer is all you need to connect to an audience. ("That Was The Way," a song about remembering your family, was enough to get this New Yorker's tear ducts open.) Beth McVey disappears behind the sadness of Sue in her song "Breathe," despite the repetitive refrains. Danny Bolero inhabits the struggle of a working father in "Mas Que Bastante," though the song sounds scarily familiar to "Inùtil," from "In the Heights," which Bolero sang when he played Kevin on the show's first national tour.
Alicia doesn't get the same character showcase that the others do, singing instead about what's wrong with illegal immigration. Alicia's arc would be more solid if she explored her background as an adopted child or expressed her feelings as a confused 20-something, two things EJ Zimmerman harnesses in her performance. Mel Johnson Jr. stands out in the cast as Lloyd, a homeless man who quotes Shakespeare instead of begging for money, while Tim Young is appropriately full of angst as hipster Caleb. Anita Welch's Eve vacillates between stubbornness and vulnerability, and her singing voice and depth as an actor are impressive.
Director Michael Berry overstages the production, as the actors regularly move two subway benches to different stage positions. In many of them the set pieces block the view for some of the audience, and the movements are distracting. A simple fixed set would have worked better.
Ultimately, "Stuck" doesn't seem a likely candidate for expansion beyond NYMF. If you want to watch a more pertinent piece about cultural misconceptions, see "Clybourne Park."
Presented by Dark Prophet Productions as part of the New York Musical Theatre Festival at the 45th Street Theater, 354 W. 45th St., NYC. Remaining performances: Wed., July 18, 8 p.m.; Sun., July 22, 8 p.m. (212) 352-3101, (866) 811-4111, or www.nymf.org. Casting by Michael Cassara.