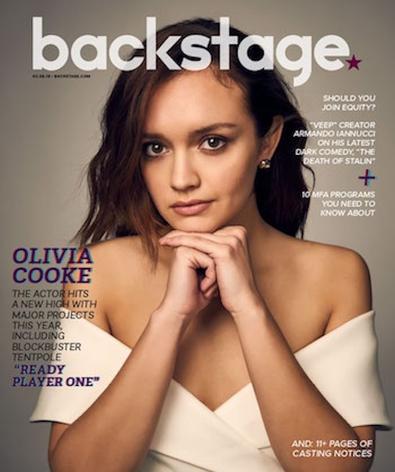 Four years ago, those following Olivia Cooke's career might have thought she was verging on being typecast. The British actor hit the U.S. market at 18 with a turn on the quasi-"Psycho" prequel "Bates Motel" as Emma, the dark show's shot of empathy offsetting a deranged family dynamic. Even in a supporting role, Cooke was touted as the show's most underutilized asset and rode the series' disquieting tone into castings in horror films "The Quiet Ones" and "The Signal." Within a couple of years, she'd built a "scream queen" reputation that landed her her first lead in a feature with 2014's "Ouija." She was a genre star on the rise.
Looking back, Cooke can pinpoint the exact shift that took her career beyond what her résumé credits suggested was possible. " '[Me and Earl and the] Dying Girl'—that was a choice. That was something that was thoughtful," she says of her breakout performance in the 2015 Sundance hit. At the time, Hollywood seemed full up on "teen cancer dramas" ("The Fault in Our Stars" and "Endless Love" had premiered the year prior), but Cooke received raves as a high school senior who, after being diagnosed with leukemia, develops a deeply loving but platonic relationship with a pair of novice filmmakers.
Until fairly recently, she admits, she'd gravitated toward that sort of sentimental character. "The elements of myself that I was able to give [to those emotional roles]...was something I could offer up really easily. The friendships that were built around that story, that was something where I could easily become that version of myself."
As an actor, Cooke has no formal training (she auditioned for RADA and made it to the final round), instead using the parts she plays as training grounds. Now, she's ready to up the ante and play the other side of the coin—in the form of a borderline psychopathic teen named Amanda.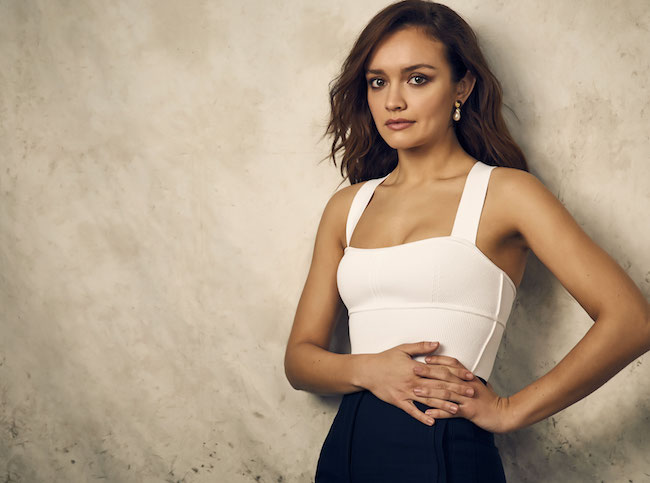 Her character in the forthcoming Sundance hit "Thoroughbreds" is so devoid of feeling that she's learned to mimic others' emotional responses so as not to raise suspicions. Out March 9, the noir reinvents the femme fatale trope for a new generation as it follows estranged childhood friends Amanda and Lily (Anya Taylor-Joy, "The Witch") who, after a contrived reunion, hatch a plan to murder Lily's stepfather. As they begin to develop an adult sense of ethics, Amanda and Lily face off like opposing reflections of a privileged upbringing; as a primped-to-the-nines boarding school brat who looks like she uses "vacation" as a verb, Taylor-Joy's Lily stands practically glinting opposite the bedraggled Amanda. The two emerge, after wildly entertaining sparring matches, with a cold, calculated execution involving blackmail, a drug dealer (played by the late, ever-brilliant Anton Yelchin), a gun, and, unexpectedly, a lamp.
READ: The Witch
Set primarily in Lily's palatial Connecticut home, the film employs long takes that showcase a level of skill Cooke hinted at in the final scene of "Dying Girl." The tracking shots, courtesy of "A Girl Walks Home Alone at Night" cinematographer Lyle Vincent, move almost viper-like to craft the film's gratifying tension-building sequences. (The mansion's sprawling layout, multiple inlaid fireplaces, and immense wine cellar make for such an intriguing backdrop, one almost wishes for more time to gawk.)
It was after seeing her work in "Dying Girl" that "Thoroughbreds" writer-director Cory Finley offered Cooke the part of Amanda. Impeccable timing and a killer deadpan were required skills for anyone playing a person who says things like "Sometimes I feel hungry or tired, but, like, joy? Guilt? I really don't have any of those" with a straight face.
"I think Amanda came at a time where I think I was a little bit sick of myself and sick of being so hyper-emotional all the time," Cooke says. "[She] was the total opposite, and I think that the beauty of doing this film is that on the page it seems really difficult [to play]. The manipulation and the pretense of emotion, it was something...I was really turned on by." The character's undiagnosed mental disorder meant Cooke never stuck to any specific illness in her early research and preparation. "I wanted to play various shades—the brain is so complex—and [stay] slightly open."
Finley worked extensively with his actors to develop the way the characters think and speak—"There are just certain actors who make your dialogue sound really smart," he says of his casting—but it was the actors who added nuance to their physicality. "In our very first meeting, [Cooke] was talking about how she imagined her posture and her walk," Finley recalls, "and when I watch the movie now, it's one of my favorite aspects in her performance: She sort of trudges through rooms. Anya's character really glides and Olivia is earthbound."
READ: 5 Tips for Perfecting Any Accent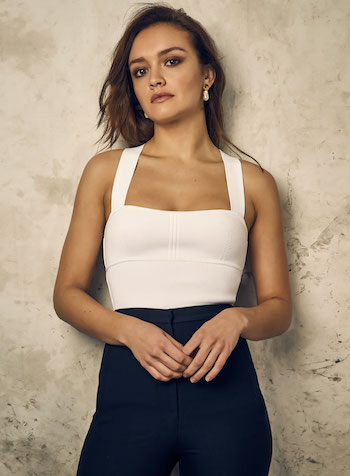 Very much the opposite of Amanda will be Cooke's "Thoroughbreds" follow-up: Steven Spielberg's highly anticipated motion-capture/live-action blockbuster fantasy "Ready Player One," out March 29. Set on 2045's resource-stripped Earth, where a virtual world called OASIS simultaneously provides an artificially constructed escape and a very real emotional experience, Cooke plays both the CGI avatar of protagonist Parzival's crush, Art3mis, and the real-life person behind her. The best-selling novel-turned-film follows Parzival's perilous quest for an Easter egg hidden by OASIS' creator upon his death; whoever finds it will inherit his fortune and the proverbial keys to the kingdom.
Playing a CGI character proved another acting exercise Cooke had never before encountered. "All I had to do was put a helmet on," she remembers about one scene in particular, "so, I just went like that"—she demonstrates a slapdash lowering of her open hands on either side of her head—"[I did it like] I was brushing away a cobweb! [Motion capture actor Josh Jefferies] was like, 'No. No. Imagine holding the helmet and putting your head through it and the struggle to get your head in the helmet.' And I was just like, 'Oh, fuck.' These are things that you just don't think about! You're a mime artist, essentially. You really have to study it and think on your feet and understand what your body's portraying and how that's going to translate into an animated world."
Also fresh in her mind is the first note Spielberg gave her on set: "I was trying to do a really nuanced performance, trying to pull out all the stops," she says sardonically, "and then Steven was like, 'Olivia, you're going to have to be a bit bigger because we literally can't see what you're doing on the head camera.'
"And then I went to the bathroom and I just couldn't breathe. I couldn't pull down my [motion capture] suit because it was so tight. So I ended up being folded over, having nearly a panic attack trying to get out of this thing. I was like, 'It's fine. He hates me.' It was mental."
The actor's ability to poke fun at herself while starring in a tentpole film like "Ready Player One" is part of what makes Cooke's success feel so genuine. Even at this level of the game, she jokes about having imposter syndrome. "I never went to drama school. People just trusted me to do these jobs and I didn't know anything! People were talking about all these cult classic films or staples of cinema history, and I was lying through my teeth that I'd seen all of them, because for all my life I'd grown up with 'The Sound of Music' and 'The Lizzie McGuire Movie.' "
Admittedly, she didn't expect her move to the States and career rise to happen so quickly. "I had no propulsion to come to the U.S. I was just looking for the next job." Her motivation was always the work, she says, never fame, but it's an inevitable byproduct of achievements in this business. As we wrap up our lunch in Lower Manhattan, a fan of "Bates Motel" recognizes her and approaches us. He's sad that the five-season series she'd been on since the age of 18 has ended. "I'm not," she says. "Now I can live my life and play all the different parts I want."
Check out Backstage's film audition listings!
Photographed on February 5 in NYC by Matt Doyle; Styled by Danielle Nachmani; Hair by Lacy Redway; Makeup by Lisa Abaron