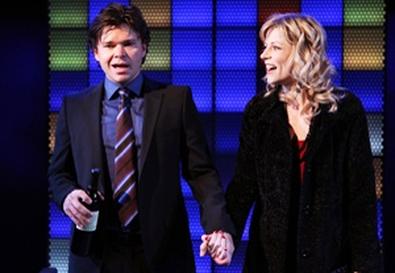 Before the first song of Adam Gwon's "Ordinary Days" has ended, you're aware you're in the hands of a talented composer-lyricist with an unusually fine command of craft. Discovering a worthy new writer is always exciting, and you lean hungrily forward, eager for what's to come. How I wish I could report that "Ordinary Days" is a small gem of a musical. Unfortunately, as song follows song in this 75-minute, largely dialogue-free four-person show, the narrow musical palette, small emotional stakes, and thin characters ultimately sabotage the proceedings. Out of context, the individual songs are undoubtedly impressive; strung together, they diminish each other.
Tellingly, there is no book-writing credit. "Ordinary Days" falters in its weak story of two very different couples in today's New York City. Gay 20-something Warren housesits for a jailed downtown avant-garde artist who paints pithy slogans as graffiti throughout the city. Warren appropriates those slogans, writing them on slips of colored paper that he then tries to distribute to pedestrians, with few takers. One is 20-something Deb, a highly strung, intense grad student writing a thesis on Virginia Woolf. But they don't really meet until Deb loses all her thesis notes in Union Square and Warren finds them. Meanwhile, 30-something Claire is having trouble making room in her apartment for her boyfriend, 30-something Jason, who is at last moving in. It's immediately apparent that this is a decision Claire is already regretting, but she gives Jason no reason as to why she resists letting their relationship move forward. A sequence at the Metropolitan Museum of Art mingles the couples, with Deb meeting Warren there to retrieve her notes, and Claire and Jason arriving on an outing intended to rejuvenate their relationship. But the actions of each couple don't affect the other until a preposterous epiphany at the show's climax, which is followed by an equally preposterous deus ex machina in which we suddenly discover what has been keeping Claire from moving on with her life. Characters make unbelievable about-faces, and all ends with their happy realization that being ordinary can be beautiful.
Gwon is fortunate to have such a fine cast to deliver his show. Jared Gertner is sweet and lovably eccentric as Warren, who could easily come off as hopelessly annoying. As Deb, Kate Wetherhead is spiky and amusing, delivering some of Gwon's wittiest lyrics with rapierlike aplomb. Lisa Brescia excels at suggesting Claire's unexplained disaffectedness without alienating the audience. As Jason, Hunter Foster brings the force of his personality to another contemporary urban cipher and makes the character as interesting as he can. All four sing powerfully, and it is a pleasure to hear the unamplified results under Vadim Feichtner's precise musical direction in the intimate Roundabout Black Box space.
Director Marc Bruni's staging is simple and swift on Lee Savage's nearly bare stage backed by stacks of changing colored-light boxes. Jeff Croiter illuminates it cleanly, and Lisa Zinni's contemporary costumes fill the bill just fine.
Gwon has written several other shows and has more in the pipeline, including a commission from Washington, D.C.'s Signature Theatre. Should any of them get on in New York City, I'll be the first to be in line. He's got talent. But that only takes you so far, and in the case of "Ordinary Days," it isn't far enough.
Presented by Roundabout Theatre Company as aprt of Roundabout Underground at the Harold and Miriam Steinberg Center for Theatre/Black Box Theatre, 111 W. 46th St., NYC. Oct. 25-Dec. 13. Tues.-Sat., 7 p.m.; Sat. and Sun., 1:30pm. (212) 719-1300 or www.roundaboutunderground.org. Casting by Carrie Gardner.