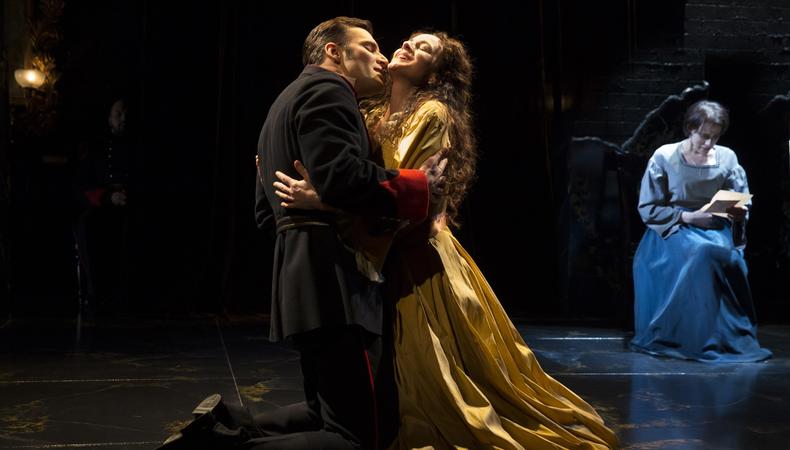 James Lapine and Stephen Sondheim's musical "Passion" has been sharply dividing audiences since its first Broadway preview in 1994. I was there that tempestuous night and fell squarely into the "love it" camp. I saw the production several times on Broadway, treasure my DVD of Lapine's filming of it, and also thoroughly enjoyed director Lonny Price's 2005 concert adaptation with Patti LuPone, Audra McDonald, and Michael Cerveris. So it's with great reluctance that I have to report that John Doyle's intimate chamber production at Classic Stage Company is largely unsuccessful.
Based on a late-19th-century novel by Iginio Tarchetti and its 1983 film adaptation by Ettore Scola, "Passion" takes place in Milan and on a remote Italian army base and tells the story of Fosca, a grotesque invalid, and her obsessive unrequited love for a dashing young soldier, Giorgio, who prefers his married mistress, the beautiful Clara. Fosca relentlessly pursues Giorgio in defiance of all social mores until, amazingly, she succeeds in turning his affections from Clara to herself. Once Fosca and Giorgio consummate their love, she dies, too weak to stand the physical strain of intercourse, and he is left alone and bereft.
Sondheim structures his score as, in his words, "one long, rhapsodic love song," with music and dialogue yielding seamlessly to each other with no chance of applause until the final curtain. Gloriously melodic and fervently theatrical, it sweeps the action forward, and Lapine's superb book is written with depth and subtlety. There was not a wasted note in Lapine's Broadway staging, but at CSC, on Doyle's dull, nearly bare unit set (staging "Passion" without a bed makes as much sense as doing "The Music Man" without a band), the characters are constantly pacing pointlessly about to music that originally accompanied set changes, attenuating the drama. Nor is the score helped by the elimination of women from the chorus, which alters the emotional effect of some passages, and having men play supporting female roles in drag. Personally, I could have lived my whole life without seeing poor Jeffry Denman as Fosca's mother.
Both Judy Kuhn, as Fosca, and Melissa Errico, as Clara, are older than their characters should be, something that the youth of Ryan Silverman, as Giorgio, only accentuates. Kuhn's Fosca lacks any trace of the grotesque; she's merely dowdy and has little sense of physical frailty, stalking Giorgio at times with surprising robustness. Silverman possesses the requisite good looks and sings strongly, but there is little detail to the performance, and the actor is utterly unpersuasive in Giorgio's change of heart, missing the moment entirely. Errico fares best, her bell-like soprano as clear and lovely as ever and her acting uncluttered, direct, and full of feeling (watch her in the opening number when Giorgio tells Clara of his new posting).
As Colonel Ricci, Fosca's cousin and the soldiers' commanding officer, Stephen Bogardus mistakes stiffness for character. Tom Nelis, usually adept at idiosyncrasy, is far too blank as Dr. Tambourri, the conniving physician who facilitates Fosca's quest to his ultimate regret.
Dry, overintellectualized, and slackly paced, this is a "Passion" pretty much devoid of it.
Presented by and at Classic Stage Company, 136 E. 13th St., NYC. Feb. 28–April 19. (212) 352-3101, (866) 811-4111, www.theatermania.com, or www.classicstage.org. Casting by Calleri Casting.
Critic's Score: C-