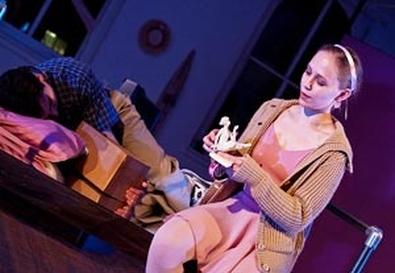 Allegra (Marnie Schulenburg) has a lot on her plate in the highly theatrical
Pretty Theft
. Her mother prefers watching television to talking with Allegra; her father is dying; her boyfriend is a thickheaded bastard; her best friend, wild child Suzy (Maria Portman Kelly), is a frenemy; and her new job involves caring for the autistic, ballerina-obsessed Joe (Brian Pracht). Is it any wonder that when everything falls apart, she's eager to jump into a car with Suzy and just drive?
Unfortunately, the onset of Suzy and Allegra's road trip also signals playwright Adam Szymkowicz's loss of control over his story, a loss for which director Angela Astle tries to compensate with a needlessly frenetic staging. Until then,
Pretty Theft
has been a surprisingly evocative look at the complicated relationship between two 18-year-old girls who alternately love and undermine one another.
But then Suzy and Allegra meet recently retired thief Marco (Todd d'Amour) in a diner while menacing ballerinas invade Joe's dreams back at home. As the story's focus broadens, Szymkowicz's writing loses its potency as his play expands into a sprawling examination of the ways we're affected by theft. Suddenly, characters are erupting into unnecessary monologues, dialogue turns a lurid purple, nightmares are enacted with menacing flair, and the play's climax between Marco and Allegra feels inconsequential.
Luckily, even as Szymkowicz lets his play down, the actors never do. Wonderfully effective in the first play of the Flux Theatre Ensemble's
Angel Eaters
trilogy last winter, Schulenburg delivers a restrained, affecting performance as the quietly lonely Allegra. D'Amour, one of the best actors working in Off-Broadway theatre today, utilizes his astounding voice to maximum effect; even Marco's most outlandish lines feel natural when delivered by d'Amour in his warm-chocolate-and-Valium tones. And Kelly and Zach Robidas are bliss in their comic relief turns as the insecure Suzy and Allegra's boyfriend Bobby, with Kelly scoring both laughs and pathos.
Pretty Theft
may not be beautiful, but at least its talented ensemble gives it a great personality.
Presented by Flux Theatre Ensembleat the Access Theater Gallery, 380 Broadway, 4th floor, NYC
.
April 24
–
May 17. Thu
.–
Sat
.,
8 p.m
.;
Sun
.,
7 p.m
.
(
212
)
352-3101
, (
866
)
811-4111, www.theatermania.com, or www.fluxtheatre.org
.