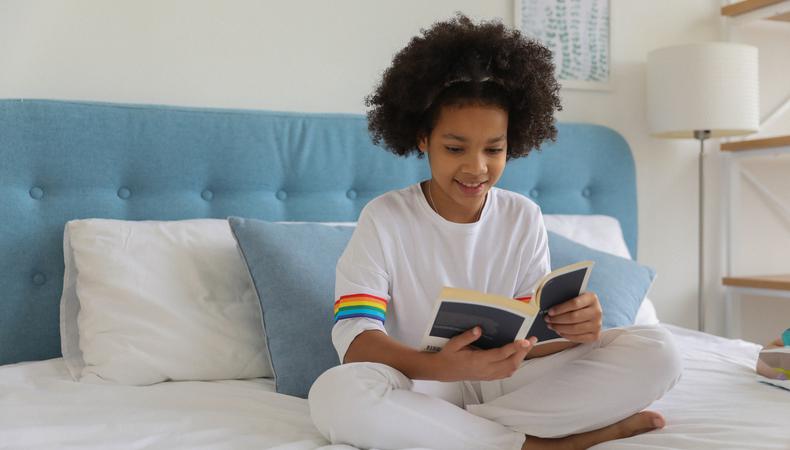 When it comes to monologues, there are plenty of options for adult actors. However, finding the right monologue for kids can sometimes feel like a more daunting task. It can be even trickier when searching for a monologue in a specific genre for an upcoming audition, whether it's for a play or a professional project.

So, how do you find the perfect monologue for a young actor? We have some suggestions! Here are 26 monologue options—both dramatic and comedic—that are well-suited for children.
Acting coach Denise Simon says finding a dramatic monologue for kids can be tough since options in generic monologue books are often "trite and obvious." But she's found some great examples that will show off the range of any child actor, suited for both boys and girls.
1. "A Little Princess"
"I love [Sara Crewe's] monologue because of its sincerity...It highlights Sara's naïveté without being condescending, making it a perfect monologue for naive children to relate to."
2. "The Member of the Wedding"
"This monologue is perfect for auditions because of the distinct changes Frankie undergoes throughout...Frankie's universally shared desire to find her place makes the monologue both relatable and entertaining as she comes to terms with her desires in unique, childish ways."
3. "Irreconcilable Differences"
"This film monologue expertly tackles mature themes such as neglect and emotional abuse while still highlighting the innocence of its protagonist, Casey....The monologue is essentially a plea for attention, respect, and understanding and that's something kids can understand in a world where their voices are often overlooked."
4. "Nine Months"
"While 'Nine Months' is a comedy film, Truman's monologue is actually dramatic...The need for attention isn't a foreign struggle for young boys making this the perfect monologue for them to add to their repertoire."
5. "Runaways"
"Most of the monologues [in 'Runaways'] will work for kids of any gender, and while many were written for teens, they're still great material for younger actors."
According to actor Robert Peterpaul, "the Disney movie catalog is a prime source to mine for monologues you can put your own spin on." Here are some Disney movie monologues for kids that he recommends.
"Tangled" (2010): Rapunzel
"I mean, hopefully, we're not all locked in towers, but who can't relate to a little family tension?"
"Freaky Friday" (2003): Anna
"Not sure when you'd need to channel being a mother trapped inside her daughter's body, but hey, we've all got demons (and hopefully lots of auditions down the road)."
"Princess Diaries" (2001): Mia Thermopolis
"Who could forget Mia's rain-drenched and ballgown-less final speech from this hit live-action film? Not casting directors if it suits you!"
According to acting coach Denise Simon, comedy is hard—but "the first step to improving your child's comedic game is finding good material." Here are her picks for the best comedic monologues for children, with selections suited for both boys and girls.
1. "Charlie and the Chocolate Factory" by Richard R. George
"One particular monologue I like comes courtesy of Veruca Salt, who demands her wealthy father get her a Golden Ticket when she decided she just had to have one. It's a great character piece for girls who have enough energy to nail Veruca's over-the-top brattiness."
2. "The Loman Family Picnic" by Donald Margulies
"I love this monologue because of its self-aware writing. It's riddled with jokes that kids might not understand, but the character, Mitchell, is confused right alongside them."
3. "The Fifth of July" by Lanford Wilson
"The excitement that Shirley has while looking toward the future is endearing and hilarious making the piece great for kids to impress with their willingness to make bold choices."
4. "You're a Good Man Charlie Brown" by John Gordon and Charles M. Schultz
"Charlie Brown may be the ultimate underdog of children's literature. In this monologue, he once again manages to self-sabotage his attempts to woo the cute little redheaded girl...The comedy isn't as high-energy as some of the other monologues on the list, making it great for a quieter student looking to show off their comedic skills."
5. "The Young Girl and the Monsoon" by James Ryan
"In this piece, our young girl laments the hypothetical gain in weight she'll experience if she eats her father's oily broccoli...It's a conflict kids can understand that is presented by a hilariously talkative little girl."
Shakespeare is a challenging playwright for anyone to perform and that's especially true for kids. But acting coach Denise Simon says Shakespeare is a great way for young actors "to expand their craft, and when given the right material, they can actually have a lot of fun with it." Here are her picks for best Shakespeare monologues for children.
1. "A Midsummer Night's Dream": Puck
"Puck has many great monologues in the show, from breaking the fourth wall to provide helpful commentary to carrying out King Oberon's demands, and they can be performed by any child."
2. "A Midsummer Night's Dream": Snug the Lion
"The monologue can be found in Act 5, Scene 1...It's a great way to introduce kids to dynamic writing, as it balances a nuanced character with humor without losing Shakespeare's signature lyricism."
3. "Macbeth": Witches
"Kids love getting to play these heightened, extreme personalities while still working to find the humanity hidden beneath the surface."
4. "The Tempest": Ariel
"Another gender-neutral, mysterious character, Ariel is a spirit inhabiting Prospero's island...This is a great piece for young actors to explore with physicality, giving them the chance to build a spirit and how they think it would move."
5. "As You Like It": Rosalind
"The long string of insults flows well because of the engaging language, which will keep young girls excited and connected to the story."
There are a lot of contemporary monologues for kids, but acting coach Todd Etelson says to focus on finding material that will appeal to a young actor's interests. "Kids have great imagination and spontaneity on their side. Select a contemporary monologue that they can get excited about," he says. Here are Etelson's picks for the best contemporary monologues for kids.
1. "Adventures of Pippa Higgins": Pippa
"Pippa comes from a family of wizards, so her father is, well, a wizard! In this monologue, she defends her father as she artfully boasts of his inventions that come from a magical lab. I love this monologue because it allows for a range of amazing young personalities to bring it to life."
2. "Nobody Bothers Me": Patrick
"Here Patrick responds to his uncle who asks him if he's still getting picked on by kids at school. For reasons of his own, this young boy is getting bullied in school but decides to make up a phony story to hide the truth from his uncle."
3. "Weird": Melvin
"Here, Melvin shares the many strange things he's done, which even he cannot explain. He enjoys his weirdness and sees it as a good quality to share with others. Chances are that you'll be able to relate to this, so have some fun and enjoy being strange!"
4. "Little Sailfish": Ruby
"Ruby is a swim champ, but she's not sure she actually enjoys swimming anymore, or if she just does it so as not to disappoint her dad…[this monologue] gives the young actor a chance to use some dramatic chops and explore some thought-to-thought acting."
5. "He Read My Poems": Sally
"In this monologue, Sally angrily complains to her mother about how her brother read her most private poems and how humiliated she feels."
6. "Twelve Years Wise"
"This monologue is a case of role reversal. Here, it's the child who's acting like the grown-up and the dad who's acted like a child. She addresses her father, questioning the way he's treated her mother...She's wise beyond her years."
7. "Scout"
"A heartfelt monologue about losing a relationship, here a young boy has moved and unfortunately, the family cannot take their dog with them...This monologue allows you to feel great emotional depth."
8. "Gum Sculptures": Robbie
"In this monologue, a local news channel is interviewing Robbie as he talks to them about how he started making gum sculptures…It's light and builds, and is one for either girls or boys."
Looking for remote work? Backstage has got you covered! Click here for auditions you can do from home!
The views expressed in this article are solely that of the individual(s) providing them,
and do not necessarily reflect the opinions of Backstage or its staff.