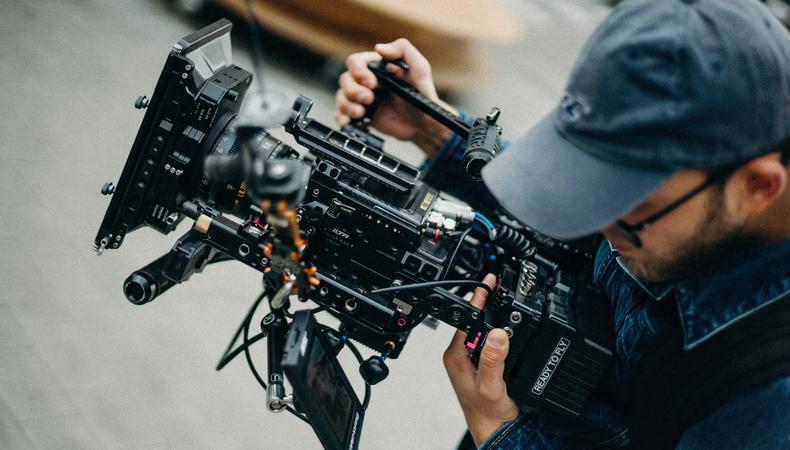 Crew > Camera
Director of Photography Job Description: What Does a DP Do?
The director of photography is responsible for translating the director's vision into images onscreen.
They determine how each shot should be blocked, composed, framed, and lit; map out all camera angles and movements; and guide the camera operators, gaffers, and key grips throughout the shoot. Some directors of photography operate the camera themselves.
"A [director of photography] is responsible for the photography of a given production," says Polly Morgan ("Lucy in the Sky," "A Quiet Place Part II"). "On a narrative project, a director of photography helps tell the story through the visual choices they make in lighting, camera movement, and framing. We work closely with the director in prep to decipher the tone, character arcs, and visual language that will be used to tell the story. On set, the DP is in charge of the lighting and camera departments and works side-by-side with the director to shoot the movie in a timely and story-based manner."
Michael E. Satrazemis ("The Walking Dead") adds that a DP's job is also to "work with the actors and help them out if they need information as to when the big moment is or when the impact is and then you work with all the other departments—the production designer, the wardrobe—with textures. It's a collaborative thing."
As head of the camera department, they also supervise the camera and lighting crews on set, and are in charge of selecting and assembling the cameras, film stock, lenses, rigs, and filters used during production.
Department
Camera
Alternate Titles for Director of Photography
DP, DoP, Cinematographer
Crew Hierarchy
There's a reason why the director of photography is credited right before the producer, writer, and director in the opening of a film. On a set, they're the second most crucial creative voice. From pre-production to post, he or she works closely with the director, helping to craft the visual style and mood of the entire project.
In the early stages of a film, production designers, costume designers, hairstylists, and makeup artists report to the DP and workshop ideas before launching into their jobs. They're in charge of the camera operator, first assistant camera, second assistant camera, gaffers, electricians, and key grips.
Director of Photography Salary
Directors of photography can earn between $5,000 and $30,000 a week: "Top directors of photography…. can command $25,000 to $30,000 a week on movies that shoot up to 12 weeks.... On a big-budget studio movie—say, $80 million or more—an experienced cinematographer can expect to earn $10,000 to $20,000 a week. On a low-budget indie fare, DPs often take home $2,000 to $5,000 a week. On TV productions, the range is $5,000 to $8,000 a week."
DPs are represented by IATSE Local 600—the International Cinematographers Guild—which sets standard minimum rates for union productions.
How to Become a Director of Photography
It's common for DPs to start in the crews they end up leading. Many will climb the ladder as camera assistants, lighting and grip technicians, and camera operators; before landing these jobs, they might start as production assistants, then transition into the camera department, where they can cut their teeth as camera trainees.
"I worked as a production assistant," says Morgan. "I then managed to meet some camera crews, and after many months of volunteering, started working in the camera department. I worked as a camera assistant for five years, shooting short films in my spare time."
To gain experience, they might work on independent films, commercials, videos for advertising agencies, or on their own projects. Eric Branco ("Clemency") fell into cinematography accidentally via acting: "When I started making student films and shorts, I realized there was no one to hold the camera, and so I kind of fell back from in front of the camera and started holding the camera, and then I totally fell in love with photography and the moving image."
8 Top Film Programs for Cinematographers
Required Director of Photography Experience + Skills
One must have proficiency in camera operation and techniques, considerable experience in shooting and lighting, a great eye for detail, and strong leadership, communication, and interpersonal skills to succeed in this role.
DP Robert Richardson, who consistently works with Martin Scorsese ("Hugo," "The Aviator"), Oliver Stone ("Platoon," "JFK"), and Quentin Tarantino ("Django Unchained," "The Hateful Eight"), says aspiring cinematographers should constantly be practicing with a camera: "Carry a camera at all times and shoot constantly. Learn what composition pleases your eye, what light does to that which you shoot."
Then, study film as if it were your job. "When you have viewed a film and feel you have experienced it as fully as possible, turn the sound off, start from the beginning and find where the film works and does not. Then, ask why," he advises. "Only through focus and patience can your skills mature."
While undergraduate and/or graduate degrees in film, film production, cinematography, or photography are advantageous, having hands-on experience, and a solid reel to show for it, is more important.
For more on how to get work on a film crew, visit Backstage's crew hub!