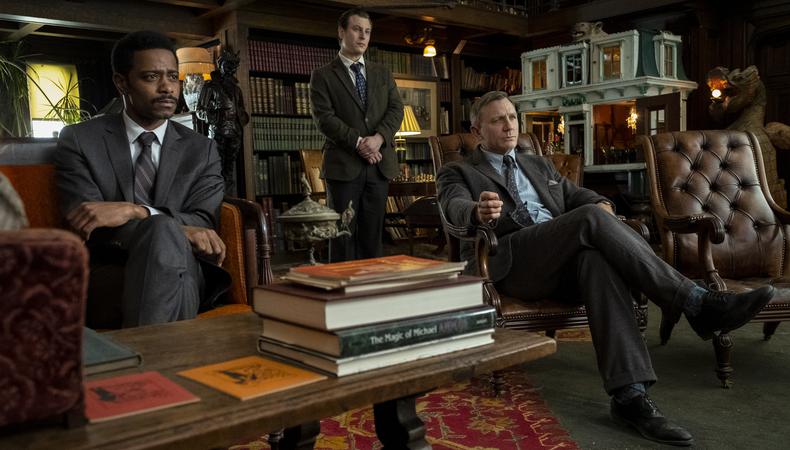 Do you ever find yourself thinking about the way a room looked or how a setting was central to the plot of a film long after the credits have rolled? There are so many things that can make a film memorable, and production design is certainly one of them. With a job that starts well before filming does—and continues throughout—production designers like David Crank are the masterminds behind the spaces inhabited by a film, turning the vision for a project into the reality you see.
In conversation with Backstage, Crank ("Knives Out," "Concussion") discussed how he ended up in this line of work and the advice he'd offer someone who wants to work in production design.
What does a production designer do? ​
The production designer is responsible for the design of all the physical locales for a film, whether they be stage sets or actual locations. Along with the director, director of photography, and costume designer, he or she helps guide what the film will look like.
How did you get started as a production designer?

"People who don't draw and draft have become brilliant designers, so maybe tenacity and inquisitiveness are better skills to have"
I received a B.A. from the College of William and Mary in studio art and then an MFA from Carnegie Mellon in theater design. From there, I worked as a scenic and costume designer in theaters around the country for about 10 years before working solely in film. I worked my way up the ladder from the scenic artist crew through being an art director to becoming a production designer. It wasn't a completely straight path, but it rarely is for anyone. I had the extreme good luck to have worked as Jack Fisk's art director for about six years before he kindly set me on my way to be a designer. Kicked me out of the nest, so to speak.
What training do you have?
I trained initially in fine art, mostly drawing and painting. I was also studying theater at the time, [so] got to try my hand at a lot of different things which involved learning such skills as drafting, prop making, costume construction, and model making. I can't really describe my training as a finite thing that I did when younger as it is still going on every day.
What was your first film crew job?
I was a scenic artist on the NBC miniseries "The Murder of Mary Phagan" working for the talented scenic artist Bob Topol. It was a great introduction to the movie world as it was a large project run by artists with very high standards.
What is your process when approaching a new project?​
Aside from reading the script, there is a lot of talking with the director, looking at research for inspiration, and for me, just a lot of thinking. I find that a period of quietly living with the idea of the story, before actually beginning the design, is a very necessary thing.
How do you find work?
I have a fantastic agent, Lara Sackett with ICM, who finds the projects for me. I have been working with her since doing "The Master." She has been such a help on all fronts. It's great to have someone with whom to formulate a plan.
What is a day on set like for you?
As a production designer, I'm not on set all day but rather come and go during the day. I almost always begin the day there in order to do final set inspections and talk with the director to see if there are changes afoot. The art department has its feet in multiple places every day with preparing sets for upcoming filming so it's a day spent moving around constantly wherever I am needed. There are a lot of questions from many people to deal with daily.
What's the hardest part of your job?​
Pacing one's self, I think. All the different aspects of the job are fun but again, you have to find a way to stay on top of things and give each crew the guidance they need. So making sure I find eight hours of sleep a day is a must!
What skills are essential to have if you want to become a production designer?
Training in design, drawing, and drafting is important. It makes one's job easier. That being said, people who don't draw and draft have become brilliant designers, so maybe tenacity and inquisitiveness are better skills to have. Design is a very personal thing and I think people come up with ways of conveying their ideas that work. There is no one way to do any of this.
Do you have any advice for someone's first day on the job?​
Listen and think.
What do you look for when hiring? ​
If an applicant can do the various tasks they will have to perform. But once past that, I'm looking for someone I can work with intensely for 12 hours a day. I worked for a Broadway designer early in my career who told me that underneath it all, he was looking for assistants "who were good for lunch." As I get older, I realize how that advice is so right.
What advice would you give aspiring production designers?​
Try anything that seems interesting to you—it all adds to your ability. Just be open to new experiences. Don't try to pre-decide what something should be. You'll be disappointed a lot if you do.
Want to learn more about working on a film crew? Visit Backstage's crew hub!