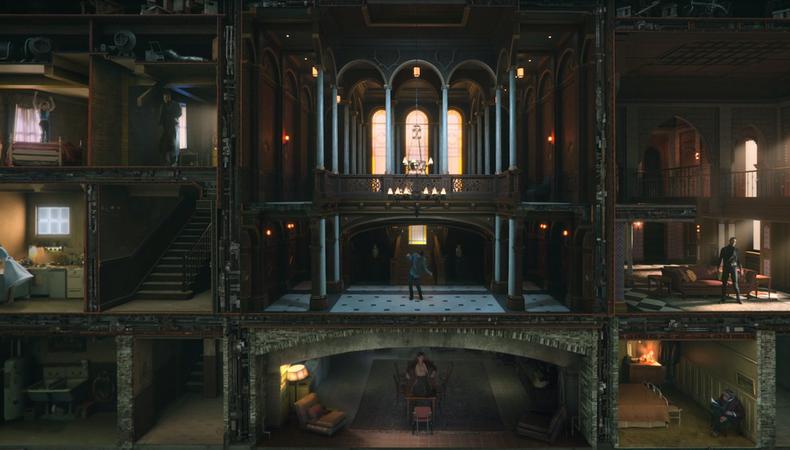 Art Director Job Description: What Does an Art Director Do?
The art director is responsible for bringing the production designer's vision to life, drafting and overseeing any set construction, scenic work, and advertising graphics. As a senior member of the art department, they work extremely closely with the production designer, director, and producers to create the visual identity of a film. They then ensure that vision is executed by the rest of the art department on schedule and on budget.
"As an art director I come on board fairly early in prep," says Luke Whitlock ("Cruella," "Maleficent: Mistress of Evil"). "A designer might [have] already been working on the concepts for a few months and I'll come on board when they are ready to start fleshing out the sets and the costs.
Though most of the art director's work happens in pre-production and they tend to be one of the first crew members brought in, they are still needed once principal photography begins to oversee construction, set dressing, and striking of sets.
"I will start at call time to open set with the director and the crew. That can be very early. Then it's back to the office to supervise the varying design processes: set design, graphic design, etc. We have meetings with the production designer and department heads," says Mark Steel ("Miss Sloane," "The Umbrella Academy") of his typical day during principal photography. "We talk about concepts on the latest script, special effects, stunts, location scouting, scheduling with the assistant directors. The second thing after opening set is usually visiting the shop to check in on build/install progress. You also find some desk time to do budgeting or scheduling. It is usually a 12 to 14 hour day all included, and in the middle, you try to take a half-hour break for lunch."
Another aspect of the job is commissioning special effects, hiring vehicles needed in scenes, and organizing the casting of animals.
Department
Art
Alternate Titles for Art Director
Creative Director, Design Director
Crew Hierarchy
The art director is a senior-level position that oversees the daily operations of the art department. They lead a crew that consists of assistant art directors, art department assistants, scenic artists, set decorators, set dressers, draughtsman, construction workers, and carpenters, and report to the production designer. On smaller sets, the art director and production designer may be combined into one role.
Once the art director has determined how sets will be built, the plans and drawings are passed on to assistant art directors and draftsmen to turn into construction drawings. From there, the art director oversees the build, regularly visiting the workshops and stage, as well as meeting with the heads of the carpentry, paint, and plaster teams.
Art Director Salary
According to a 2018 report from the U.S. Bureau of Labor Statistics, the median annual wage for art directors in the industry was $117,360.
Art directors are represented by IATSE Local 800—the Art Directors Guild (ADG)—meaning members are guaranteed mandatory minimum payments on union productions.
How to Become an Art Director
The art director is the second-in-command in the art department, so it's important that they have experience in other positions within the department. Many art directors begin their careers as PAs within the art department before moving into roles like set graphic designer or set dresser, then set decorator, before landing the art director job From there, many become production designers, though it's not uncommon to remain an art director.
Steel says that after working as a PA, he realized he "much preferred to take part in the research, sourcing, prep and installation of sets" and worked his way up as a leadman and set decorator before stepping into the role of art director.
Art Director Required Experience + Skills
Though a formal education in a related field isn't necessary for a career as an art director, many have a background in set design, fine art, art history, photography, or graphic design, and training in draftsmanship. Proficiency in design software—Photoshop, Illustrator, SketchUp—is a must, as is solid experience working on film sets to understand how all departments function together.
And above all else, an eye for detail and a curious mind. "Details in the visuals often make the difference between good and bad art direction," says art director Susan MacQuarrie. "An art director has to be inherently curious, always reading, wandering around shops or even just stopping on your bike when you see something interesting."
For more on how to get work on a film crew, visit Backstage's crew hub!