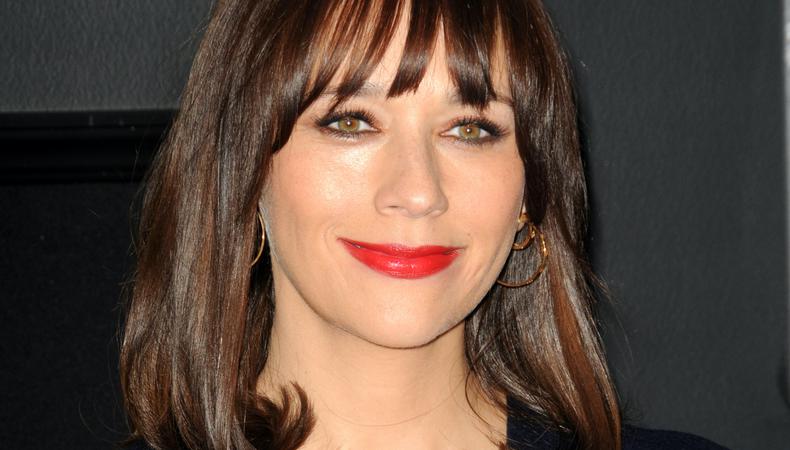 "In the Envelope: The Actor's Podcast" features in-depth conversations with today's most noteworthy actors and creators. Join host and Awards Editor Jack Smart for this guide on how to live the creative life from those who are doing it every day.
The metaphor Rashida Jones uses to describe her artistic process speaks to the kind of curiosity and creativity that spell success in the entertainment industry: acting, she says, is like preparing to eat a pomegranate.
"It's so messy and it's so hard to extract all the seeds without being covered in red juice," she theorizes. "There's an entire skin, a layer you pull back, and you're like, 'Oh my god, there's 25 seeds here!' That's what a character feels like to me: an unexplored, unmined territory that was hiding there all along. But then you have this wonderful opportunity to bring all of that flavor to a character."
Speaking with Backstage remotely at the end of 2020, the actor-writer-producer-director, activist, and podcaster invites listeners to both look back at her wandering journey through the industry and anticipate what's to come. "I'm very interested, moving into 2021, in creating a culture for conversation," Jones says.
While her Los Angeles upbringing gave her insights into a career in Hollywood (Jones' parents are musician Quincy Jones and the late actor Peggy Lipton), Jones resisted following that path at first, studying religion and philosophy at Harvard University before giving New York City theater a try. "I didn't fit into an already existing framework," she remembers. "In 1997, I didn't look like anybody else who was really famous or working.... I was in the middle—ethnically and energetically. It took me a while to figure out, or for somebody else to figure out, how I could fit in."
It took over a year and only one booked gig, in fact. Jones knows all too well how actors more often than not get rejected instead of getting the job the job. "I auditioned steadily for a year and a half in New York and I booked one thing. And I'm lucky! I booked something!"
Miniseries "The Last Don" became Jones' first professional acting credit, and a steady television and indie film career followed: "Freaks and Geeks," "Boston Public," "Death of a Dynasty," and Mike Schur's "The Office." Her big breakout came from Schur's follow-up, "Parks and Recreation," and then "I Love You, Man," "The Social Network," and her feature screenplay debut, "Celeste and Jesse Forever." Her desire to begin writing and producing echoes that of many actors finding their voice in the biz: "I just was looking at films and I was looking at male creators, really, and thinking, Why the hell shouldn't I do that for myself?"
Now, having produced everything from her comedy series "Angie Tribeca" to TNT's "Claws" to award-winning documentaries, Jones has her finger on the pulse of the industry. "I think there's a ton more celebration of originality and being whoever you are," she says. "Casting directors look for people who bring their own spin to a character and bring their own voice and bring their own dialogue, even." (She points to recent favorites, Aubrey Plaza in "Black Bear" and Michaela Coel on "I May Destroy You," as proof that Hollywood's tastes are expanding in the wake of the Me Too movement, Black Lives Matter, and the ongoing coronavirus pandemic. Now is the time to feel empowered to tell stories: "The state of the industry is in flux," she says.)
And as an actor, Jones is excavating new parts of herself: hilariously irreverent on Kenya Barris' Netflix sitcom "#blackaf," and both natural and vulnerable in Sofia Coppola's buzzy film "On the Rocks" opposite Bill Murray as her father. "My characters that I played on '#blackaf' and 'On the Rocks' are a part of me," she says, detailing her approach to both. "Now that I'm in my 40s, it's been really fun to just do stuff that I've never gotten a chance to do. All of those things are part of my personality."
That approach to building characters is echoed in her advice for actors stepping into the audition room. "The truth is, you only become great when you're yourself," explains Jones. "You can't be a mini version of somebody else.... I've been on the other side of this, too, as a producer and director—when somebody comes in and they have a little bit of a don't-give-a-shit attitude, and they could take it or leave it, it's appealing!"
For more of Jones' invaluable advice, tune into her "In the Envelope" interview wherever you listen to podcasts. And stay tuned afterward for this week's highlighted Backstage casting listings: a video game is seeking accented voice talent, a brand is looking for a haircut model, and more.
Listen now on:
Looking for remote work? Backstage has got you covered! Click here for auditions you can do from home!