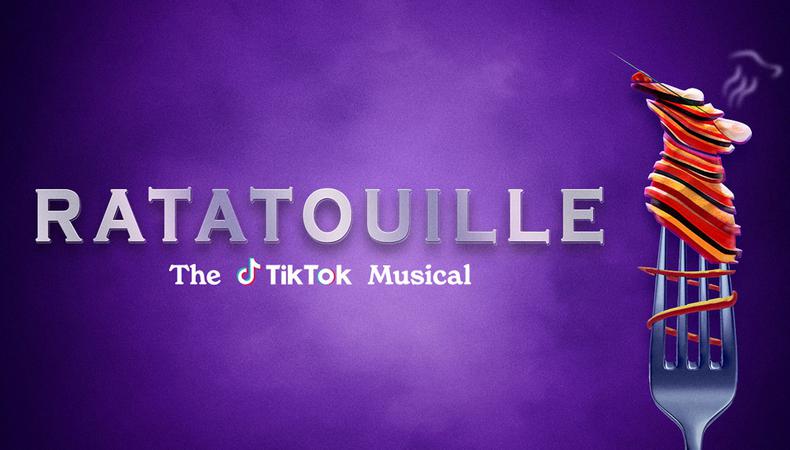 According to the beloved Pixar film "Ratatouille," anyone can cook. And now, thanks to TikTok, anyone can create a musical. In the past few months, a number of strangers have come together to make a new original musical together, based on the Disney film "Ratatouille," about a rat who dreams of becoming a chef. Some people crafted original songs, others imagined what the set would look like, how it could be choreographed, and what the costumes could be (someone even did a Remy-inspired makeup tutorial).
Collectively, those videos now have over 200 million views on TikTok.
The story doesn't end there. A team of Broadway artists have now turned "Ratatouille" into a full-length musical, which will be streamed on Jan. 1, 2021, as part of a benefit for the Actors Fund. The video will be available for 72 hours following the stream. And yes, TikTok is a producer on it.
What started as a creative outlet for musical theater fans is now starring celebrities such as Tituss Burgess as the rat Remy, plus Wayne Brady, Adam Lambert, André De Shields, Priscilla Lopez, Ashley Park, Andrew Barth Feldman, and Mary Testa.
How did this happen? And is TikTok the future of musicals?
To Lucy Moss, who is directing the Jan. 1 show, the appeal of "Ratatouille" the TikTok musical is how organically it sprouted up. "I think the best theater comes from people who have an idea of something and are like, 'I want to make this, I want to see this,' " she says. "Rather than trying to artificially create what you think people are going to want to see it or what you think will be successful." Moss does know something about viral musicals; she co-created "Six."
But first, some background. Like Remy the rat, "Ratatouille" on TikTok had humble beginnings. It all started in August when elementary school teacher Emily Jacobsen (@e_jaccs) found out that her family trip to Disney World was cancelled. Jacobson, who creates original odes to different Disney characters on TikTok, was thinking about the new "Ratatouille" ride at Disney World, which inspired her song to Remy.
"I thought it was funny and it was really catchy," Jacobsen explains. "So I made the song, put it on TikTok, added some crazy effects, changed my voice to be more cartoon-like and sent it off to family and friends as a joke. I never thought anything of it."
Except for when the song—less than a minute long, per TikTok rules—got almost a million views. "TikTok is so unique with the algorithm, anyone can kind of go viral for anything, as I found out," Jacobsen notes.
One of the views on Jacobsen's video was from Daniel Mertzlufft (@danieljmertzlufft), a composer who took her tune and gave it some lush Broadway finale-style orchestrations, with a choir. And it wasn't long before other TikTok users joined in on the fun, contributing their own songs or production design ideas for "Ratatouille."
One user was Tony-nominated actor Kevin Chamberlin (@chamberlin_kevin), who was most recently seen in "The Prom" on Netflix). He was inspired to write a song for the character of Chef Gusteau, whose mantra is "anyone can cook." Chamberlin performed his song on his piano at home, wearing a chef's hat from Sur La Table. He wrote the song in 40 minutes: "I recorded it that night. And then the next day, it had 1.4 million views. Insane," he says.
Chamberlin posted his song on Nov. 18. Two weeks later, the actor got a call from Seaview Productions, who produced "Slave Play" and "Sea Wall/A Life" on Broadway. Seaview wanted to produce "Ratatouille" as a benefit concert. Chamberlin was then cast as Gusteau.
Producer Greg Nobile has a TikTok account and he uses it to scope out undiscovered talent. "We talk a lot at Seaview about how to make theater more accessible, but also how we diversify our pipeline of artists," he says. "This has been a learning lesson for me in, 'Oh my god, TikTok is an extraordinary platform to meet artists.' "
The Seaview-produced "Ratatouille: The TikTok Musical" isn't just a presentation of a bunch of TikTok videos. The show is an hour long. Moss was called in to direct. "Circle Jerk" creators Michael Breslin and Patrick Foley were asked to write a book. There's choreography by "So You Think You Can Dance?" finalist Ellenore Scott. The whole event was put together in under a month, which is lightspeeds faster than the typical musical theater process, where shows can take years to develop. It does mirror how fast the TikTok version came together.
"Our mantra from the beginning has been to embrace the chaos, embrace the fun," says Moss. She has also been directing the cast to pretend they're filming for TikTok, "where the places that people look tend to be sort of like slightly more diagonals, as opposed to into the camera like Zoom." There will also be TikTok-inspired video effects, which Moss is now a fan of. "It makes me want to create a whole piece of theater that is filmed entirely on TikTok," she says.
Thirteen TikTok "Ratatouille" creators have been asked to work on the show. Their songs have been expanded—one-minute songs may be appropriate for the short attention spans on TikTok but a full-length book musical needs longer tunes.
Chamberlin was asked to write a refrain, verse, and chorus for his song, "Anyone Can Cook." "It's fun because the character is so easy to write for, because everything's about cooking," says Chamberlin. "So you just make a list of cooking terms." His song now includes these culinary-inspired turns of phrases: "coq au vin in the pan," "put your game to the flame," "put some stock in your future."
The TikTok creators were compensated for their work. Nobile says the fees are comparable to Off-Broadway rates, and that the producing team isn't taking any money. All of the proceeds from ticket sales will go towards the Actors Fund, which has been distributing grants to out-of-work entertainment industry workers during the pandemic.
"The production company has been so supportive and open to ideas—really wanting to make sure that the TikTok creators involved are getting recognition, and that the TikTok community doesn't feel like their project is being overtaken," said Jacobsen, who will be appearing in the "Ratatouille" event.
"Ratatouille" isn't the only musical to be created on TikTok. In September, "Ratatouille" music supervisor Mertzlufft wrote a number called "Grocery Store: A New Musical," which then inspired a bunch of responses (including one from Skylar Astin). And it landed Mertzlufft a gig writing a musical number for "The Late Late Show With James Corden" called "Thanksgiving: The TikTok Musical" (Patti LuPone makes an appearance as a drunk grandmother).
Evidently, TikTok has also become a way for creatives to be discovered. Sarah Cooper became famous for her Trump lip-syncs on TikTok. Agents are now looking to TikTok as a place to scope out talent.
For her part, Jacobsen wasn't planning on getting famous from TikTok. Though her "Ratatouille" experience has come full circle: she was invited to Disney World to get a private look at the new ride "Remy's Ratatouille Adventure."
"I think that this whole situation has proven that TikTok really should be taken more seriously," Jacobsen said. "There's a lot of talent out there that isn't coming from these already famous or established professionals. I've seen so many things from normal people that are just extraordinary."
Nobile says he plans on keeping in touch with the TikTok creators; some of them have been sending him songs that aren't "Ratatouille" related. He advises other producers to get a TikTok account. "It should be a place we figure out how to utilize for creative development. It's easier than running around town to readings all day. Scroll and see who you find," he says.
For Chamberlin, it's too soon to tell if his TikTok fame has translated into real-world opportunities. "It definitely has helped my Cameo," he notes.
To him, the key to succeeding on TikTok as an artist, besides the algorithm, is authenticity. "Be yourself," he advises. "Be original. Try to find something that's happening in the zeitgeist right now, or something that really shows your talent." He then adds, "Sell yourself, and show what you got."
Tickets can be purchased here.