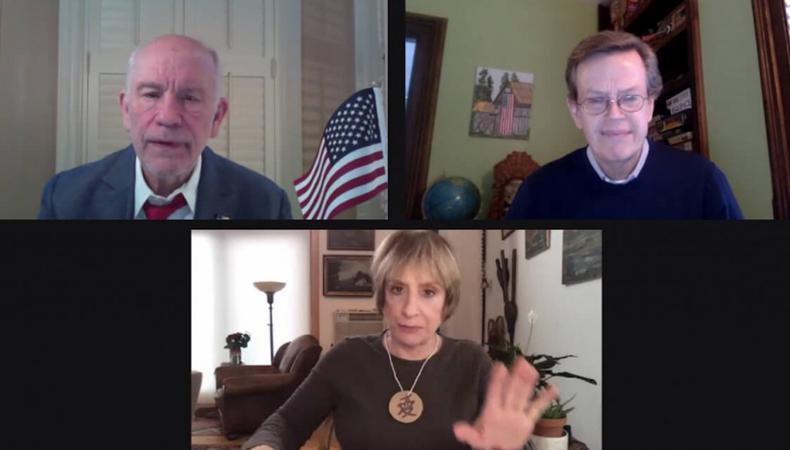 When asked if there is anything preferable about virtual theater compared to in-the-flesh performance, the actor Alysha Umphress doesn't hesitate: "No," she says with a laugh.
Like all theater artists since March, Umphress, who's starred on Broadway in musicals like "Bring It On" and "On the Town," has watched her industry all but evaporate for the foreseeable future. Over the last few months, she, like so many, has since taken part in various virtual productions. And while she is grateful to be working at a time when opportunities are few and far between, she can't say she is the form's biggest fan.
"It's tricky because even though you're in the scene with other actors on Zoom, you can't really look at them, and you have to look at the camera lens but also look at your script," she laments. "[There's] just the missing link, the cohesion and bond you get from sharing the room with the cast and creative team. The personal connection isn't there. It's very isolating. Unnatural."
It's no secret that virtual theater—or Zoom theater or streaming theater or whatever way you want to describe theater that is recorded and viewed on screens—leaves something to be desired. Specifically, it lacks the symbiosis between the performers and audience that in many ways makes theater theater.
Still, creators create for the times. And just because the conditions to make theater over these last nine or so months have been anything but optimal, it doesn't mean efforts are not worthwhile. It's why, eight weeks into the pandemic, eight-time Tony-winning producer Jeffrey Richards launched "Spotlight on Plays," a series of one-night-only live-streamed readings to benefit the Actors Fund.
"I was about to open 'The Minutes' on March 15, and 'American Buffalo' was going to begin previews on March 24. Then, on March 12, it all stopped," Richards recalls of the day all Broadway theaters were forced to shutter to slow the spread of the coronavirus. "The theater had always been there for me and now I felt bereft."
He didn't let the despair stun him into inaction, at least not for long. He reached out to the Actors Fund president and CEO Joe Benincasa to explore producing a series of plays as for-web readings—with big names attached. The first three plays launched starting May 7 with David Mamet's "November," starring John Malkovich and Patti LuPone, followed by Joshua Harmon's "Significant Other," on May 14, which featured the original Broadway cast, and A.R. Gurney's "Love Letters," on May 21, starring Sally Field and Bryan Cranston.
They were, by Richards' account, a huge success, and led the team to produce a seven-play fall series, which concluded Dec. 10.
"One is limited in virtual theater with respect to scenic, costume, and lighting design, as well as special effects and use of projection. But the entrée remains the same: A good play is a good play," he says, "and is enhanced with intelligent and sustained performances, and smart direction. I think everyone involved in these presentations misses having a responsive audience, but the richness of the texts has made it a rewarding experience."
"Spotlight on," presenting traditional plays previously written and intended for proscenium productions, is one type of streaming theater, and it was the first to emerge in the pandemic for the obvious reason that the work was already in existence. But there is another kind of theater that has been born during this period—and was in fact born because of this period—which is theater written specifically for streaming. One such example is "Circle Jerk," which became the hit production of the fall.
The play had been shaping up for a downtown run pre-pandemic. When it became clear that would not be happening, its creators, Michael Breslin and Patrick Foley, took a beat to mourn.
"Honestly, it was really devastating because we are a small company [Fake Friends] and we had worked so hard to put the pieces into place to do this production before the 2020 election," Breslin says. But when the team began to explore what an "internet play" might actually look like, particularly one that deals heavily with disinformation online, as "Circle Jerk" does, a new and possibly better version came sharply into focus.
"We observed how our lives had moved online during the pandemic; TikTok and Insta Live and YouTube seemed to dominate our lives. And we saw digital theater offerings like 'Buyer & Cellar' and read Helen Shaw's subsequent article on how they made that happen," Breslin says of the one-person show that Michael Urie performed and streamed from his living room in April. "All of these elements came together slowly and then when they all clicked, we were like, We have to do 'Circle Jerk' online. And that's maybe the version of the show—not a COVID compromise."
The play, which was co-produced by "Slave Play" playwright Jeremy O. Harris, presented six livestreamed performances, with tickets sold on a sliding scale of $5–$50. There was buzz; the production sold upwards of 5,500 tickets.
"[There are] so many discourses in theater: how to make it more 'accessible'; how to capture young audiences; how to take the incredible history of the form and bring it into our digital life without it feeling awkward or just wrong," Breslin adds. "Our show sold thousands more tickets than we ever dreamed it would. Does that tell us something about what audiences want to see? About what we should even consider as 'commercial?' "
The influx of streaming theater has also naturally presented new questions in the matter of unions. Actors' Equity Association represents stage actors and stage managers, while SAG-AFTRA is the union for screen actors—so, which union represents the actor performing a stage production that will be filmed and broadcast onscreen?
After a very public feud between the two entities, a deal was reached in November giving the theater faction Equity the upperhand, so long as the filmed piece is minimally edited and streams only on a platform that can cater to ticket-holders (meaning the piece cannot stream on Netflix or Amazon Prime, for example). This deal will hold through Dec. 31, 2021, at which time it will be reassessed.
Unions aside, the future of streaming theater in relation to the return of live theater is complex, both as far as the impact it may have on the traditional form, as well as its place in the landscape once audiences are able to gather inside to watch a performance again. You have to wonder: Will anyone actually choose virtual theater when they're able to safely consume the real thing again?
For some who have created shows specifically for streaming during this time, the process and outcome have reinforced that they're meant to be live experiences shared by people in the same room.
"Quite honestly, I think this time has reaffirmed my feeling that theater happens live and in a community with others. There is no replacement," says Natalie Margolin, a playwright who, like Breslin, wrote a production, "The Party Hop," meant specifically to be performed in a virtual space. "It's a fair question to ask how we will ultimately categorize much of the work that has come out of this pandemic. Perhaps it exists on a continuum between a play, a film, a TV episode, somewhere in between?
"What I do know," she adds, "is that I absolutely cannot wait until I am lucky enough to step foot in a theater again."
But conversely, there are others out there who think streaming is the future, and that this new amalgam of mediums can and should exist in tandem with live theater. Streaming theater may in fact be the industry's answer to the years-long (albeit often hollow) call for increased "accessibility." So argues Sean Cercone, creator of Broadway on Demand, a "virtual performing arts complex" of sorts, which streams dozens upon dozens of original titles, as well as productions of beloved Broadway musicals, concert productions, and beyond.
"To me, this is our inflection point, this is the regional theater movement of the '40s and '50s. This is the thing in our generation that we're going to leave behind that is going to so deeply impact the landscape of the theater," Cercone says. "Just from a financial standpoint, the revenue that it could bring fundamentally changes the economics of how you do business in the theater.
"It's been decades now that we've been saying, we have to serve underserved audiences," he goes on. "It's the same conversation over and over again without a meaningful plan to actually go and do it. What's the biggest problem? Money. There is a universe now where Steppenwolf [Theatre Company] could stream a live production to every high school in the Chicago area and the school wouldn't have to pay to get the kids on the bus. Why not? We have the capacity now."
Cercone pokes at a third type of streaming theater, different from existing plays performed on a digital platform and plays created specifically for a digital platform: live performances, inside an audience-less theater or on a set, captured professionally, and then streamed to audiences at home. This kind isn't entirely a product of the pandemic—the National Theatre in London has long been capturing its productions—but it's one that has become an increasingly desirable alternative throughout the pandemic.
It is in some ways the form most emblematic of this period as it is most indefinable; is it a play? Is it a movie? Is it a filmed play meant to be experienced as a movie? Cinematographer and editor Brian Petchers' answer to all the above is: Yes.
"We are creating a hybrid type of film, which is not entirely a play captured on film nor a traditional film, but includes elements of both," says Petchers, who shot and edited the Irish Repertory Theatre's streaming production of the one-man show "On Beckett / In Screen" this November. "Ideally, the viewer feels as though they are watching a show, but have the luxury of seeing it from varying perspectives in the theater. It's unique to translate a piece of theater to the screen. Comedic and dramatic timing, visual point of view, and transitions all take on a new life and role on the screen as opposed to the live show."
"Paying attention to these elements and integrating them in a seamless way," he adds of the editing process, "while still staying true to the feeling of the original live performance is unique and specific to this kind of production."
Petchers gets at a commonality among those who are performing or creating for the virtual theater audience: Every choice must be catered to the specificities of the form. That means, as much as possible, leaning into rather than away from its confines. Margolin, for example, embraced the stilted pace of actual Zoom calls, infusing it into the dialogue she was writing for her actors (who, in the fall production of "The Party Hop," included Ben Platt, Ashley Park, and Beanie Feldstein).
"It is easy to feel out of sync with someone when chatting on Zoom," she says. "So, in my approach to writing the dialogue specifically, it was important to me to take advantage of—and embrace—the discomfort that's inherently baked into a Zoom call. I knew I had the opportunity to use breakout rooms, to use the mute feature, to use the video-off feature, the background changing feature. I looked at all the features of this technical meeting app, and they suddenly became dramatically exciting tools to build a world."
Breslin, similarly, tried to view the given technology as a tool at his disposal rather than a roadblock in the production's way. In addition to cutting the piece down to better suit an internet attention span ("the play cannot be two hours long"), the creative team spent a long time discussing how best to care for that attention, which in some ways opened up a world of new possibilities.
"The internet and this production model afforded us so many opportunities that the proscenium stage made difficult. We could finally add in a second location, which we were struggling to figure out how to use onstage," he says. "We could go between pre-recorded content and live performance way more fluently, so we could solve a lot of dramaturgical issues by being like, Well, let's pre-record it! Once we knew we had this whole other vocabulary—pre-recorded content, digital overlays, close-ups, and pans—the rhythm of the show really took off in an exciting way."
Of course, as much as technology can be used to the benefit of these new kinds of productions, they are as easily the biggest headache in the process, particularly for the actors who are forced to figure it out. Or, as Umphress puts it, "You basically have to do eight other jobs instead of just being an actor. For someone who isn't the most tech savvy, it becomes very frustrating at points."
That same word, "frustrating," has come up time and again among the actors Richards has enlisted for his productions, all of whom he applauds for being great sports and ultimately rolling with the punches (and the glitches). "The most frustrating thing for the actor is adapting to the recording, to the technology involved," he says. "But once that is resolved, I've been so impressed by their willingness and adventurousness in participating."
With COVID-19 vaccines now rolling out, those who make theater and those who see it are beginning to see the slightest glimmer of light at the end of this unprecedented tunnel. Still, in a best-case scenario, we are many months away from packing into a poorly ventilated Broadway theater. And at that point, who can say what will become of streaming theater, or the streaming work created throughout the pandemic?
Time will tell, but for Breslin at least, he'll have considered his contribution to the cannon a success.
"The audiences we did capture in this run really surprised us and ranged from Twitter gays who caught literally every single reference, to theater critics who caught the theater references, to theater critics who didn't catch anything, to Sarah Paulson, who tweeted, 'BUSSY,' " he says of the actor, who cited one of the more crude moments of the show online after watching a performance. "Which means we did at least one thing right."