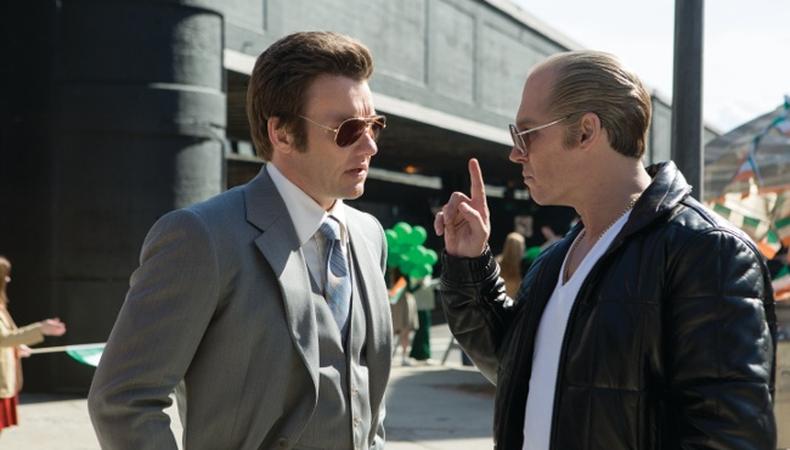 "I revere actors," writer-director Scott Cooper says with such passion that you have no choice but to believe him. Besides, his track record proves it. "Crazy Heart," the film that Cooper wrote, directed, and produced, earned Jeff Bridges an Oscar. And with "Black Mass," which Cooper directs from a script written by Jez Butterworth and Mark Mallouk, he proves it all over again.
"Black Mass" tells the true story of Boston gangster Whitey Bulger, who teamed up with the FBI to bring down the Italian mafia and then used the government agency as a shield to protect himself as he took over every type of illegality in the city. Aided by FBI agent John Connolly, Bulger became one of the most feared men in the country—and eventually earned a place on the FBI's most wanted list for 12 years.
The surprise of the film isn't Johnny Depp as Bulger—we've grown used to Depp losing himself in the physicality of a role, for better or worse—but in the incisive supporting roles that surround him. Chief among them are Joel Edgerton as Connolly, but Dakota Johnson, Peter Sarsgaard, and Julianne Nicholson all offer up indelible moments of their own.
A former actor himself, Cooper says he wants "to create a very safe environment so they can take big risks. I don't do a lot of rehearsal because it tends to make things stale. So most of our work is done in investigative text work, finding out what DNA might reside in [the actor] that marries up to the character. All actors have different ways they like to work, so you have to find that balance of how best to pair them."
That acting background also helps explain why Cooper avoids auditions if possible. "Auditioning and performing in front of the camera are two different skill sets," he says. "Many times, actors have lost parts before they've even uttered a line of dialogue [in auditions]. Very often I won't audition actors at all; mostly it's about spending time with them, getting an understanding of their background, what their strengths and weaknesses are."
Meeting rather than reading actors also protects prospective performers from what could be a grueling audition. As Cooper notes somewhat wryly, his films tend to exert a physical toll on their casts—and "Black Mass" is no different. Whether it's Johnson realizing that her young son is brain-dead or Sarsgaard frantically trying to save his own life, the men and women who surrounded Bulger didn't have an easy time of it, nor did the actors bringing them to life.
"A lot of actors don't like to appear vulnerable because it shows weakness," Cooper says. "I want to make certain that people aren't afraid of being vulnerable or to appear tender if required."
Cooper's own tenderness for actors comes through both in conversation and in the film, especially when he raves about discovering Jesse Plemmons via his small role as Philip Seymour Hoffman's son in "The Master" and bringing him in for "Black Mass." "Being an actor is tough and it's lonely," he says. "You're being rejected every day and it really wears on your psyche. But small parts can lead to great things!"
Inspired by this post? Check out our film audition listings!