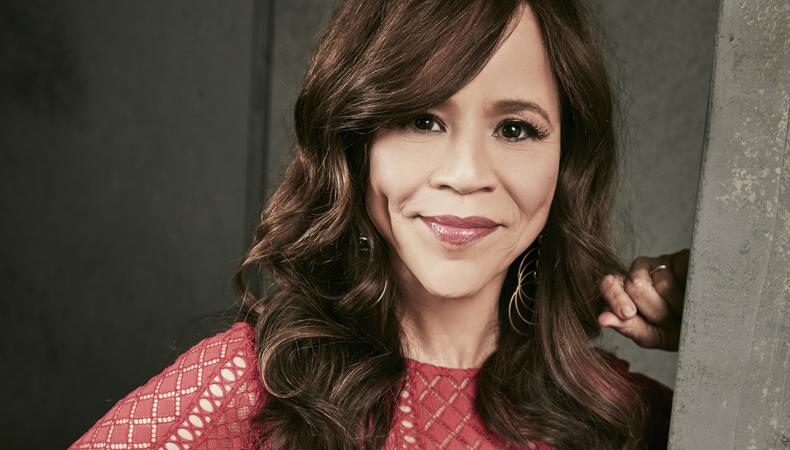 "In the Envelope: The Actor's Podcast" features in-depth conversations with today's most noteworthy actors and creators. Join host and Awards Editor Jack Smart for this guide on how to live the creative life from those who are doing it every day.
You may be surprised to learn the confident, charismatic, Oscar- and Emmy-nominated Rosie Perez still gets nervous on set. "Everybody gets nervous," says the actor, dancer-choreographer, and activist. Then, in her trademark, no-nonsense style, she adds: "Not everyone admits it."
As Perez explains in great detail to her fellow artists in her "In the Envelope" interview, persevering in the entertainment industry means taking one's craft seriously, overpreparing yet staying flexible, and learning how to rise above the nerves—or even infuse them into the work. Her early on-camera career, she says, was about "learning how to be composed in all of my nervousness. Not trying to do away with the nervousness, not trying to push the nervousness down, but finding the champion spirit within those butterflies."
Perez has become a film and television icon in her hometown of Brooklyn and beyond since those early career days. "The nuns were the first ones that put me on the stage," she says of her Catholic upbringing. "I hated it and loved it at the same time." Her destiny for a performing arts career proved inescapable: while studying to become a marine biologist at Los Angeles City College, Perez was asked, at a nightclub, to join "Soul Train." A few years later, she was again approached at the club—by "Do the Right Thing" helmer Spike Lee, who cast Perez as Tina and kicked off the film with her dancing to "Fight the Power."
"So it's the nuns and Spike Lee," she says with a laugh.
But after that supposed breakout, remembers Perez, Hollywood seemed resistant to casting a Puerto Rican woman in substantial roles. "Tiny, tiny, tiny, small agencies," she says, "always wanted to put me out for the prostitute. You know, the hoe on the row, all of that. And I said, 'If I'm the lead hoe, I'll do it!'... I was confronted with the racism and bigotry and sexism of Hollywood immediately.
"My agenda is to help change the system by saying, this is what happens. This is what we have to confront. This is why you see so many white-looking people of color on the screen, because they're telling us that's the only class of people that get jobs."
Perez eventually earned Emmy nods for directing and choreographing on "In Living Color," and continued to blaze trails for Latina women in entertainment: she starred on Broadway in "Frankie and Johnny in the Clair de Lune" and more, scored an Academy Award nomination for "Fearless" opposite Jeff Bridges, and turned in memorable onscreen roles in "White Men Can't Jump," "Untamed Heart," "The Counselor," "The Take," "Pineapple Express," "Bounty Hunters," "Rise," "Birds of Prey," and the upcoming "Now and Then." She's now nominated for her first Primetime Emmy Award for acting, as Megan Briscoe on HBO Max's thriller-comedy "The Flight Attendant" opposite Kaley Cuoco.
Her approach to each of those roles? "It's just like my dance career: prep, prep, prep, prep, prep, prep," she says. "By the time I go on set, I know what I want to do, I just don't know exactly how I'm going to do it. And that's okay because that's part of the process. That's the discovery. That's the magic."
And creating an intricate character backstory, often in close collaboration with writers and directors, is a go-to technique. "It's pivotal because sometimes when you get lost—and you do get lost!—you have to remember who your character is. It helps so much because sometimes it's not always on the page."
As for auditions, Perez recounts a hilariously terrible interview for "The Matrix" ("I totally blew it, and I just burst out laughing, shook everybody's hand, laughing and going, 'I'm so sorry. I'm sorry. Nice to meet you guys.' ") and advises actors to "check your emotional baggage at the door. And if you can't check it, you have to figure out how to use it. You know, one or the other. Because if you go in there with a chip on your shoulder—no one cares.
"Always be on your game, always act professionally," she adds. "Let them know that you have a strong work ethic." For these tips and more, tune into Perez's full podcast interview at any of the links below.
Listen now on: