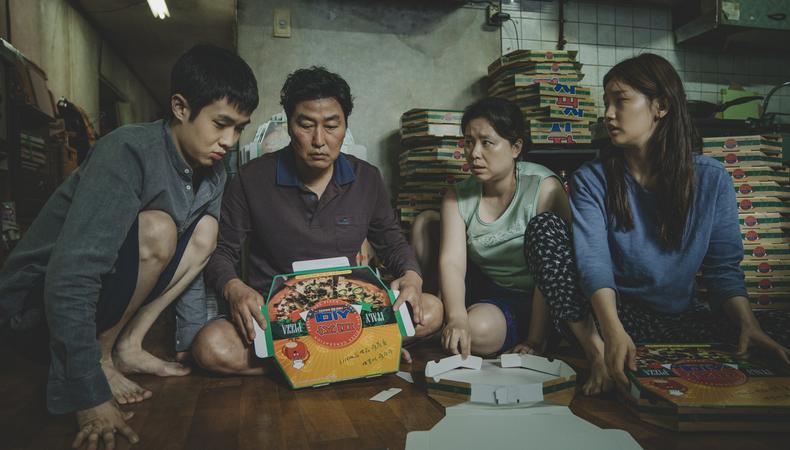 The winners of the 2020 Screen Actors Guild Awards—as chosen exclusively by working actors—represent the year's very best performances on screens big and small.
South Korea's "Parasite" emerged as the 26th annual ceremony's big film winner Jan. 19, earning the top prize for outstanding cast in a film. Only the second non-English speaking film to ever receive a nomination in the SAG Awards category's history, "Parasite" is now up for six total Oscars, with writer-director Bong Joon-ho becoming the first Korean filmmaker competing in the Academy of Motion Pictures Arts and Sciences' foreign film category.
At last year's ceremony, two of the four individual SAG film acting winners went on to win the corresponding Oscar. Ensemble winner "Black Panther" earned love from the Academy as well, although "Green Book" ended up with the best picture prize; roughly half of the SAG cast winners have gone on to claim Oscar gold.
Throughout the SAG ceremony and in multiple acceptance speeches, a theme emerged: acting is a group effort. Brad Pitt, winning the supporting film actor prize for "Once Upon a Time in Hollywood," said in his speech, "We all know what we do is a team sport, and we elevate each other.... I love our community so much."
Michelle Williams, winning yet another trophy for her work as Gwen Verdon in FX's "Fosse/Verdon," thanked her co-star and fellow winner Sam Rockwell as Bob Fosse, and recalled once hearing from Ben Kingsley, "I don't like to act, it's very lonely. I like to react.... Sam, I found Gwen by looking at Bob. There he was, looking back at me, always telling me the truth and in exquisite detail."
"We as actors don't do it all alone," said Robert De Niro, accepting this year's Life Achievement Award after an adoring introduction from Leonardo DiCaprio. "We depend on each other for collaboration in our work and companionship and fellowship. And for that I am so grateful."
Laura Dern continued her victory lap for her supporting role in "Marriage Story," as did Globe and Critics' Choice winners Joaquin Phoenix and Renée Zellweger for their leading roles in "Joker" and "Judy," respectively. Phoenix called out each of his fellow nominees, praising their work, and dedicated his win to Heath Ledger, the late star who previously played the Joker on screen.
"Hello, my family.... What an honor from my actor family," Zellweger said in her acceptance speech. She closed by saying, "Judy Garland, 50 years later your community is thinking of you tonight."
Everything You Need to Know About the SAG Awards
Amazon's hit comedy "The Marvelous Mrs. Maisel" repeated last year's victories for Tony Shalhoub and the ensemble, with Phoebe Waller-Bridge winning one last honor for Amazon and BBC's second season of "Fleabag" in the female comedy actor category. The drama prizes spread the love between the ensemble of Netflix's "The Crown," plus Jennifer Aniston for Apple TV+'s freshman series "The Morning Show" and Peter Dinklage for HBO's finale of "Game of Thrones," both industry vets earning individual Actor statues for the first time.
The SAG Awards, benefiting the SAG-AFTRA Foundation, are the industry's only accolades given to and voted upon by actors. For a full list of winners, stats, and information, visit sagawards.org. And stay tuned with our coverage for more from the frontlines of the awards race!