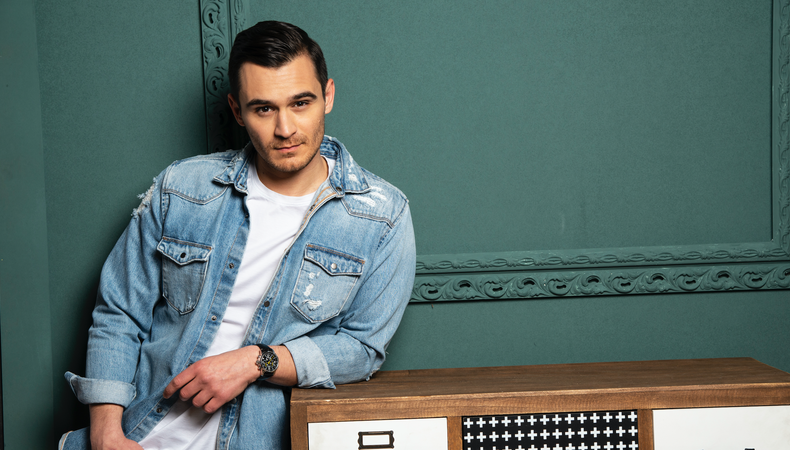 The following Career Dispatch essay was written by Julian Kostov, who stars on Netflix's hit fantasy series "Shadow and Bone."
Change, growth, and self-acceptance.
I know there are a ton of international actors desperately navigating and trying to find a way to fit, in an industry that doesn't necessarily give them too many shots or know what to do with them. It's a cruel world where you are told by the "grownups" that you are almost something but not enough of something else so you often land jobless and hopeless.
But what I've found with time is that having a niche is a blessing—as long as you persevere and you don't deny your true self. Yes, you need to learn how the industry sees you so you can use that to your advantage. In the meantime, you can better yourself, enhance your craft, make your own work, and empower others. I hope my story motivates you.
I was born in the beautiful seaside city of Varna in the fateful year of Change for Bulgaria: 1989, just two months before the collapse of the communist regimes across Eastern Europe and the Soviet Union. I feel like my life and career have been marked by that word: change.
I've always been a cinephile but as much as I played with hand-made lightsabers and could recite every line from "The Matrix," I never really considered a career in acting because there wasn't even one actor born and raised in Eastern Europe who had been "successful" in the West.
I was depressed and wouldn't leave my dorm room in the small Dutch town, Tilburg, where I was studying Business. So I watched a lot of TV and films. Heath Ledger's Joker became my catalyst because hat's when it hit me: Acting is a profession—that I could be doing? That's it! I am moving to London to become an actor!
I actually learned about the existence of agents through an ad on Backstage. I went to audition for one, they liked me, and signed me. I got another agent and booked my first commercial! I was the Gillette man! I was ecstatic. But how to do "real acting" in movies? That's when I started to understand branding. At the time, my accent was an international hybrid but because I had learned English as a child watching Cartoon Network, I decided that I would perfect my American accent. I had no money for dialect classes so it took a year of repeating after Hank Moody in "Californication" and random YouTube clips. But I did it.
I also realized that I probably needed to do some training, and after some hit-and-miss classes, I found AMAW London—the studio that changed my life. Around the same time, I had endured four rounds of "Star Wars" auditions over several months for the role of Finn. "Star Wars" is so important in my life and I thought it was meant to be, only to find out it wasn't (not yet anyway). I was devastated for months. It wasn't until years later when I totally changed the way I see auditions, thanks to the words of the wise Bryan Cranston: I used to go to auditions to get a job. Now I go to an audition to do a job.
I started booking lead roles in small movies and recurring gigs on big series. Things were moving but they weren't moving fast enough. I was broke and struggling to pay my rent every month. I turned down a lead role in a TV series in my native Bulgaria because it didn't align with what I was going for: an international career. Of course, after turning that down, I didn't work for a year but I didn't regret it. Life makes sense backwards, not forwards, I thought.
That's when I started my company JupiterLights, with the aim to create my own work because I couldn't wait on the industry to find me. I also started organizing workshops with casting directors who I targeted based on my niche. That's how I met Nancy Bishop and we have enjoyed a long and productive working relationship, which eventually led to the discovery of "Borat" Oscar nominee Maria Bakalova.
Of course, it was still really tough and took time. I understood I had shifted to a new level and the competition was different now, but I couldn't wait around. I needed to make my own breaks and empower others. So I produced a feature film, "The Dare," with a million-dollar budget and which has been playing in cinemas and VOD around the world.
I also needed to share all this knowledge I had about how to start out in this industry, so I began mentoring some kids from back home who wanted to follow in my footsteps. I shared casting opportunities with fellow actors from my country so that we could prosper together. Along the way, my acting career began to take off again, but I knew if I wanted to keep helping these kids, I'd have to build a business.
That's always been my motivation behind what is now JupiterLights Media: create, support, educate, and build a bridge for Bulgarian talent and the international entertainment industry. And at last, my belief in that feat led to our champion Maria Bakalova. I found her for Nancy Bishop, guided her through a gruesome, months-long screen test process, and managed her throughout the last two years. I am so proud of what we have achieved. Maria's success has made us feel heard and seen, all the while starting a sales company with a friend, and shooting great roles on "Back, Temple" and "Shadow and Bone"!
People often ask me, "How do you find the time?" And I say, "I have no other option. There aren't enough opportunities for people like me, so I have to hustle, help others, and be proactive. Otherwise I would drown in self-pity and resentment of these retrogressive casting stereotypes that Eastern Europeans are presented with."
The silver lining is that it is possible! You just have to know what you are after and pursue it. It's about longevity. If you are denied, make it yourself or help someone else. We are blessed and lucky that we are working at a time where being different and from a diverse background is no longer looked down upon but rather, is seen as an asset. Follow your truth, liberate the artist within, and don't let anyone tell you you are not enough.
Looking for remote work? Backstage has got you covered! Click here for auditions you can do from home!