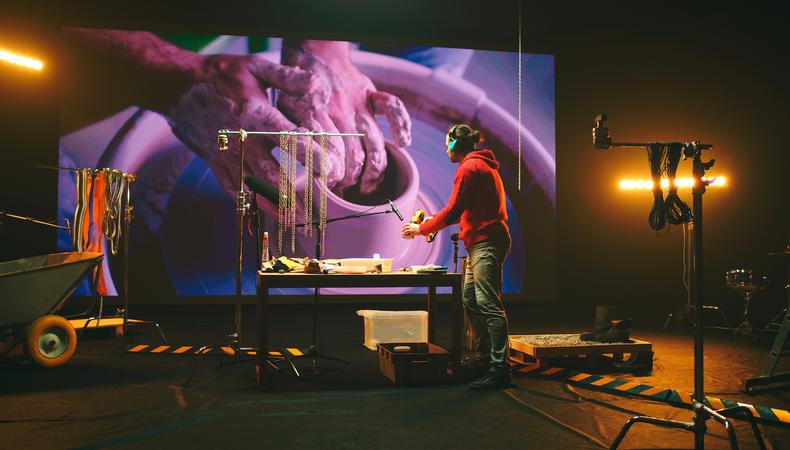 From the splashes and sprays of an ocean documentary to the action-packed thumps and thuds of a fighting video game, sounds are an integral element of any creative production. These audio elements are meticulously crafted by sound designers, who use their expertise to create immersive, atmospheric sonic experiences. Keep reading to discover the intricacies of the field and learn how you can become a sound designer.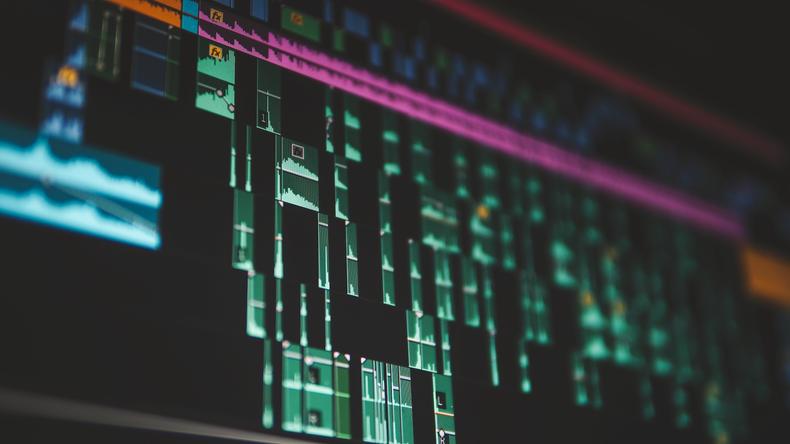 George Khelashvili/Shutterstock
Sound design is the art and science of recording, acquiring, manipulating, and generating soundtracks for artistic mediums—particularly film, TV, theater, and video games.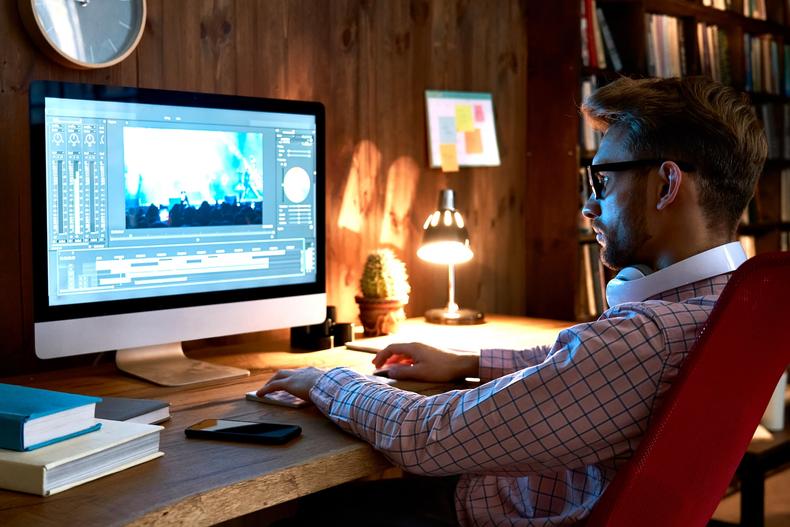 Ground Picture/Shutterstock
Sound designers create, operate, and edit audio for media programs. They may work on special effects, be responsible for orchestra microphones, or create scene transitions. They are responsible for making sure the audience doesn't miss what's happening and is fully engrossed in the aural world. Specific responsibilities include:
Recording all audio used in a production
Acquiring existing audio, then sampling or synthesizing it to create something new
Manipulating recorded, sampled, or synthesized sound by altering it with digital software
Generating the perfect audio to accompany visual media
Additional tasks include creating effects, textures, and ambiances to work with the project's story; choosing, editing, and remixing music with a composer or live musicians; and compiling an audio library. For example, Gary Rydstrom, a longtime collaborator of Steven Spielberg, pulled 1970s-specific noises like telephone bells, "throaty" cars, and typewriters for "The Post."
Sound designers also closely collaborate with actors: They direct actors' microphoning, help them find better clarity in their delivery, and work with them to help improve their aural performance.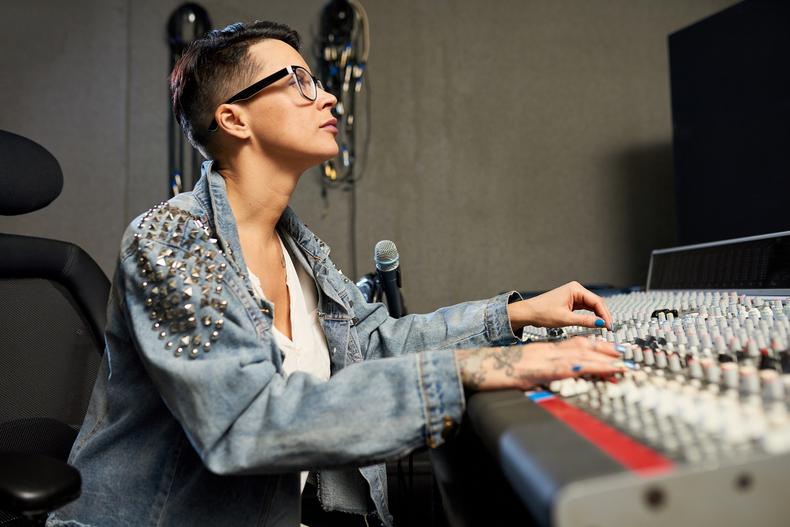 SeventyFour/Shutterstock
Sound designers create audio effects to add to visual media, while sound engineers mix and record music for studios and musicians. Still, there is some overlap in titles and responsibilities. Sound designers and engineers might work together to ensure that pre-recorded audio is correctly added into a live performance. A sound designer might also be called a supervising sound editor, audio designer, sound/audio engineer, or sound/audio artist.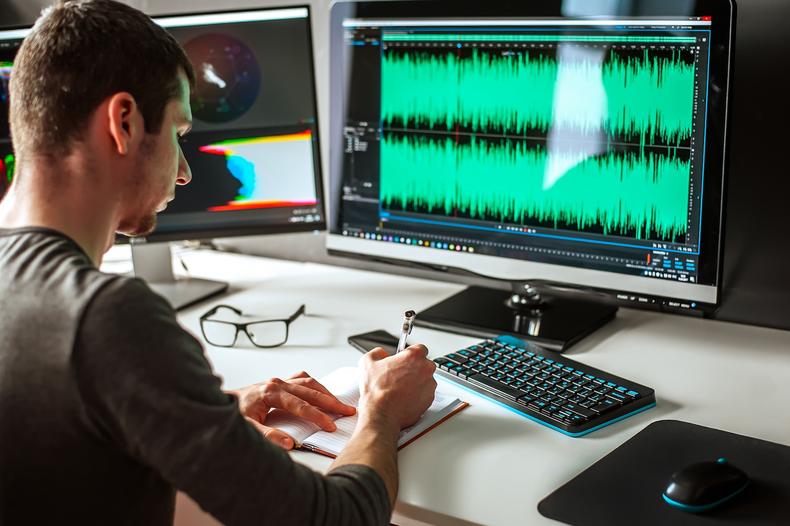 Mikhail Siamenau/Shutterstock
A sound designer's salary ranges from $20,500 to $108,500, with an average of $62,672, according to ZipRecruiter. Like any crew position, salaries vary based on experience, location, and the size of the project. Cities with a more robust media production economy will generally offer higher salaries.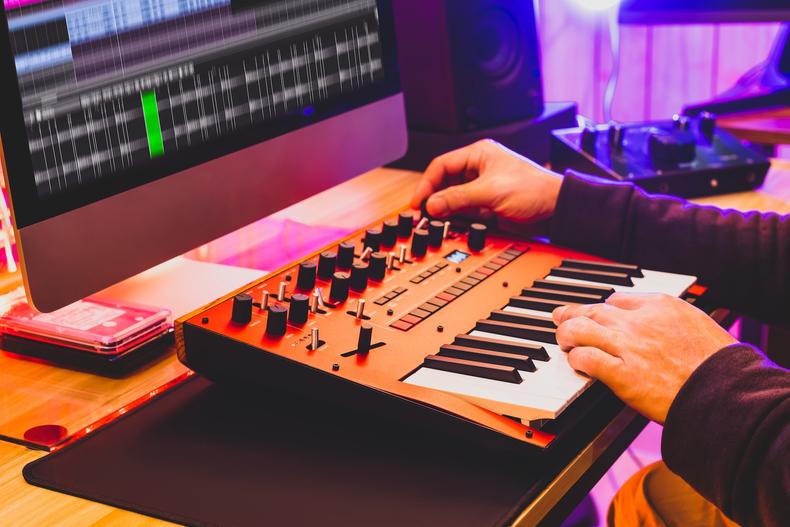 PrinceOfLove/Shutterstock
This position requires a mix of education, experience, and skills.
Education
While a postsecondary degree isn't necessary to become a sound designer, audio training of some form is required. A sound designer is expected to understand physical, sonic, and acoustic properties. They might do that by earning a B.A. in audio engineering or a related field. Aspiring sound designers can also take online classes, enroll in college programs, or complete relevant certificates. Here are institutions and programs that offer sound design credentials:
Online classes
Udemy
Coursera
Skillshare
Colleges with sound design programs
The Savannah College of Art and Design
The Blackbird Academy
Middle Tennessee State University
Conservatory of Recording Arts and Sciences
Berklee College of Music
Credentialed certificates
The Society of Broadcast Engineers
Audiovisual and Integrated Experience Association
Experience
As with any sound job, it's best to train in as many production and postproduction areas as possible. Many people begin their careers—and continue their training—as musicians before getting into sound design. Others, like Harry Barnes ("Doctor Who," "Chernobyl"), begin with entry-level production jobs, such as "a runner-cum-tea boy at an audiovisual company," until working their way up to assistants in the sound department. You may start as an audio technician or a production assistant and work your way up to become a sound designer.
Skills
A mix of interpersonal skills and technical know-how are needed to succeed in the position. Necessary skills include:
Communication: The ability to communicate well with cast and crew—in particular, the director and the creative team—ensures a more cohesive final audiovisual experience.
An eye for detail: The smallest audio snippet can make or break a production. You need to be able to recognize issues before they have an impact and know how to create and edit complex recordings.
Patience: A sense of endurance helps with long days spent editing a single audio segment. It's also a useful skill to have while working your way up to the job.
Research: The ability to research efficiently is also a must, as sounds included should be appropriate to the environment and time period.
Audio equipment: You need familiarity with audio recording equipment such as microphones (omnidirectional, cardioid, unidirectional/shotgun, condenser), audio interfaces, field recorders, studio monitors, studio headphones, and computers or tablets.
Audio software: You also need the ability to work with audio creating and editing software like Pro Tools (considered industry standard), Wwise, Unreal Engine, Logic Pro, Ableton Live, Reason, Serum, Studio One, Reaper, Universal Audio Apollo, and WaveLab.
Sound design techniques: You should know how to conduct audio techniques including audio bridges, ambient noises, noise suppression, audio playback, special effects (SFX), bouncing, fades, clipping, busses, reverb, crossfades, compression, loops, and mixing.
Well-rounded: You "have to be both very technically acute and also very artistically sensitive" to succeed, according to Walter Trarbach ("Spongebob Squarepants: The Musical").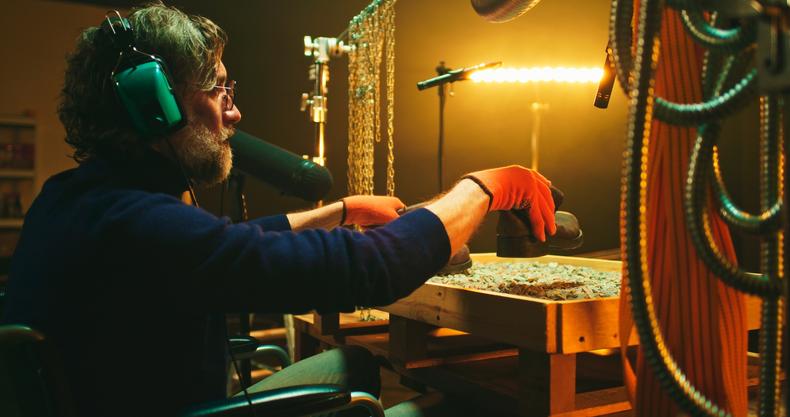 True Touch Lifestyle/Shutterstock
Once you've built a knowledge base and have some experience, landing your dream job is a matter of showcasing your skills and getting a foot in the door.
Create an audio portfolio
The best way to showcase your skills is with an audio portfolio: a two-to-three video reel of your best work and biggest projects. It should include:
Projects using different microphone, recorder, and software types
Projects across different genres
Examples of location recordings (production sound)
Examples of edited, mixed, sampled, and manipulated audio (postproduction sounds)
Any special skills and signature techniques
Be sure that the audio in your portfolio is the highest possible quality (WAV format), creates some kind of narrative about yourself and your work, and includes your contact information. Once your portfolio is complete, post it on your professional site and across your social media pages to show people your abilities.
Grind and gain experience
Search for jobs on our comprehensive casting call database and on other job databases such as LinkedIn, ZipRecruiter, and Glassdoor. Keep an eye out for entry-level sound and audio technician or editor positions. You can also check out freelance work, which offers the flexibility to pick and choose projects and further build your portfolio. Even if you don't land your dream job immediately, it's helpful to get as much experience as possible in related fields. Search for relevant jobs in sound and audio tech.
Network
As with any position in the industry, knowing the right people is one of the best ways to get ahead. To build your network, look into professional groups like the Association of Sound Designers, Audio Engineering Society, Cinema Audio Society, and Motion Picture Sound Editors. Although you may need professional credits to become a member, many of these groups offer classes, mentorship, and other opportunities for networking. You can also attend relevant events like the SXSW film festival, Mix Sound for Film & TV, Game Developers Conference, GameSoundCon, and any events held at local production studios. Be polite but passionate about your desire to start a career in sound design, and be prepared to listen to advice from the experts.
For more on how to get work on a film crew, visit Backstage's crew hub!