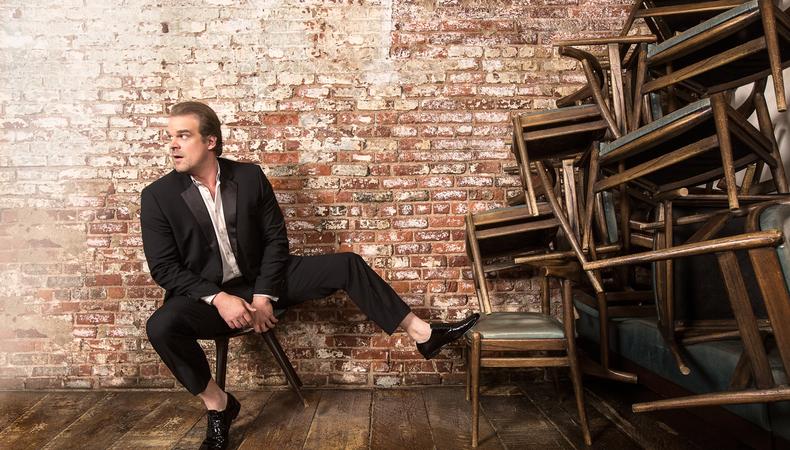 How do you become a leading man: What do they look like? What do they sound like? In what way do they carry themselves? No one is as surprised as David Harbour that we'd turn to him as a "how-to" case study; he doesn't really see himself on par with Hollywood "unicorns" like Tom Cruise and Brad Pitt.
"It was always my dream to be a New York theater actor," he says. "I never thought I was pretty enough to be on camera." Regardless, these are now the "what" questions the Emmy and Tony nominee has been answering since his midcareer breakout on "Stranger Things" (Season 2 premieres on Netflix Oct. 27) and getting cast in director Neil Marshall's highly anticipated "Hellboy" reboot, in which he stars as the titular red man.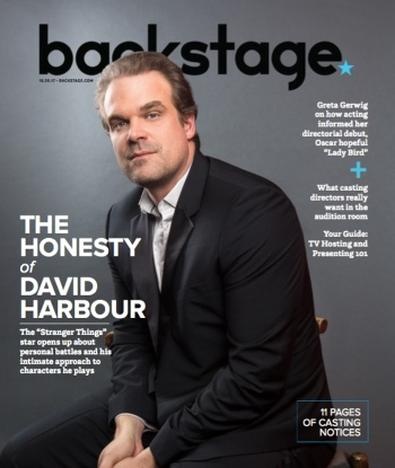 "I'm not looking forward to the makeup," Harbour jokes of "Hellboy," rolling a cigarette on the Musket Room's back patio in Soho. While filming in Bulgaria, he expects to spend about three hours in the makeup chair each day. (He admits that "it feels like a facial. You have four guys pressing on your face, so it's actually very soothing and relaxing.") But now it's a sunny afternoon in the final stretch of August, just days before he's due abroad to begin work on the Lionsgate and Dark Horse Entertainment tentpole. He lights up and takes a long drag.
A classically trained actor, Harbour first moved to New York City after graduating from Dartmouth College in 1997 and "got Backstage every week" for years. He has long been one of those actors whom audiences likely recognize, unnamed, across Broadway, film, and TV, but his journey to top billing really began two years ago when "Stranger Things" creators Matt and Ross Duffer and casting director Carmen Cuba tapped him to play an unlikely small-town hero who in an earlier decade may have been played with great gruffness by Harrison Ford or Nick Nolte. His name was Sheriff Jim Hopper.
READ: 'In the Envelope' Podcast Episode 1: Claire Danes and David Harbour
"[Carmen] was seeing a bunch of New York actors, and I just remember getting a text from her going, 'Watch David Harbour right now!' " Matt Duffer recalls. "We watched and we were like, 'Boom. That's it. That's our guy. That's our Hopper.' "
"[But] he's picky. David won't just do anything," Ross adds. "He has a really high standard for others and also for himself. All the people I value the most in my life are really hard on themselves, and David's no exception to that." So what made him sign on the dotted line? Ross theorizes that it had something to do with Hopper's downplayed heroism. "You know what he really wanted? He missed that type of male movie star that was around in the '80s. He's not in love with the modern-day male movie star."
That may well have had a hand in his decision (the 42-year-old actor says those stars taught him "what it was to be a man"), but to hear Harbour tell it, "Stranger Things"—while tangential to the Shakespearean thespian he'd always dreamed of becoming—reminded him of why he began acting in the first place. He remembers being a teenager and feeling "like I was different than other people, and I started to act out as a result of that in various ways that weren't very healthy, but the one [healthy] way I started to act out was that I found art. I found my physical instrument in terms of expression, and so I wanted to express to people what I saw in the world and how I saw things differently."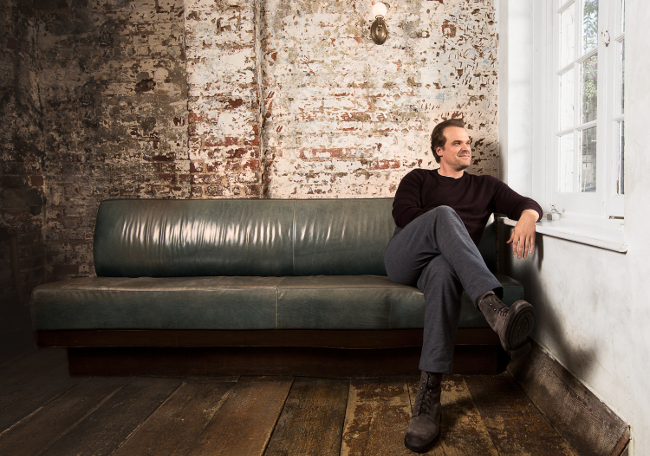 Echoing his now-famous acceptance speech and artistic call to arms from this year's Screen Actors Guild Awards, Harbour says that since his high school days, it has been his mission as an actor to make those watching him feel less isolated. "[Because] I felt alone a lot and misunderstood, my quest with acting has always been to create characters so that people say, 'Oh, there are people like that in the world. I don't feel so alone. I have these impulses, too.' "
It comes as little surprise, then, that "Stranger Things" checked all the actor's boxes. The series found its cult following in part by cutting down bullies and aggrandizing the world's "Dungeons & Dragons" lovers through kid protagonists Mike Wheeler (Finn Wolfhard), Dustin Henderson (Gaten Matarazzo), and Lucas Sinclair (Caleb McLaughlin). Throughout the series, the trio works with Hopper, a young telekinetic girl named Eleven (Millie Bobby Brown), and their Indiana town's resident oddball, Joyce Byers (Winona Ryder), to find Joyce's son Will (Noah Schnapp) after he's abducted by an otherworldly terror and brought to a parallel universe known as the Upside Down.
READ: How Netflix's 'Stranger Things' Cast Its Kid Actors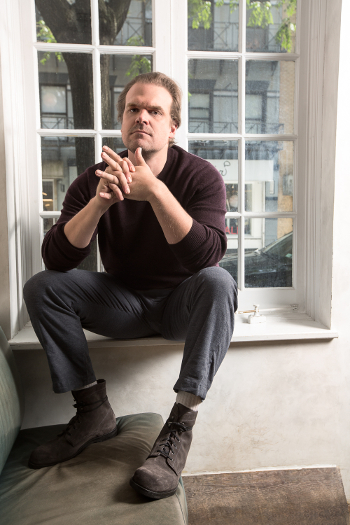 Hopper, too, is a bit of a social outcast. A one-time big-city cop stuck in the fictional Hawkins, Hopper is rarely seen without the haze of a beer buzz or hangover in the years following his daughter's death and his wife's departure. While he may earn sympathy points for his loss, he's still, in Harbour's words, a little "douchey" while begrudgingly helping the kids find Will. "Then he makes that transition in [Episodes] Three and Four, and you start to fall in love with him," Harbour says. "I think that's a much more satisfying arc than really falling in love with the character at the beginning, because it opens up your heart. You see this thing where you can't really judge a book by its cover. People are more complicated than you give them credit for."
Harbour has learned to find beauty in those complications. He says his relationship with his own faults and contradictions informs his performance as Hopper; the character—as the best characters often do—frees him of the things that he has "been trying to hide for years."
"All the work I do is personal, so the good stuff and the bad stuff that you see in there is all good stuff and bad stuff that I have, and part of the journey for me has been to embrace these things that I find embarrassing about myself: my stubbornness, my ego, my maudlin-ness—these things that I see myself do and I go, 'Oh, David, stop that!' " His ability to embrace those elements of his instrument and to combat his own narcissism (a skill he largely credits acting coach Tony Greco with honing) has directly coincided with his increased abilities onstage and onscreen. "People are three-dimensional. They're not good or bad. They're not righteous or unrighteous. They are a million different things. That's really been the journey for me in that sense."
With the new nine-chapter installment of "Stranger Things," Harbour's journey continues. "I want to give people something that is even richer in Season 2," he says, noting that the Duffer brothers "really delivered," but that you can't compare it to Season 1. "It has to be its own thing," so he refused to give more of the same old Jim. "I don't want to do the cartoon version of what you love about him. I want to actually expand the character and see if you can love him more deeply for the mistakes that he may continue to make."
The upcoming "Hellboy" offers a comparable challenge, blending Harbour's personal psyche and self-excavation with the dark, "messed up" demon-hero of Andrew Cosby, Christopher Golden, and comics creator Mike Mignola's script. "I'm really excited to explore that side of him," Harbour says. In that exploration of any role, he says, comes real-world growth.
" 'Stranger Things' certainly changed me; it made me look at the world differently. And so with 'Hellboy,' I'm looking forward to it changing me. I have a lot of issues personally that I need to solve, and I feel like this expression of art is in line with those issues. A lot of the time I do find that the part finds you as opposed to you finding the part. I feel like Hellboy found me in this particular place in my life and I have these things to explore that are very personal. It's already started to work, but I'm very curious how it will change me as a human being."
Check out Backstage's TV audition listings!
Additional reporting by Jenna Marotta. Styling by Michael Fusco.