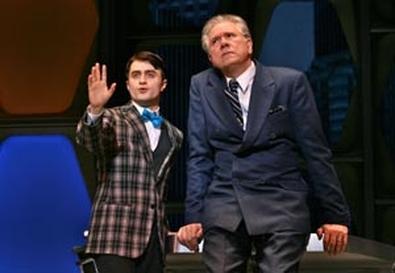 Once upon a time, there was something called the "star package" circuit. Stock productions toured summer theaters across the country fronted by inappropriate headliners who sold tickets on name value alone. Think Sonny Bono as Pseudolus in "A Funny Thing Happened on the Way to the Forum." Director-choreographer Rob Ashford seems hell-bent on bringing those glorious days of yesteryear to Broadway. Hot on the heels of his "Promises, Promises," with its ill-conceived casting of Kristin Chenoweth and Sean Hayes as vulnerable 20-somethings, he gives us Daniel Radcliffe as J. Pierrepont Finch, a role tailored for one of Broadway's finest musical comedy clowns, Robert Morse. Let's be blunt: Radcliffe wouldn't be up there without his phenomenal screen success as Harry Potter. But not even Harry could muster the magic to turn the undeniably talented young man into a musical comedy star. The likable lad, alas, is in over his head.

This sly satire of 1960s corporate America, about a window washer's meteoric rise to chairman of the board, won not only a slew of Tonys but also the Pulitzer Prize, for book writer Abe Burrows, who also directed, and songwriter Frank Loesser (strangely, co–book writers Jack Weinstock and Willie Gilbert were not included). It spawned a film adaptation and got a hit 1995 Broadway revival. The material is evergreen, but that doesn't mean it's foolproof. The show is dotted with supporting roles that require considerable comic invention, including J.B. Biggley, the hard-driving boss with a secret penchant for knitting; his scheming nephew, mama's boy Bud Frump; his battle-axe of a secretary, Miss Jones; and his high-busted, dimwitted mistress, Hedy La Rue. But if you don't have a Finch who can top them all, then the only solution is to cut them down to normal size, so your star won't disappear entirely.

Ashford tries to compensate with such excesses as Howell Binkley's busy, relentlessly colorful lighting of Derek McLane's overbearing set of endless hexagonal boxes; Catherine Zuber's wink-wink costumes (her identical designer-knockoff dresses for "Paris Original" are way over-the-top); Doug Besterman's cheesy, period-invoking orchestrations; and, worst of all, Ashford's own overblown and often extraneous dance sequences. The show ends up frenetic and dull all at the same time.

You start hoping for the best. Radcliffe's charm quotient is high, he showed significant stage chops two seasons ago in "Equus," and he grew up loving musical theater. In the opening number he displays a thin but true singing voice. But by the time he and a subdued Rob Bartlett get through Loesser's hilarious paean to yes men, "The Company Way," without generating a single laugh, it's clear we're in trouble. Once we get to Finch's Act 2 showstopper "I Believe in You" and Radcliffe merely stands there staring determinedly in the washroom mirror during the instrumental fills designed to give Morse room for sublime bits of comic business, well, the jig has long been up

The star has but two successful moments all night. The first comes late in Act 1, when Finch joins Biggley in "Grand Old Ivy," the boss's college fight song. The terrific John Larroquette, the show's one saving grace, plays with a ferociously concentrated understatement that strikes sparks with Radcliffe's puppy-dog boyishness, and the number ignites. Radcliffe's second moment is the show's finale, "The Brotherhood of Man." Here Ashford unleashes his star as dancer, and Radcliffe's giddy glee at showing us that he really has learned how to move is infectious.

Rose Hemingway is a pleasant but undistinguished Rosemary, the secretary who sets her cap for Finch. Mary Faber lacks oomph as Smitty, Rosemary's enabler in romance. Christopher J. Hanke, as Frump, knows what to do but isn't being allowed to do it. Ditto for Ellen Harvey as Miss Jones. Tammy Blanchard's intelligence undercuts Hedy's cheerful brainlessness. Michael Park is a brisk and confident Mr. Bratt, a corporate functionary. Anderson Cooper shows up as the voice of Finch's self-help book. He shouldn't quit his day job.

Presented by Broadway Across America, Craig Zadan, Neil Meron, Joseph Smith, Michael McCabe, Candy Spelling, Takonkiet Viravan/Scenario Thailand, Hilary A. Williams, Jen Namoff/Fakston Productions, Two Left Feet Productions/Power Arts, Hop Theatricals/Paul Chau/Daniel Frishwasser/Michael Jackowitz, Michael Speyer–Bernie Abrams/Jacki Barlia Florin–Adam Blanshay/Arlene Scanlan/TBS Service, at the Al Hirschfeld Theatre, 302 W. 45th St., NYC. Opened March 27 for an open run. Tue. and Thu., 7 p.m.; Wed., Fri., and Sat., 8 p.m.; Wed. and Sat., 2 p.m.; Sun., 3 p.m. (212) 239-6200, (800) 432-7250, or www.telecharge.com. Casting by Tara Rubin Casting.