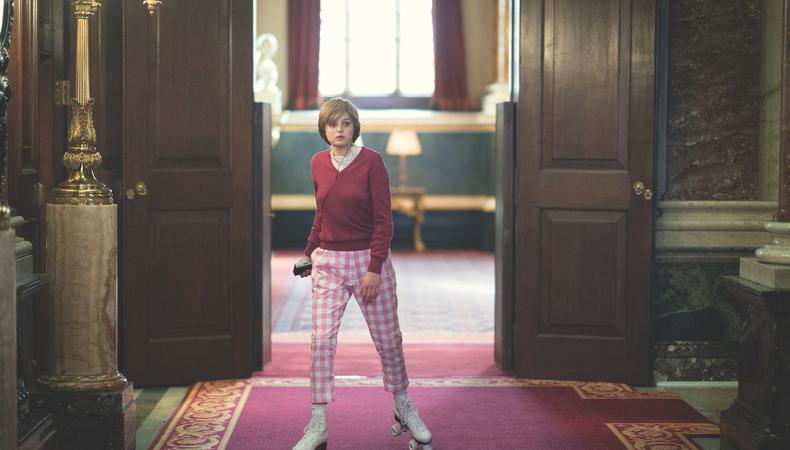 As we look back at 2020, we at Backstage have pinpointed the year's best big- and small-screen ensemble work for your SAG Awards consideration and beyond. For more voting guides and roundups, we've got you covered here.
Main Cast: Gillian Anderson, Helen Bonham Carter, Olivia Colman, Emma Corrin, Erin Doherty, Emerald Fennell, Tobias Menzies, Josh O'Connor, Jason Watkins
Casting by: Nina Gold and Robert Sterne
Created by: Peter Morgan
Distributed by: Netflix
"The Crown" fans and royal watchers alike have been waiting for Season 4 ever since the series was announced all the way back in 2014. No, there wasn't a cast changeover this year like there was in Season 3, but a new addition was just as exciting and highly anticipated: Diana Spencer.
This season we see the Princess of Wales shake up the buttoned-up royal family following her marriage to Prince Charles. As a woman who was subjected to more public scrutiny than anyone in the royal family before her, her private life and public appearances were—and continue to be—dissected by the masses. Needless to say, the role is a daunting one to step into. However, Emma Corrin successfully adopts Diana's way of drawing you in and demanding that you watch her. Between the excellent makeup and wardrobe work (her wig is spot on) and her pitch-perfect eyes, which convey a mix of sorrow and shyness, Corrin's portrayal of the public-private dichotomy and the many moods of Princess Diana steal every scene she appears in throughout these 10 episodes.
READ: The Non-Process That Got Olivia Colman an Oscar Win
The returning cast members offer an excellent contrast to the young Diana. Olivia Colman continues to impress as the duty-first, family-second Queen Elizabeth. Helena Bonham Carter's Princess Margaret is brazen as ever, offering the occasional glimpse into her softer side. It's harder to feel for Josh O'Connor's Prince Charles as he looks the other way while Diana struggles to acclimate and adjust to her new life. More specifically, he continues to look toward Emerald Fennell's Camilla Parker Bowles, now married but still accepting (and reciprocating) the attention of her one-time beau. As Camilla, Fennell oozes confidence and humor, making it hard to see her as a villain despite her actions onscreen.
Tobias Menzies as Prince Philip and Erin Doherty as Princess Anne double down on their work from Season 3. Menzies continues his bitter tear, never quite satisfied with the decisions of his family and still refusing to accept being No. 2 to the Queen. Princess Anne returns to the series a married woman, but no less vocal, often cutting the tension in a scene with her signature wry remarks. The show is not subtle about establishing another in a long list of unhappy marriages, and she plays it expertly.
The final major addition to the cast was Gillian Anderson as Margaret Thatcher. It's our first look at a female prime minister and foil for the queen. While Queen Elizabeth was born wealthy and learned to love leisure time, Anderson as Thatcher is her opposite. She sees the royals' vacation, as an outsider, as a frivolous waste of time. Anderson is virtually unrecognizable, especially to audiences who might have more recently seen her as the liberal sex therapist of Netflix's "Sex Education." It's a testament to her chameleon-like ability as a performer, and it makes for the most captivating prime minister–queen dynamic since Winston Churchill blustered his way through Season 1.
Season 4 of "The Crown" brought the most salacious royal storylines yet to the screen, and it delivered on the entertainment value that it's always promised. With better-than-ever writing behind them, you'll hang on every word of this ensemble's sterling work.
This story originally appeared in the Jan. 20 issue of Backstage Magazine. Subscribe here.
Want more? Stay in the loop with everything you need to know this awards season right here!