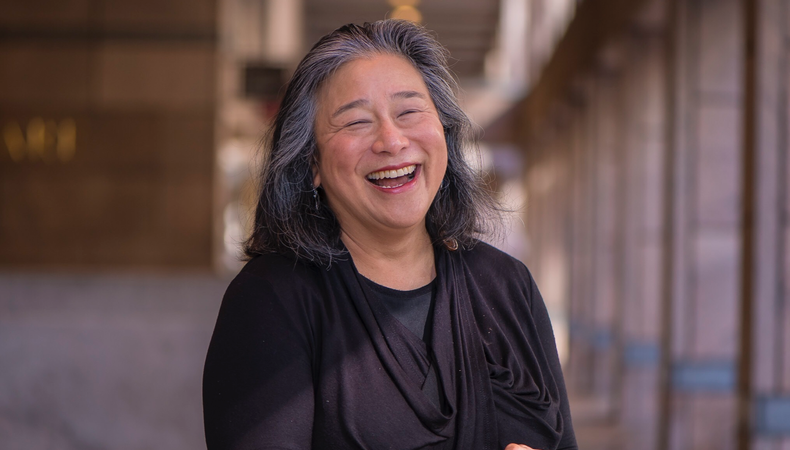 "In the Envelope: The Actor's Podcast" features in-depth conversations with today's most noteworthy actors and creators. Join host and Awards Editor Jack Smart for this guide on how to live the creative life from those who are doing it every day.
Today's "In the Envelope" episode takes an in-depth look at safety and parity in the entertainment industry, and in particular an organization leading that conversation and providing essential resources. We're honored to be joined by Tina Tchen, the president and CEO of Time's Up.
Launched on January 1, 2018, partly in response to sexual assault allegations in Hollywood and the resulting #MeToo movement that then gained national recognition at that year's Golden Globe Awards, Time's Up Now and the Time's Up Foundation advocate for "safe, fair, and dignified work for everyone," as Tchen tells Backstage. Amid the country's ongoing reckoning of discrimination and systemic inequity within multiple industries, Time's Up has partnered with other causes and charities to dismantle what are essentially interconnected issues: workplace harassment and abuse, pay disparities, employee rights, and more.
"The real goal here is to create workplaces where [sexual harrassment or discrimination] doesn't happen in the first place," explains Tchen, an award-winning corporate lawyer who served in Barack Obama's presidential administration—running the Office of Public Engagement and the White House Council on Women and Girls, and as Michelle Obama's chief of staff—and co-founded the Time's Up Legal Defense Fund administered by the National Women's Law Center, providing thousands of sexual harassment victims with legal counsel.
In this deep-dive podcast episode, Tchen covers diversity and the #TimesUpGlobes movement, the recent allegations against producer Scott Rudin, and what steps toward progress both individuals and companies can take. Speaking to how safety and parity are linked in Hollywood and beyond, Tchen says, "If you have representation of not just women, but LGBTQIA, and people of color, and disabled workers, up and down the wage scale, that means you've got a healthy workforce, and it's inclusive, and it's respectful of everyone.
"They're intertwined because unsafe workplaces, and especially in the entertainment space, are what has led to a lot of the lack of parity that we see, especially as you move up the ranks.... We will really never get to the place we want to be—which is really fair, safe workplaces for everyone—without company CEOs and leadership recognizing and owning that as a goal and making the changes within their own companies."
The #TimesUpGlobes initiative, a series of recommendations for the Hollywood Foreign Press Association in light of the fact that their membership has no Black Golden Globe voters, is a perfect example of much of Time's Up's advocacy work. "In this day and age, with the racial recognition that we're seeing in this country, we really can't have an award—that is the gateway award in this critical industry to our culture—be one where the decisions are made by an insular, small group of not diverse, not accountable people," says Tchen.
She also addresses the emerging allegations of workplace abuse around Rudin, which feel reminiscent of those against Harvey Weinstein and other industry gatekeepers within the past three years. "Where does that come from?" asks Tchen, pointing out that causes rather than symptoms are what need reforming. "Some of these folks who are successful in cutthroat industries have this reputation. And I think we have to start asking ourselves, what is it about those industries, in the way investors are operating or people who invest in theater productions, that they need that? And unpack that too, so that we don't create a system that requires you to be such a jerk to get your theater production funded."
In the arts, she adds, the tragedy of toxic power structures means an untold loss of talent. "How much other incredible work didn't happen because of his behavior? And how would the theater have benefited from that?"
Casting insider Christine McKenna-Tirella also joins to highlight Backstage's work facilitating inclusivity in our casting process, plus tips for actors on red flags in auditions and what to do about them. (Our customer service team can always be reached at [email protected] or 1-917-725-6367.) For more resources and actionable advice, read our guide on sexual harassment in the industry here. And stay tuned for more "In the Envelope" installments like this one!
Listen now on:
Looking for remote work? Backstage has got you covered! Click here for auditions you can do from home!