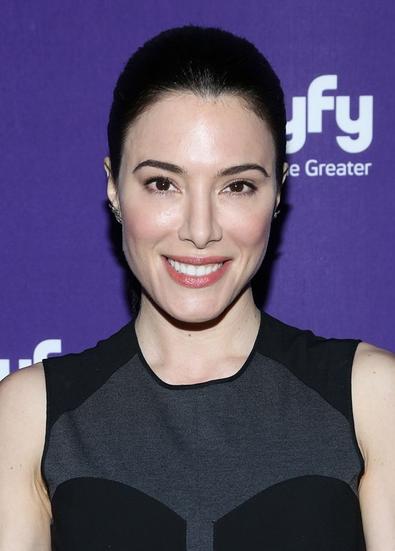 "If I had known how much I hate auditioning, I doubt I would have become an actress," says Jaime Murray of SyFy's new series "Defiance." In fact, auditioning often induces panic attacks for the actress, as was the case in her audition for her current role, Stahma. "I was playing this very graceful, cool, calm woman and Tony [Curran] said that he couldn't believe how calm I was; and then there came a moment in the scene where he had to lay his head on my chest and he said I was hot like a furnace and my heart racing so loud going boom, boom, boom, boom," she says. Murray shares what she's learned about auditioning and acting techniques.
Embrace your fears.
Instead of letting her panic in the audition room stall her career, Murray has tried many different ways to overcome it. Currently, she says, "I'm going to try to welcome this thing in like a friend and be like 'Hi, it's my old friend, he's come to join me' and be more welcoming and have more of a sense of humor about it.'"
Take a fresh perspective.
No stranger to science fiction, having previously worked on SyFy's "Warehouse 13," Murray says she's a fan of the genre because of the complex, interesting female characters it offers. "I'm playing a whole different species and that gave me a chance to really kind of take another fresh look at what it means to be human from a whole different perspective - from the perspective of being an alien," she says.
Be open to learning new things.
David Peterson, who created the Dothraki language on "Game of Thrones," also created a special language for the species Murray plays on "Defiance." "When he first rattled it off to me I thought 'Oh my gosh, how's this going to work out?'" she remembers. The fast pace of the language seemed daunting to Murray, but she says, "There was a rhythm to it and a real symmetry and musicality for me and when I focused on those elements it actually flowed remarkably easily." Besides learning a new language, Murray also had to learn to speak English as if it were her second language.
Act in the moment.
Murray trained in method acting at the Drama Center in the UK and then trained in Meisner, so for her it's important to stay in the moment. "I try to really focus on the actors I'm working with and kind of read and respond to their behavior," Murray says. This proved to be challenging in playing Stahma because Murray's natural impulses were human. She says, "I would try to choose the one that was slightly more unusual because I didn't want her just to be a human woman who looks different, I wanted her to be alien."
Trust your collaborators.
"One of the reasons I love working with [Tony Curran] is because we have a great relationship," she says. "We trust each other implicitly. I feel as though as an actor you can only make brave choices when you're acting with people that you're so relaxed with that you can make a mistake." This allows you to take chances even if it might seem stupid because you don't need to worry about protecting yourself. "So we've had some scenes where stuff has organically happened that's really surprised me and delighted me," she says.
Think outside the box.
Because Stahma is not human, part of Murray's preparation was figuring out how to make her appear different. "I'm a visual person so I collected together a lot of images; and thinking about her posture and different animals and the way she moves might be quite catlike or quite reptilian in some ways so there's still organic movement that you would recognize, but it's not necessarily human."
Don't give up.
Murray says it's important to "keep on truckin' and know that you're one job away, one room away, one meeting away from everything being different." She says there's no difference between somebody who fails and someone who succeeds. "People who succeed have failed just as many times as people who fail but at some point the people who fail give up," she says. In a profession where so much of your self-worth is tied up in getting a job, Murray says, "You just have to remain open and trustful and enthusiastic if you're going to embrace the world in a healthy way; I think that you have to be able to go to a place, press the release button, dust yourself off, and move forward with strength and dignity."