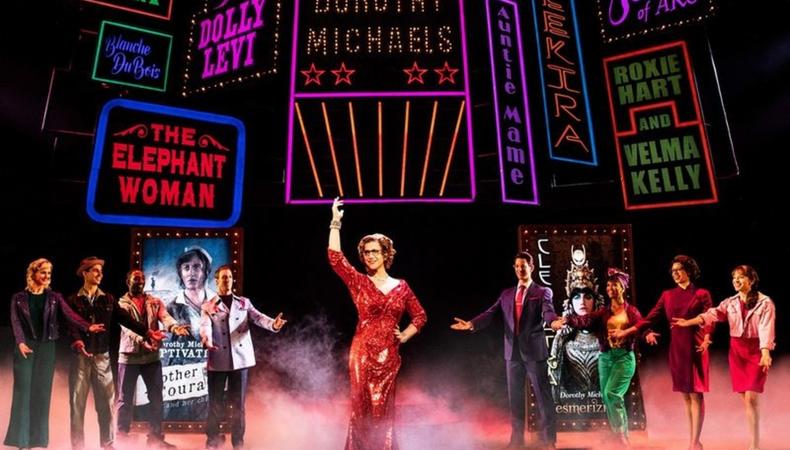 How do you stand out among the near-dozen film adaptations open on Broadway right now? For starters, don't stage a remake.
"The first goal was not to do the movie," says Scott Ellis of his musical adaptation of the 1982 Dustin Hoffman film "Tootsie," now open at the Marquis Theatre and nominated for 11 Tonys including direction as well as best musical. "We were not going to put the movie on stage."
The musical, as in the film, does depict a failed actor (Santino Fontana) who assumes the identity of a woman in order to land a part, and features a book by Robert Horn and score by last year's Tony-winner David Yazbek (both of whom are also Tony-nominated). It's also one of two tuners Ellis ushered to the stage this spring.
In addition to "Tootsie," the nine-time Tony nominee is also at the helm of this season's Kelli O'Hara-starrer "Kiss Me, Kate," a Golden Age revival that stands in stark contrast to a brand new movie-to-musical adaptation. Yet despite the vast differences in those two feats, there are as many similarities when it comes to ensuring both shows' success. That becomes even more true considering both musicals are about women from another era, that were each in need of a slight 2019 update.
"On 'Kiss Me, Kate,' we were constantly asking ourselves questions: How do we equal the sexes? How do we make Kate not a victim?," explains Ellis, who worked with Amanda Green to give the Cole Porter musical a 21st Century polish. "We had a great story and something that for the most part works but we had to look at it for today's audiences,. With 'Tootsie,' we were looking at how we adapt the movie but we were asking some of the same questions: What's the woman's role? What is the relationship between men and women? Where's the strength? How do we tell this story with women being strong and not victims? In a way, it was the same process, but obviously, a new musical is harder because you have no blueprint."

READ: The Smart Way to Work With Your Theater Director
For "Tootsie" especially, Ellis and his team had a litany of reasons to avoid an exact film reenactment. "We didn't want it to be a period piece; there are no more soap operas, and if you want the story how it's told in the movie, just go and watch the movie," he says. "We knew we had to tell our own story. We knew if we did it right, people would go along with our story and follow what was on stage, not judge it based on the movie."
To that end, the 2019-ness of the production is made clear throughout, with emphatic mind paid to female characters speaking up and speaking out against unequal treatment by the men around them. Songs and scenes have been worked and reworked to infuse the comedy with modern semantics as well as themes from the internet-driven culture of the moment in order to create the distinct understanding that, not only is this piece a far cry from the decades-old film, but that it couldn't occur at any point other than here and now.
But in order to achieve that feat, Ellis had to be sure his show was endowed with actors capable of, not merely landing the jokes, but also diffusing the arguably outlandish premise into something believable. As Ellis describes, "Casting is very important in any show, but especially this one. We needed people who were funny but also smart actors because funny only works if there's something truthful, a believability."
And for that eponymous role, that was true tenfold. "He had to be a really good actor to be able to make Dorothy real; you have to believe Dorothy," says Ellis, who first met Fontana on another project, and who immediately pegged his ultimate star as the man for the job. "He's a smart actor who never would have approached that character without finding the truth of who that person is. We had to have someone who is smart enough. I thought he was someone who could challenge us and ask the right questions. He could help guide us."
READ: Why Broadway CD Jim Carnahan Says You Don't Have to Go to Drama School
But "Tootsie" hinges as much on its titular actor as it does on those around him—in fact, in addition to Fontana's leading actor in a musical Tony nomination, three other of the show's principal actors have been Tony-nominated for their roles including Lilli Cooper, Sarah Stiles, and Andy Grotelueschen. To cast them, as well as the musical's buoyant ensemble, Ellis's background as an actor came to the forefront.
"You never forget what it's like to be on the other side of the table. I respect actors and their cooperation a great deal; that's how it starts for me," he says. "I cast people I'd like to be in a room with because that process is about being in a rehearsal room, discovering, not being nervous about trying things, and having an enjoyment [of] it. As much as I cast the roles, I cast people who I think I'd like to work with because it's going to be a long process."
But the hybrid of Ellis' actor-director approach does not stop after casting is complete. "Every actor works differently. I have to figure out how they work and I can't expect them to work exactly how I do," he says. "I have to learn how they work to be able to direct them in a way that they understand and that I can get what I need or I can hear what they're saying. I love actors and actors, when you get good ones, they'll collaborate with you and you can figure it out. It's a give and take, the process."
The director admits when he was initially approached for "Tootsie," he wasn't entirely convinced that he was the right person to give voice to this story. Once he signed on, however, he was committed to transforming the narrative into one that could live and breathe with purpose right now. "We were just trying stuff and sometimes it works and sometimes it doesn't work," he admits. "We were asking, 'Are we telling the story correctly?' "
It's a valid concern, certainly, particularly when adapting a classic as beloved as "Tootsie." But 11 Tony nominations later, and Ellis seems to have gotten his answer.
Want to hear more from the best creators in film, TV, and theater? Get it right here!