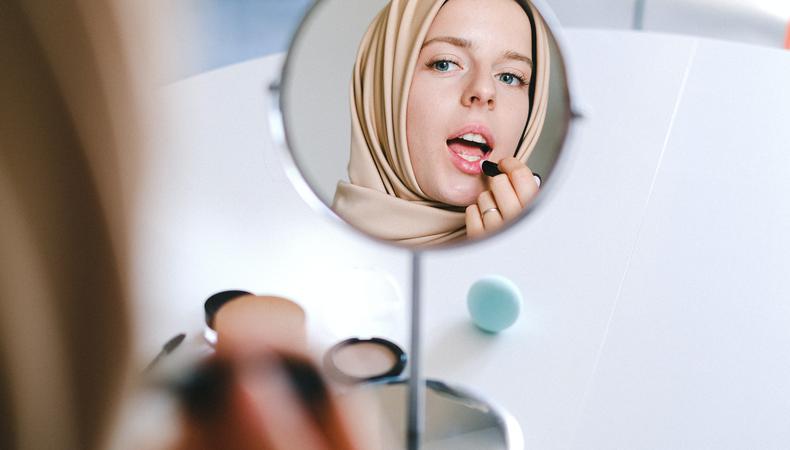 When you arrive at an audition, casting directors, directors, and producers are expecting to see the real you—on a good day—walk through the door. When it comes to makeup, an actor's best bet is a natural look. Follow these 8 tips from Los Angeles hair and makeup artist Anthony Pazos to ensure your audition look will help you get the part.
1. Start by cleansing and moisturizing.
"Makeup starts before you put on the makeup," says Pazos. "It starts off with the cleaning agent you're using for your face. You want to get facials. You have to wash your face every night. If you're on camera every day, you can't afford to look bad. It's all about staying competitive."

As for moisturizer, he recommends staying away from products with a lot of oil. "Oil is going to clog your skin, therefore giving you pimples and zits and therefore making you wear more foundation to cover it. And SPF is huge. It will prevent wrinkles and give you more time in the industry." Pazos' go-to brands are Murad and Dermalogica.
2. Apply a primer.
"After moisturizing the skin, Pazos likes to use a Smashbox primer. "It's really light. It helps fill in any fine lines that you may have before you put on your foundation or concealer. You want to stay away from anything that has a luminescence—any shine, any glitter, any fine brightness to it. What that's going to do, especially on camera, is it's going to make your face look greasy. If you're going in on an audition, you want to make sure your face is staying matte."
3. Choose a camera-friendly foundation.
Pazos recommends the brand Makeup Forever to all actors, particularly those working on-camera. "Everything else is too oily, looks too caked on, is too thick, and is too clumpy," he explains. "The best, the lightest, the one that everyone is using in the industry would be Makeup Forever." He also likes the brand's powder.
4. Less is more.
"Lighter is better," says Pazos when it comes to audition makeup. "You want to stay natural. And it's per person, too. So [our model's] colors would be purples, mauves, light browns, skin-tone colors. You can use black eyeliner on her but I'd prefer it if you used brown on her. So it depends on the coloring."
5. Apply eyeliner under the lower lashes.
Unless you have really big eyes, Pazos recommends gliding your eyeliner pencil under the lower lashes rather than inside the tear duct area. On our model, he used MAC's "Teddy" pencil, though his favorite is "Feline" by MAC. "It the blackest of the black," he explains. "It glides on really easily. When you have a pencil that's cheaper it won't actually glide. So you're struggling putting it on."

6. Try brow gel before using a pencil.
Not every actor will have to draw in her eyebrows. Says Pazos, "Try not to paint it in first with a pencil. See if you can just brow gel it. Sometimes a brow gel will make it actually darker. You won't have to pencil it in. If you have to pencil it in, whatever your natural hair color is, go a few shades lighter than that."

7. Combine three shades of eyeshadow to make your eyes pop.
Pazos says all you need are three colors: "Use a lighter color for the [upper] lash line to the crease; that's your highlight color. The darkest color will go in the crease; that's creating a contour and giving a false effect of a crease basically in your eye. It gives you definition. And then the last color, which is also a highlight color, goes on your brow bone. It's also a light color."

8. Make a call: blush or contouring?
There are two ways to go about doing blush, according to the celebrity makeup artist. "There's contouring of the cheeks and then there's blush—totally different things," he says. "Blush is supposed to be just on the apples of your cheeks. It's supposed to give you a little bit of color to make you look healthy. So that would be more of the red or mauve tones, more healthy-looking tones. Whereas contouring would be more of the grays and browns to accentuate your cheeks to make them look more defined. Depending on your face shape, if you have a really round face, I recommend actually contouring your cheekbones to make your face defined."

Other tips from a pro:
You don't have to spend a lot on mascara. Pazos says the cheaper brands, namely Cover Girl, Maybelline, and L'Oreal, are great. He also says not to pump your mascara as it dries it out sooner than if you swirl it in the canister. And throw out that mascara after three months.
If you're going to spend money, invest in a good set of brushes. "If you don't have the right tools, it's not going to look the same," says Pazos. "You can fake it, but it will make your job easier if you have the right tools." He especially recommends a foundation brush. If you prefer to apply foundation with a sponge, be sure to throw it away after a few applications. "It's a breeding ground for bacteria."
For L.A. dwellers, Pazos recommends Nigel Beauty Emporium in North Hollywood. It's where he shops.

The views expressed in this article are solely that of the individual(s) providing them,
and do not necessarily reflect the opinions of Backstage or its staff.