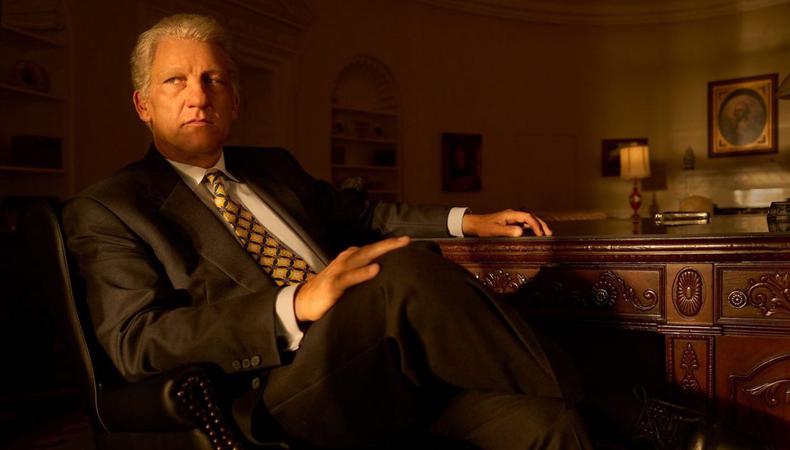 Television doesn't sleep. Backstage is breaking down, month by month, the buzzy shows and performances that merit attention from awards voters and couch potatoes in the ever-growing landscape of the small screen.
For TV buffs, September is the big one. It's the month when networks—and to a lesser extent, streamers—awaken from their summer slumber and unleash a slew of new and returning series. This month also sees the pandemic-delayed returns of shows like Netflix's "Sex Education" and Apple TV+'s "The Morning Show."
This September is heavy on thrillers (Peacock's "Dan Brown's The Lost Symbol," NBC's "La Brea"), adult animated series (AMC's "Ultra City Smiths," Adult Swim's "Teenage Euthanasia"), and network mega-franchises (CBS' "NCIS" and "FBI," NBC's "Chicago Fire" and "Law & Order," and their many spinoffs.) Read on for our full guide on what's premiering and what's returning, including a new chapter in the "American Crime Story" franchise, a "Wonder Years" reboot, and a long-awaited comic book adaptation.
"Impeachment: American Crime Story"
After a yearlong delay due to the pandemic, the latest installment of Ryan Murphy–produced anthology series "American Crime Story" is coming to FX on Sept. 7. This one focuses on the Bill Clinton–Monica Lewinsky sex scandal that rocked the White House in the 1990s. The show features an inspired cast taking on the roles of recent historical figures, including Beanie Feldstein as Lewinsky, Sarah Paulson as Linda Tripp, Edie Falco as Hillary Clinton, Annaleigh Ashford as Paula Jones, Billy Eichner as Matt Drudge, and an unrecognizable Clive Owen as Slick Willie. Vitally, Murphy brought on Lewinsky herself as an executive producer and consultant.
"Scenes From a Marriage"
It's a dicey proposition to try to adapt a work by a master director like Ingmar Bergman—but it helps when you've cast two of the best actors in the game. Golden Globe winner Oscar Isaac and Oscar nominee Jessica Chastain are starring in this adaptation of Bergman's 1973 miniseries, which follows a couple through the ups and downs of their lives together over time. Hagai Levi ("In Treatment," "The Affair") created and directed the limited series, which premieres Sept. 12 on HBO Max. The cast also includes Nicole Beharie, Corey Stoll, Sunita Mani, and Tovah Feldshuh.
"Y: The Last Man"
A small-screen adaptation of Brian K. Vaughan's beloved 2002 comic book series has been in development hell for almost 15 years, but it's finally coming to FX on Hulu Sept. 13. The story is set in a world in which every living thing on Earth in possession of a Y-chromosome has died of a mysterious illness, leaving the global population cut in half and struggling to cope. Our protagonist is Yorick (Ben Schnetzer) who, along with his pet monkey, are the only two biological males left. Eliza Clark ("Animal Kingdom," "The Killing") is showrunning the series, which also stars Diane Lane, Ashley Romans, Olivia Thirbly, and Diana Bang.
"The Premise"
"The Office" writer-star B.J. Novak is behind this half-hour anthology series, premiering Sept. 16 on Hulu. Unlike most shows of its kind, "The Premise" doesn't come with a sci-fi or horror twist. Rather, it's comprised of stories about people in the modern world, tackling heavy moral questions while maintaining Novak's trademark sense of dark humor. The show features a who's-who of actors you love: Tracee Ellis Ross, Ben Platt, Kaitlyn Dever, Daniel Dae Kim, Ed Asner, Ayo Edebiri, Jon Bernthal, and Lucas Hedges, to name just a few.
"The Wonder Years"
Sitcom reboots are a dime a dozen these days, but this updated take on the classic 1988 sitcom seems like it's one worth watching. Saladin K. Patterson's "The Wonder Years" starts in 1968, the same year as the original, but follows a Black suburban family in Montgomery, Alabama, in the later years of the civil rights movement. The show takes place through the eyes of 12-year-old Dean Williams (Elisha Williams) as he goes through the travails of tweenhood and tries to understand his place in the world. Don Cheadle steps into the shoes of narrator this time around, and the series is executive produced by Patterson, Lee Daniels, and original "Wonder Years" star Fred Savage.
"Foundation"
Apple TV+ is venturing boldly into the world of sci-fi epics with "Foundation," an adaptation of Isaac Asimov's classic book series, dropping Sept. 24. Created by David S. Goyer ("Batman Begins," "Man of Steel") and Josh Friedman ("Snowpiercer," "Terminator: Dark Fate"), the show follows a group of exiles from the Galactic Empire who are attempting to preserve remnants of their civilization for future generations before it's inevitably destroyed. "Foundation" stars newcomer Lou Llobell, plus Jared Harris, Lee Pace, Laura Birn, Terrence Mann, and Alfred Enoch. The series looks to be the kind of sprawling, ambitious space opera that genre fans can easily spend a full autumn bingeing.
ABC
Sept. 22 – "The Conners" Season 4
Sept. 22 – "The Goldbergs" Season 9
Sept. 22 – "Home Economics" Season 2
Sept. 22 – "A Million Little Things" Season 4
Sept. 22 – "The Wonder Years" premiere
Sept. 26 – "The Rookie" Season 4
Sept. 27 – "The Good Doctor" Season 5
Sept. 30 – "Big Sky" Season 2
Sept. 30 – "Grey's Anatomy" Season 18
Sept. 30 – "Station 19" Season 5
Acorn TV
Sept. 13 – "Finding Alice" premiere
Adult Swim
Sept. 6 – "Robot Chicken" Season 11
Sept. 19 – "Teenage Euthanasia" premiere
ALLBLK
Sept. 2 – "Craig Ross Jr.'s Monogamy" Season 3
Amazon Prime Video
Sept. 9 – "Mumbai Diaries 26/11" premiere
Sept. 24 – "Goliath" Season 4
AMC/AMC+
Sept. 9 – "Kin" premiere
Sept. 13 – "Ultra City Smiths" premiere
Apple TV+
Sept. 17 – "The Morning Show" Season 2
Sept. 24 – "Foundation" premiere
CBS
Sept. 20 – "Bob Hearts Abolisha" Season 3
Sept. 20 – "NCIS" Season 19
Sept. 20 – "NCIS: Hawai'i" premiere
Sept. 20 – "The Neighborhood" Season 4
Sept. 21 – "FBI" Season 4
Sept. 21 – "FBI: International" premiere
Sept. 21 – "FBI: Most Wanted" Season 3
Disney+
Sept. 22 – "Star Wars: Visions" premiere
Fox
Sept. 20 – "9-1-1" Season 5
Sept. 20 – "The Big Leap" premiere
Sept. 21 – "Our Kind of People" premiere
Sept. 21 – "The Resident" Season 5
Sept. 26 – "Bob's Burgers" Season 12
Sept. 26 – "Family Guy" Season 19
Sept. 26 – "The Great North" Season 2
Sept. 26 – "The Simpsons" Season 33
FX/FXX
Sept. 2 – "What We Do in the Shadows" Season 3
Sept. 7 – "Impeachment: American Crime Story" premiere
Sept. 30 – "Cake" Season 5
HBO/HBO Max
Sept. 12 – "Scenes From a Marriage" premiere
Sept. 23 – "Doom Patrol" Season 3
Hulu
Sept. 8 – "Wu-Tang: An American Saga" Season 2
Sept. 13 – "Y: The Last Man" premiere
Sept. 16 – "The Premise" premiere
IMDb TV
Sept. 10 – "Pretty Hard Cases" premiere
NBC
Sept. 20 – "Ordinary Joe" premiere
Sept. 21 – "New Amsterdam" Season 4
Sept. 22 – "Chicago Fire" Season 10
Sept. 22 – "Chicago Med" Season 7
Sept. 22 – "Chicago P.D." Season 9
Sept. 23 – "Law & Order: Organized Crime" Season 2
Sept. 23 – "Law & Order: SVU" Season 23
Sept. 28 – "La Brea" premiere
Netflix
Sept. 2 – "Q-Force" premiere
Sept. 3 – "Money Heist" Season 5
Sept. 7 – "On the Verge" premiere
Sept. 8 – "Doogie Kamealoha, M.D." premiere
Sept. 8 – "Into the Night" Season 2
Sept. 10 – "Lucifer" Season 6
Sept. 17 – "Chicago Party Aunt" premiere
Sept. 17 – "Sex Education" Season 3
Sept. 17 – "Squid Game" premiere
Sept. 22 – "Dear White People" Season 4
Sept. 22 – "Jaguar" premiere
Sept. 24 – "Blood & Water" Season 2
Sept. 24 – "Ganglands" premiere
Sept. 24 – "Midnight Mass" premiere
Sept. 29 – "The Chestnut Man" premiere
Sept. 30 – "Love 101" Season 2
Sept. 30 – "Luna Park" premiere
OWN
Sept. 7 – "Queen Sugar" Season 6
Paramount+
Sept. 16 – "The Harper House" premiere
Peacock
Sept. 2 – "A.P. Bio" Season 4
Sept. 6 – "Days of Our Lives: Beyond Salem" premiere
Sept. 16 – "Dan Brown's The Lost Symbol" premiere
Sept. 23 – "Code 404" Season 2
Showtime
Sept. 12 – "American Rust" premiere
Sept. 13 – "Back to Life" Season 2
Shudder
Sept. 23 – "Creepshow" Season 3
Starz
Sept. 26 – "BMF" premiere
Sundance Now
Sept. 16 – "Cheyenne & Lola" premiere
truTV
Sept. 16 – "Tacoma FD" Season 3