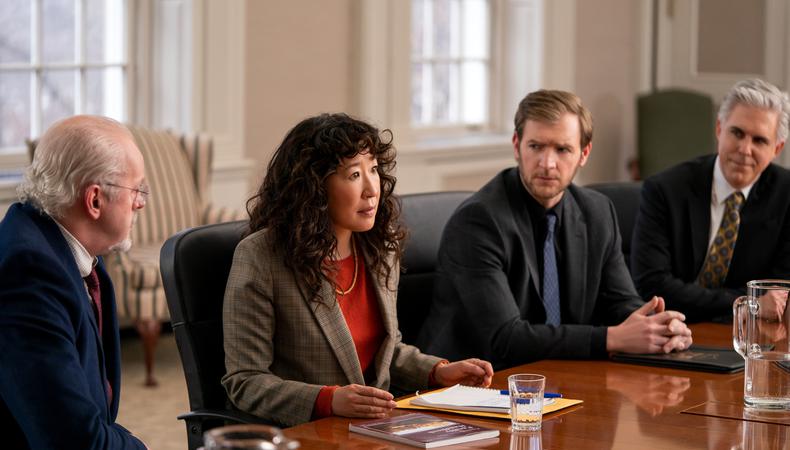 Television doesn't sleep. Backstage is breaking down, month by month, the buzzy shows and performances that merit attention from awards voters and couch potatoes in the ever-growing landscape of the small screen.
August is traditionally a lighter TV month than most, but our current streaming service golden age means that there are still plenty of new and returning shows on offer in the dog days of summer. The next few weeks see the premieres of the final seasons of long-running, well-loved properties "The Walking Dead" and "Brooklyn Nine-Nine." In terms of new shows, Hulu is coming in strong with the premieres of three series from three big names: Taika Waititi's "Reservation Dogs," David E. Kelley's "Nine Perfect Strangers," and Steve Martin's "Only Murders in the Building." Meanwhile, Joseph Gordon-Levitt is returning to the small screen with "Mr. Corman" on Apple TV+; Marvel fans will continue to get their fix with "What If...?" on Disney+; and Sandra Oh will bless our screens once more on Netflix's "The Chair."
"Mr. Corman"
Joseph Gordon-Levitt will return to television—and the writer-director's chair—with "Mr. Corman," premiering Aug. 6 on Apple TV+. Gordon-Levitt stars as Josh Corman, a schoolteacher in the depths of an existential crisis. He's joined by Debra Winger as his mother, Arturo Castro as his roommate, and Juno Temple as his ex-wife. The series looks to be a low-key comedy with daydream fantasy elements, examining what it's like to be an elder millennial in the throes of a midlife crisis.
"Reservation Dogs"
Oscar-winning Maori writer-director Taika Waititi continues his recent FX on Hulu takeover with "Reservation Dogs," a new comedy series he's co-creating with Seminole filmmaker Sterlin Harjo. Dropping two episodes on Aug. 9, the series will make history as the first major TV series centering the stories of Native American teenagers. Set on a reservation in Oklahoma, the show follows four high schoolers (newcomers D'Pharaoh Woon-A-Tai, Devery Jacobs, Paulina Alexis, and Lane Factor) still reeling from the death of a friend and desperate to escape to the West Coast. Vitally, the series features an all-Indigenous cast and crew.
"What If...?"
The first animated series under the MCU umbrella heads further into the multiverse, exploring what would happen if things had gone differently at pivotal points in the sprawling superhero saga: What if Peggy Carter became Captain America instead of Steve Rogers? What if Black Panther went to space and became the Guardians of the Galaxy's Star-Lord instead? What if things had gone differently in Iron Man's origin story? Created by A.C. Bradley, "What If...?" will, impressively, feature the vocal talents of many of the MCU's big names: Chris Hemsworth, Hayley Atwell, Tom Hiddleston, Samuel L. Jackson, Paul Rudd, Mark Ruffalo, and Karen Gillan, to name just a few. And then there's the series' most bittersweet bit of casting: the very last performance of late Oscar-nominated star Chadwick Boseman as King T'Challa. The series premieres Aug. 11.
"Nine Perfect Strangers"
Nicole Kidman and David E. Kelley's fruitful collaboration is still going strong with "Nine Perfect Strangers," an adaptation of another novel by Liane Moriarty of "Big Little Lies." The trippy miniseries looks to be a combo of "The White Lotus" and "Lost," telling the tale of an unlikely grouping of troubled souls who travel to a mysterious retreat to deal with their issues. Kidman stars as Masha, the sinister leader of the cult-like organization, alongside Melissa McCarthy, Bobby Cannavale, Regina Hall, Luke Evans, Manny Jacito, and Michael Shannon. "Nine Perfect Strangers" hits Hulu on Aug. 18.
"The Chair"
Golden Globe winner (and queen of our hearts) Sandra Oh is taking a break from "Killing Eve" to star on Amanda Peet and Annie Wyman's "The Chair," premiering Aug. 20 on Netflix. Oh stars as Ji-Yoon Kim, the first woman of color to act as the chair of the English department at a university rocked by scandal. The dramedy is possibly the first to explore the thorny landscape of academia struggling to catch up with the ideals of the 21st century. The series also features Jay Duplass, Bob Balaban, Nana Mensah, David Morse, and Holland Taylor.
"Only Murders in the Building"
Classic comedy stans are in for a treat with "Only Murders in the Building," a new comedy-whodunit co-created by Steve Martin and starring the veteran comedian and Martin Short. (Two great Martins for the price of one!) Martin, Short, and Selena Gomez play three tenants in the same apartment complex who set out to solve a murder in the building despite having no investigative experience under their belts. In addition to an unlikely Sting cameo, the show has also roped in Amy Ryan, Michael Cyril Creighton, Nathan Lane, Jane Lynch, Da'Vine Joy Randolph, and Vanessa Aspillaga. "Only Murders in the Building" premieres Aug. 30 on Hulu.
Acorn TV
Aug. 30 – "My Life Is Murder" Season 2
Amazon Prime Video
Aug. 6 – "S.O.Z. Soldiers or Zombies" premiere
Aug. 13 – "Modern Love" Season 2
AMC
Aug. 22 – "The Walking Dead" Season 11
Apple TV+
Aug. 6 – "Mr. Corman" premiere
Aug. 20 – "Truth Be Told" Season 2
Aug. 27 – "See" Season 2
Bounce
Aug. 1 – "Johnson" premiere
Comedy Central
Aug. 18 – "Awkwafina Is Nora From Queens" Season 2
The CW
Aug. 10 – "DC's Stargirl" Season 2
Aug. 11 – "Riverdale" Season 5
Aug. 19 – "Coroner" Season 3
Disney+
Aug. 11 – "What If...?"
Aug. 18 – "Diary of a Future President" Season 2
Epix
Aug. 8 – "Godfather of Harlem" Season 2
Aug. 22 – "Chapelwaite" premiere
Fox
Aug 10. – "Fantasy Island" premiere
FX/FXX
Aug. 25 – "American Horror Story: Double Feature" premiere (Season 10)
Aug. 25 – "Archer" Season 12
Hallmark
Aug. 15 – "Chesapeake Shores" Season 5
HBO Max
Aug. 12 – "Titans" Season 3
Aug. 26 – "The Other Two" Season 2
Hulu
Aug. 9 – "Reservation Dogs" premiere
Aug. 18 – "Nine Perfect Strangers" premiere
Aug. 30 – "Only Murders in the Building" premiere
NBC
Aug. 12 – "Brooklyn Nine-Nine" Season 8
Netflix
Aug. 4 – "Control Z" Season 2
Aug. 6 – "Navarasa" premiere
Aug. 12 – "The Kingdom" premiere
Aug. 13 – "Brand New Cherry Flavor" premiere
Aug. 13 – "Gone for Good" premiere
Aug. 13 – "Valeria" Season 2
Aug. 18 – "The Defeated" premiere
Aug. 20 – "The Chair" premiere
Aug. 25 – "Clickbait" premiere
Aug. 25 – "Open Your Eyes"
Paramount+
Aug. 12 – "Star Trek: Lower Decks" Season 2
Showtime
Aug. 8 – "The L Word: Generation Q" Season 2
Aug. 22 – "Work in Progress" Season 2
Shudder
Aug. 12 – "Slasher: Flesh & Blood" Season 4
Sundance Now
Aug. 12 – "The Hunt for a Killer" premiere
Starz
Aug. 15 – "Heels" premiere
Topic
Aug. 12 – "Forbrydelsen" premiere