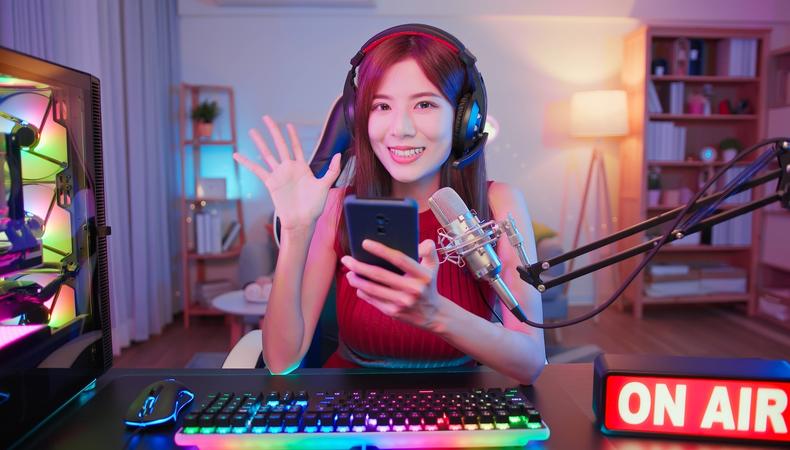 If you're looking to grow and expand your marketing reach, you're likely thinking about how to utilize several social media platforms and partner with their top creators. Influencers carry the benefit of their own built-in audience, and working with them gives you both a wider reach and a dedicated creator to help market your brand.
Twitch influencer marketing is a booming field with more than 31 million active daily users. Many brands have already taken advantage of the reach streamers have—Ubisoft, for example, partnered with massively popular streamer Saqib Ali Zahid (aka Lirik), who broadcast a run-through of the video game company's "Tom Clancy's Rainbow Six: Siege" to his 2 million followers. That stream alone garnered more than 15,000 views.
The emerging market still has plenty of room for other companies to get into the mix and work with talent. Here's how you can get started.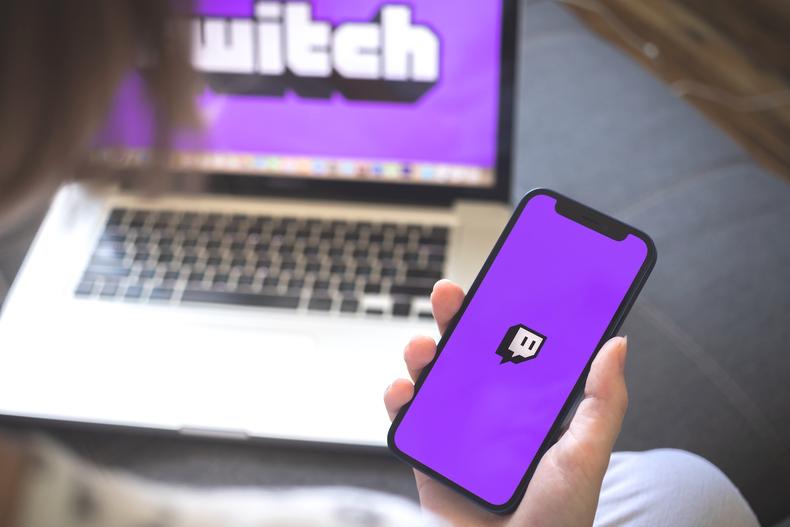 FellowNeko/Shutterstock
Twitch is a dedicated live-streaming platform. It was founded in 2011 (and bought by Amazon in 2014), designed for users to stream themselves playing video games. That's still its main focus, but as the platform's popularity exploded, many creators started using it for broadcasting a variety of feeds, from interactive Q&As to cooking demonstrations to interviews with expert guests. In fact, part of what makes Twitch unique is that, unlike other influencer platforms, the site is explicitly interactive.
All social media platforms allow some level of engagement via likes, shares, and comments, but Twitch emphasizes a different sort of participation. Streamers broadcast live, always with a chat viewable to both the host and the audience. Creators respond to the comments, and fans can watch the stream later when videos get archived. Audiences can send their own tips and advice, links can be posted during a broadcast, and subscribers can receive notifications the second a creator starts another stream. Twitch also recommends channels, and users can search for streams based on specific subcategories like "Just Chatting," "Tabletop RPGs," and "Food and Drinks."
This interactivity has netted big audiences and even bigger names. Some of the top Twitch streamers have millions of followers. Congresswoman Alexandria Ocasio-Cortez participated in a stream playing the video game "Among Us" to help promote getting out the vote, and she drew in 400,000 viewers at the peak of her broadcast.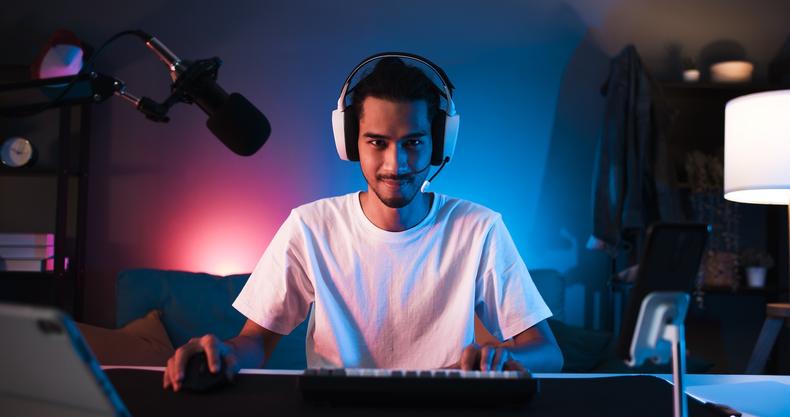 Urbanscape/Shutterstock
Their personal brand reach
An influencer provides an attentive audience. They have the ability to authentically promote ideas, products, or other artists—whether that's on their own or as part of a collaboration.
Twitch boasts various levels of influencers, nano to mega, categorized by follower count. Each tier has its own merits. For example, nano-influencers typically have a smaller but much more engaged audience. Mega-influencers, on the other hand, have a wider-ranging reach but perhaps less activity in their comments and tune-ins.
Nano-influencers: 1,000–10,000 followers
Micro-influencers: 10,000–50,000 followers
Mid-tier influencers: 50,000–500,000 followers
Macro-influencers: 500,000–1,000,000 followers
Mega-influencers: 1,000,000+ followers
The site also has significant reach—an average of 2 million concurrent users a day. Individually, Twitch's top creatives have follower counts in the millions, which typically translate to average views well above 100,000. Streamer Raúl Álvarez Genes (aka AuronPlay), who spends most streams chatting with his followers in between games like "Minecraft" and "Grand Theft Auto," amassed more than 10 million hours of watch time on his streams in April 2022 alone, with a peak viewership of 217,976 people.
RELATED: Twitch Marketing 101: How Brands Can Find Success on the Livestreaming Platform
The platform's organic format
Since Twitch solely broadcasts live, everything including the promotions themselves have an unscripted nature. That format lends itself to certain types of marketing like unboxing videos, live product testing, or livestreaming a game.
Audiences are already choosing to engage with the creator, which means they will be more open to what your brand has to offer. According to a survey from Twitch Research Power Group, 46% of Twitch users have purchased a product because they saw their preferred creator using it on a stream.
"The main appeal of Twitch for brands is the ability to drive live commerce sales," says Sean Byrne, solutions architect at Upfluence. "Being able to engage with a live audience is the key feature that sets Twitch apart from other platforms. It's the only platform built entirely around sharing live video content and connecting with audiences in real-time. This makes Twitch a strategic choice for brands, as 82% of people prefer to see live video from brands than social posts. Twitch helps brands to target their audience while they're actively engaged and attentive, which is wildly valuable and unique."
The platform's demographic
Here are some key numbers to understand when it comes to Twitch, specifically:
73% of Twitch users are between the ages of 16 and 34.
Twitch is available in more than 200 countries—22% of that traffic comes from the United States, with the closest country, Germany, accounting for just 7%. (South Korea and Russia are close behind with 4%.)
65% of Twitch users are men, 35% are women.
The data access
Like with other social media platforms such as Instagram, creators have access to their metrics. Twitch's analytics include total views, tips earned, and how long viewers were engaged. Influencers can share that information with brands, giving you and your company regular updates on how a promotional effort is going and what, if anything, needs to be adjusted.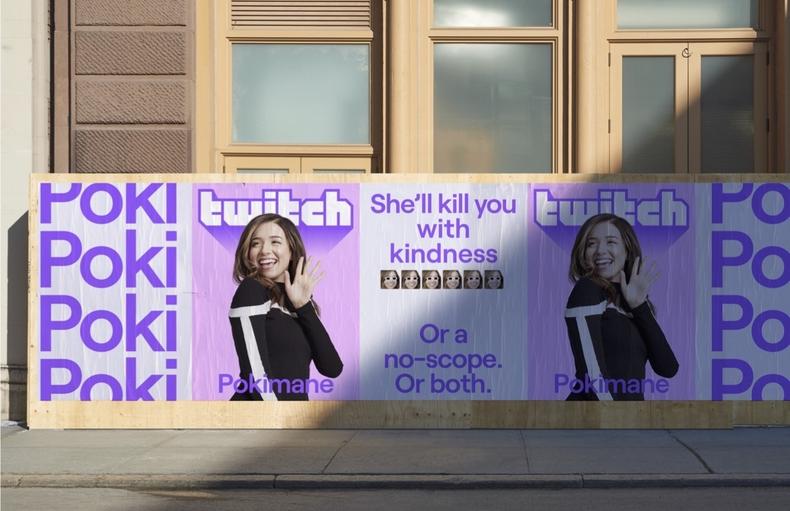 Courtesy Twitch
The platform has grown to such an extent that there are many different creators working in different fields and styles. Even in the same area, their audiences vary based on their approach to their channel. If your marketing strategy involves hiring an influencer on Twitch, make sure you're looking for the right person.
Clarify your goals
Ensure the goals for your brand's marketing campaign align with the candidates you're targeting on the platform.
Audience:

Define and find your audience on Twitch. Do the major players on the channels they're tuned in to align with your key performance indicators (KPIs)?

Personality:

Define what type of personality you want associated with your brand. Do these candidates reflect what you're looking for?

Key engagement metrics:

Define the key engagement metrics you're looking to measure (views, time spent, etc.).

According to Upfluence's influencer marketing strategist for gaming and esports, Alex Curry, "

Brands should be asking themselves this very important question: 'Am I looking for exposure or to generate sales?' "

Exposure and sales engender different kinds of priorities, meaning different types of influencers.

Exposure:

"Brands should focus on exposure over sales if they are a new business entering the market with numerous competitors that have already launched influencer marketing campaigns," Curry says. "Their primary objective should be creating buzz around their different product offerings before attempting to generate sales."

Sales:

"If a brand is looking to generate sales, they must be willing to work with an influencer on multiple partnered collaborations," Curry says. "Brands should focus heavily on the influencers' industry niche, values, and content themes (i.e., family-friendly, 18+, game genre specific titles, etc.) to see which influencers align with their vision and products. Finding creators who are fully aligned with your brand is especially important when it comes to generating sales and seeing positive ROI from influencer spend."

Strategic components:

How does the platform support the kind of content and promotions you feel would be most successful? Set goals around the key strategic components—whether audience reach, live chat function, or archiving abilities.

Past partnerships:

How do an influencer's established partnerships or promotion types affect your goals, if at all?
Once you've clarified your goals, it's time to see how to best apply your budget towards achieving these goals.
Consider your budget
There is also the matter of how much it costs to hire a Twitch influencer for your brand. Like any platform, the price tag depends on the influencer's audience size, demographic range, and the details of your partnership. On average, expect to pay ​​between $0.50 and $2.50 per viewer per hour. Twitch is relatively new as a marketing space—the entire app itself is only 10 years old—but for planning purposes, it helps to see an average of what it costs per post to hire an influencer on similar platforms.
Nano- and Micro-influencers:

$10–$100 (Instagram), $20–$1,000 (YouTube), $5–$125 (TikTok)

Mid-tier and Macro-influencers:

$500–$10,000 (Instagram), $1,000–$20,000 (YouTube), $125–$2,500 (TikTok)

Mega-influencers:

$10,000–$1 million (Instagram), $20,000 (YouTube), $2,500 (TikTok)
Make your pitch
On Twitch, many streamers have their professional emails posted with their accounts. Depending on the size of the influencer, there may be an agent or manager involved.
You should already have a media kit ready to go at this stage, but make sure your pitch includes key elements such as:
A brief bio of your brand, spelling out your services and values.

A clear, concise explanation for why the influencer matches your brand.

Information on your target audience and demographics.

High-resolution media assets, like your company logo or product photos.

Social media links and data explaining your reach.

The initial timeframe you're looking to target.

Information on the details of your monetary offer—is it a flat fee or based on engagement?—and explain the next steps.
Be sure that your media kit provides clear value. "Being able to provide value to both the influencer and their audience will go a long way in striking a deal," Byrne says. "If a company presents an influencer with a pitch that benefits all parties and connects with their own brand, it's likely the partnership will thrive."
Keep in mind: These influencers know their audiences. They understand what kind of content gets views and engagement, whether it's comments, shares, or even tips for the stream. Be open to their feedback and be willing to adjust your Twitch plan based on their input. A clear, negotiated contract is also essential. This is still a business deal. Ask any potential partners about their engagement data and pricing rates. Expect an equal back and forth conversation.
Happy streaming.