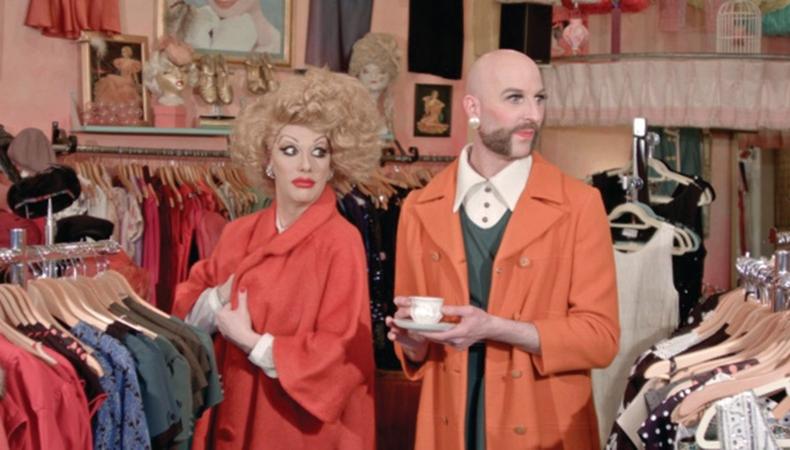 What do you get when you combine campy drag humor, the flashy styles of the 1970s, a dash of gothic mysticism…and Seattle? Enter "Capitol Hill," a Web series from writer-director Wes Hurley, known in the Seattle arts scene for his genre-bending projects, including the comedy musical "Waxie Moon in Fallen Jewel."
"I've been in love with '70s–'80s American TV shows like 'Dynasty,' 'Remington Steele,' and 'Charlie's Angels,' " says Hurley. "So I decided to do an homage to those shows with my muse-collaborator [actor and drag queen Marc Kenison, otherwise known as] Waxie Moon. I wanted to create a kind of warped world that builds on all the things that inspire me."
Hurley's "warped world" is on grand display from the first moment of "Capitol Hill," which has the bearded, eye-shadowed Roses Smell (Kenison) tearfully breaking up with a goat. Roses leaves the "backwater slums" of Portland, Ore., with her sights set on Seattle—which, for her, is "the biggest, greatest, most beautiful city in the world."
For Hurley, who grew up in Russia, the Emerald City has become his true home. "[Seattle] has a very particular vibe and culture to it—we are our own country," he says. "I think it's important that some filmmakers stay and draw on that culture instead of going off to L.A. or New York."
When casting the show, Hurley turned to local theater, cabaret, and burlesque actors. "The stylized reality that I want to create allows me to work with all sorts of artists because I'm not married to the kind of naturalism that people expect from film," he explains. "I see interesting people and I start imagining who they would be in this parallel world of my sick and twisted mind."
The exaggerated depiction of Portland as a decrepit Southern swampland is particularly on brand with Hurley's imaginings. However, the creator holds no grudge against Seattle's metropolitan neighbor and admits there's hardly a rivalry between the two cities. "I love the Southern Gothic genre, especially Flannery O'Connor, and I thought it'd be funny to make Portland like the Deep South with all of its grotesque mythos," he says.
For Hurley, writing a Web series has ultimately given him the artistic freedom to play around with his far-reaching influences. "The coolest thing about doing a Web series is that I really don't have anyone to answer to," he says. "It's great to have your work just floating out there, available for anyone to see any time. I love how easy it is to share...so much easier than carrying a bunch of DVDs with you, or telling people where they can see my movie."
Hurley plans to continue enriching and expanding the wacky world of "Capitol Hill." The series has gained the support of "RuPaul's Drag Race" contestant BenDeLaCreme—a Seattle resident who introduces each episode—and Hurley's team of friends and collaborators are already prepping Season 2. "I have storylines planned out for many more seasons," he says. "It's going to be pretty epic!"
Inspired by this post? Check out our audition listings!