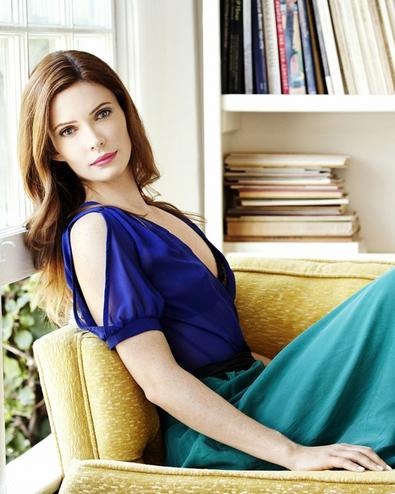 When I was a little girl, I wanted to be a civil engineer. No joke. I would come home from school and build bridges out of toothpicks and see how much weight they would hold before falling. By high school, I was obsessed with literature and the fine arts, and ended up majoring in both at Harvard. The plan was then to go to England for my MFA, and end up a curator or a professor. I love this quote my friend told me recently: "If you really want to make God laugh, tell him your plans."
I had decided to defer from graduate school for one year because I was tired of academia and needed a break. That's why I found myself in Los Angeles the day after graduation, master plan cast aside for the time being. One day I was dragged by a friend to an acting class she was too scared to go to, and the rest is history. I fell in love. And a bit of hate. I almost didn't want to love it enough to turn my back on the certainty of a cozy life of academia. But it was too late for me. My acting teacher did not have me at hello, but she had me about an hour later when she sent me home with Clifford Odets' "Golden Boy" and a week to prepare. As somebody who had never really acted before, you can imagine how daunting this was.

Perhaps predictably, my initial approach was bookish. I sat in class taking notes, too afraid to look up for fear of making eye contact with my teacher and being called up onstage. It was terrifying in a way academics could and would never be, and at the same time, electrifying. Acting was like a tumultuous love affair. Sometimes I loathed the idea of going up onstage and was so angry I had to do it, but once onstage, in character, I felt the romance awaken and once again, I was in love.

After a few years of studying pretty intensely, I found myself auditioning for small parts here and there. I also went to jury duty and made a friend. I didn't know anything about him other than he was a screenwriter, but we kept in touch from time to time and a few months later he read in the LA Times that Bitsie Tulloch, aka "that girl from jury duty," was starring in a play called "Quarterlife," which was coincidentally the exact same name as a pilot he was planning to shoot. That man's name – and never in my life will I not credit him for all the amazing things that followed – is Marshall Herskovitz. His partner is Ed Zwick, and they have won numerous Emmys and Oscars for TV shows such as "Once and Again," "My So-Called Life," "Thirtysomething," and films such as "Shakespeare in Love," "Traffic," and "Glory."

In 2007, after many auditions, Ed and Marshall cast me as the series lead of their web-to-TV series "Quarterlife." We shot for a few months, I flew to NYC to do a press tour and felt like a rock star, then the show premiered to low numbers and we were pulled. The next day. Since the cancellation wasn't announced yet, and despite the fact that my heart had seemingly imploded, I was expected to continue with my press tour, i.e. go live on the high-energy and fast-paced "MTV's Total Request Live" with a huge smile on my face. I summoned energy and humor from depths within that I didn't even know existed. It ended up being a great (if unwelcome) acting lesson.

I went from "Quarterlife" to shooting a high-profile comedy pilot called "The Washingtonienne" for HBO. We shot the pilot, but then were under a talent holding deal while it was being re-tooled. About 12 months later we were told it wasn't going to get picked up after all. That was a tough phone call for me to get. I love everyone at HBO, loved the other two females leads on the pilot, and I loved working with our producer, Sarah Jessica Parker. But you get a phone call like that, and you pretty much have no other option than to pick up the pieces and move on. In this town, you need have skin thicker than a rhinoceros wearing a suit of medieval armor.

That 2010 pilot season, I did a Fox comedy that didn't get picked up. I was starting to get frustrated, and when my now-ex-boyfriend decided he wanted to direct a low budget independent, I jumped on board as co-producer. It was also my first starring role in a feature. And in a serendipitous turn, David Giuntoli, who plays my boyfriend and lead detective Nick Burkhardt on "Grimm," played my boyfriend in the movie, "Caroline & Jackie," which premiered at the Tribeca Film Festival this past April.

I was then cast in "The Artist," which was an extraordinarily magical experience. Heidi Levitt, who cast me in my first feature film, "Lakeview Terrace," a few years earlier, was casting and I was so excited to go in and read. I went all in – costume, hair, and makeup were as 1930s as I could come up with, and I went for it. Apparently I was deemed too young for the role I had auditioned for, but they wanted to work with me and offered me the role of Norma. It's a small role in the middle of the film, when Jean Dujardin decides to write and direct his own "jungle" movie. I'm the damsel in distress trekking with him through the jungle. Michel Hazanavicius was incredibly generous and did a wonderful job re-creating that time period down to the smallest details. And that movie deserves every bit of the success it's enjoyed.

Now we arrive at the fairy-tale ending, literally and figuratively. Six months after we had wrapped our roles on "Caroline & Jackie," I once again found myself in the arms of my charming, handsome, and talented "faux beau," David Giuntoli. I am currently well into my second year of living and working up in beautiful Portland, Ore., where I shoot NBC's drama "Grimm." We are in the middle of shooting episode eight (of 22) of our second season. I am so lucky to wake up every morning and work with such a wonderful writers, producers, actors, and crew.

Right now, I'm sublimely happy and feeling blessed. However, this was not an easy journey, and I'm well aware it's far from over. But as many times as I've wanted to throw in the towel, I don't. I stick around. Because every so often the puzzle pieces fit, and lord knows, I am addicted to the work. I am never happier than when I am on set and getting to act. And I can't wait for what is yet to come.
Photo credit: ©Elisabeth Caren