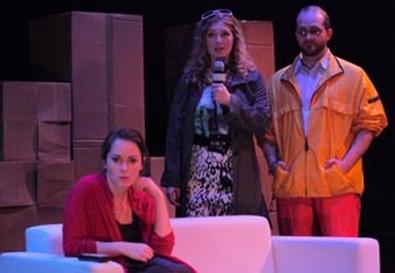 The first sounds at "Whale Song or: Learning to Live With Mobyphobia" are those eerie, plaintive noises leviathans make. Playwright Claire Kiechel uses them to background a complicated, consciously metaphoric tale in which a whale stranded in the Hudson River is really a messenger from Maya Swan's dead father, who committed suicide by immersing himself in an orca tank. An elementary school teacher, Swan has a boyfriend she keeps at a distance, a drummer she hires to drown out the whale noises she hears in her head, and a sister who sends Maya boxes of their father's belongings.
Maya needs to come to terms not only with her dad's death but mortality itself, plus evolution, the future, letting go, and "choosing to breathe." That's a lot to deal with, and Kiechel's work, while intriguing, fails to involve us emotionally. Under Brad Raimondo's fluid direction, Siri Hellerman is particularly good as the sister.
Presented by the Dreamscape Theatre as part of the New York International Fringe Festival at La MaMa ETC's First Floor Theatre, 74A E. Fourth St., NYC. Aug. 14–27. Remaining performances: Thu., Aug. 18, 2 p.m.; Mon., Aug. 22, 6 p.m.; Wed., Aug. 24, 7 p.m.; Sat., Aug. 27, 9:30 p.m. (866) 468-7619 or www.fringenyc.org.