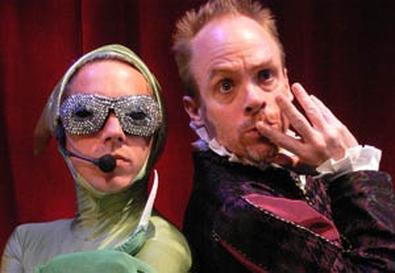 Troubadour Theater Company perfectly blends Shakespeare's "The Winter's Tale" with the catalogue of singer-songwriter Bill Withers. Under the leadership of adapter-director and funnyman extraordinaire Matt Walker, the scene work, consisting of long portions of the play, highlights this ensemble's exquisite ability to handle the Bard's work without letting the often-sidesplitting song send-ups detract from the story line.
Walker's King Leontes, made jealous by Queen Hermione's (Monica Schneider) innocent interactions with his best friend and fellow royal, Polixenes (Matt Marchant), jails the queen and sets in motion a circuitous series of circumstances that, unlike Shakespeare's tragedies, ends with only one death from among the cast of 15. The suspicious monarch joins with the Green Eyed Monster (Joseph Keane in a display of gymnastic acumen), for a rendition of "Who Is He (And What Is He to You)" and sings a touchingly gorgeous duet version of "Ain't No Sunshine When She's Gone" with the golden-throated Lisa Valenzuela as a truth-telling Oracle.
Beth Kennedy pulls double duty as a logic-spouting helpmate to Hermione and a gap-toothed Shepherd dragging around a battery-operated miniature lamb. Schneider delivers a finger-snapping interpretation of "I Wish You Well" to Polixenes, which sparks Leontes' distrust; then she wraps up the production by leading full-company performances of "Lean on Me" and "Lovely Day." As Polixenes, Merchant sports a lyrically soaring tenor range. Katherine Malak offers a feisty characterization of the teenage Princess Perdita. Mike Sulprizio makes Camillo a rock-solid adviser to Leontes.
Music director Eric Heinly leads a beautifully balanced onstage combo. Set designer Mike Jespersen and lighting designer Jeremy Pivnick join forces for the outstanding look of the production. Choreographer Ameenah Kaplan pushes costumer Sharon McGunigle's eye-popping designs to the limit with dance moves fit for a king.
Presented by Troubadour Theater Company at the Falcon Theatre, 4252 Riverside Drive, Burbank. Aug. 20–Sept. 26. Wed.–Sat., 8 p.m.; Sun., 4 p.m. (818) 955-8101. www.falcontheatre.com.