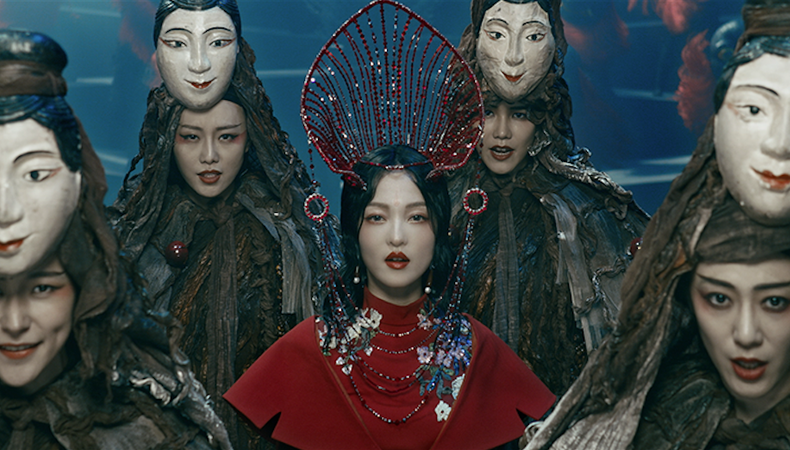 In less than a decade, the York-based Aesthetica Short Film Festival (ASFF) has established itself as a key staging post in the film industry's calendar. Founded by the gorgeous art and design magazine Aesthetica, the ASFF is also BAFTA-qualifying, meaning entries can – and do – go on to win BAFTAs (and Oscars, since you're asking). What marks ASFF out as different – and of interest to actors as well as filmmakers – is not just the quality of its curation, but the opportunity to network via its Industry Marketplace (where you can meet our very own Hannah Williams) as well as hearing from acting talent like Judi Dench and Maxine Peake. Backstage sat down with Aesthetica to find out more.
What are ASFF's ethos and intentions?
ASFF supports and champions new filmmaking talent, bringing the best independent cinema to wider audiences. Over the past 10 years, we have screened over 3,000 films, with over 2,500 screenings and 2,000 industry events. The festival is a hotbed for new talent – launching and supporting the development of several successful careers in cinema – while inviting key industry experts to share their knowledge and passion for the craft through our renowned masterclasses.
The pandemic has forced film festivals online this year. Are there upsides to this?
We are able to deliver much more – we are no longer limited by space, distance or audience capacity. As a result, the festival is longer and more expansive, including an extra day, and with all content available on-demand until 30 November.
During busy festival days, it's often difficult to see all – or even a portion – of the films on offer. With masterclasses, conversations, and unexpected opportunities popping up throughout the day, filmmakers and audiences can often miss out on the screenings they had intended to see. This year, we're releasing the Official Selection in sections every day, with the entirety of films in competition available to stream for one month. These can be viewed at leisure, with viewers able to curate their own selection.
The digital platform also enables us to increase innovation and diversity in our masterclass programme, offering more in terms of both quality and quantity across all disciplines of the filmmaking landscape. This year, we're presenting essential industry sessions with Andrea Arnold, Dame Judi Dench and Sarah Gavron. With a virtual, portable platform, these sessions are open to all, throughout November, across all TV, phone and tablet devices.
We're also able to share all the content – from panel discussions and masterclasses to Official Selection screenings and Guest Programmes – to more people, regardless of where they're based. Our audiences for 2020 will be more diverse than ever, and we're so looking forward to connecting with viewers from across the globe, sharing in the love of independent cinema.
What about the downsides?
We're unable to spend time together in person. There is no experience quite like a film festival. Seeing old friends and making new connections is quite special – and we'll certainly be missing that. Beyond this, sitting in a cinema with a giant screen and surround-sound is irreplaceable. Of course, there are so many benefits to this new virtual platform, but there's a completely new model for film exhibition that's beginning to take shape. We're in a moment of change. We can't wait to get back into cinemas and back to live activity, but moving forward, we will undoubtedly be taking on a hybrid model.
How can filmmakers and actors make the most of the programme?
For both – watch as many films as you possibly can. Step out of your comfort zone and watch something you wouldn't normally. This is truly where idea-generation begins, when we move outside of our own echo chambers and see things in a new way.
For filmmakers, our 2020 industry programme is so extensive. For actors, this is your opportunity to get a bird's-eye view into almost every facet of the film industry, from cinematography, sound design and set design to production, editing and mastering VFX. We encourage you to learn more about your craft, but, beyond this, to widen your knowledge. If you're a producer, sit in on a sound masterclass. Listen to something you wouldn't usually and understand the craft of cinema as a whole. Each individual plays a vital role in the larger picture that's forming. For actors, we've expanded our industry events to include special spotlights with some of the UK's most renowned talent. Hear from Russell Tovey, Maxine Peake and the iconic Dame Judi Dench.
Actors – looking for your next film role? Check out our UK castings
And, of course, diversity is a topic that's essential for everyone – to learn how to redress the balance and the importance of doing so, as well as practical ways to achieve this together. We encourage all viewers, regardless of their role or level of experience, to attend our industry sessions on this issue. We are asking crucial questions about who is creating cinema, what stories they tell, and who they are creating them for. Activist and artist Yasmin Begum examines the necessity for an equal and inclusive industry, as well as the need to include diverse audiences through thought-provoking exhibition. This is a requirement going forward, for a better understanding of where we are at and where we need to go.
How can actors and filmmakers network in a digital festival?
This year, our Industry Networking sessions will take place virtually. Industry representatives will be available at specific time slots between 3–8 November, with one representative matched with four individuals – offering further idea generation and the ability to bounce ideas off one another. Representatives for 2020 come from key organisations such as Northern Ireland Screen, Ffilm Cymru, Backstage, Independent, BFI Network, Directors Notes, Premium Films, Creative England, Short of the Week, Primetime, Festival Formula, and Dazed.
Spaces are available on a first-come-first-served basis, with a maximum of five participants per session. Each session lasts 20 minutes and will take place via Zoom. To book one of these sessions, simply select the time slot and fill in your details. You will be then sent a link for a specific time and date. See the list below with all of our 2020 Industry delegates.
Our pitching sessions are also an amazing opportunity. We offer filmmakers, producers, cinematographers and screenwriters the opportunity to pitch to the likes of Film4, BBC and Lionsgate. This is a potential golden ticket to getting features funded.
We also have a comprehensive index at the back of the programme, with contact details for all that wish to be contactable. We encourage you to reach out and talk with them about their film. And, of course, social media is a limitless tool. We encourage all attendees to engage with us on Instagram and Twitter (#ASFF2020 / @ASFFEST) to continue the conversation, comment and connect.
The Industry Marketplace was a great success last year. How can festival-goers get involved?
We were so proud to launch the Industry Marketplace in 2019. It only ran for one day, from 11am to 8pm, but we had a footfall of 2,000. The buzz was magnificent, and we have fond memories of being able to stand next to a stranger and shake their hand. The marketplace was the first of its kind – we had plans to develop this and move to a larger venue in 2020.
Through the virtual platform, we're offering a dedicated section to this year's exhibitors and we're working within the scope and parameters of digital delivery for this. We've created a unique profile, with attendees able to directly contact the organisations involved. There's video content to inform attendees about each of the exhibitors and to learn more about the different festivals, organisations and universities involved. This will be a hub of information, resource and opportunity.
Any final thoughts?
We are passionate about getting new works onto the screen. ASFF is a hotbed for new talent. Our films go on to win awards – both with us and with other prestigious festivals – as well as BAFTAs and Academy Awards. Francis Lee (God's Own Country) and Alice Seabright (Sex Education) are two examples – and Alice also returns to ASFF with her short, End-O.
The importance of curation comes down to the role of the film festival as a step within wider career development. We play a pivotal role in connecting talent with industry and audiences, which leads to further investment and further commissions and awards, as well as public recognition.
The Aesthetica Short Film Festival runs from 3–30 November 2020