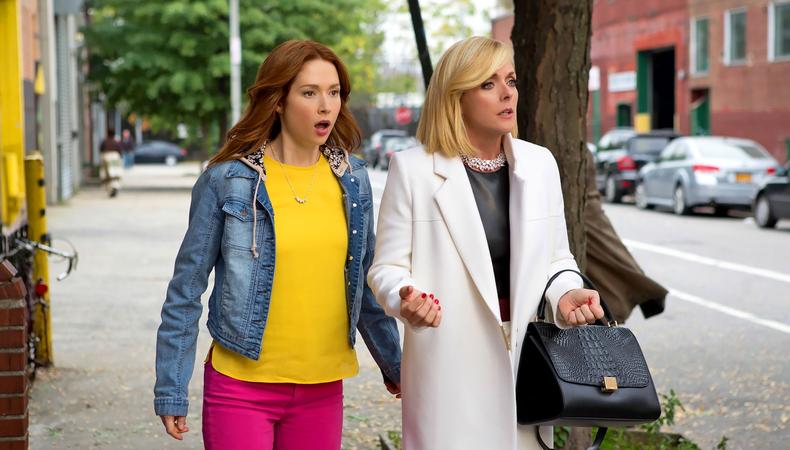 Greenlit means a project is officially a go, so all you have to do is follow these leads to stay up to date. You never know where you'll find an opportunity to land an audition!
"Unbreakable Kimmy Schmidt"
It's a miracle: "Unbreakable Kimmy Schmidt" will, as planned, return following the end of its four-season run for a final movie special. However, the project will follow the "Black Mirror: Bandersnatch" route and will be interactive, allowing viewers to make choices throughout the special. Series creators Tina Fey and Robert Carlock will also create and executive produce the special, which will see the return of all the core cast members. It's scheduled to debut next year. Expect to see series casting director Cindy Tolan also return.
"Away"
Netflix will go far and away for its next big drama. Two-time Academy Award winner Hilary Swank will star in the streaming platform's upcoming space mission drama "Away." Swank will play astronaut Emma Green, who leaves her husband and daughter behind to command an international space crew embarking on a mission to Mars. The series was given a 10-episode order with "The Path" creator Jessica Goldberg serving as showrunner, writer, and executive producer. Goldberg used Calleri Casting on "The Path"—a return to the team could be likely for "Away."
"The Eyes of Tammy Faye"
First reported by Variety, Jessica Chastain and Andrew Garfield are on board to star in the upcoming Fox Searchlight Tammy Faye Bakker biopic, "The Eyes of Tammy Faye." Based on the documentary of the same name, the flick will tell the story of televangelists Jim and Tammy Faye Bakker. Abe Sylvia wrote the script, and Michael Showalter will direct. This is the second project this week Garfield has been announced for. The other is a starring role in the drama biopic "Instrumental," which will get underway in the U.K. later this year.
"Perry Mason"
Team Downey is taking on a reimagined "Perry Mason" for HBO, and the producing duo has cast a major star. John Lithgow will join Matthew Rhys and Tatiana Maslany in the 1932 Los Angeles-set limited series. Lithgow will play E.B. Jonathan, a personal attorney and a semi-regular employer of Mason. "Westworld" co-producer and writer Ron Fitzgerald and "Boardwalk Empire" co-producer and writer Rolin Jones are the series creators, so the HBO alumni have plenty of options to play with for their casting team including "Westworld" CD John Papsidera.
"Operation Mincemeat"
While he's off filming Sam Mendes' upcoming World War I epic "1917," Colin Firth has set his next big project in the next big war, joining the upcoming "Operation Mincemeat." Written by Michelle Ashford and based on the Ben Macintyre book of the same name, "Operation Mincemeat" follows a disinformation strategy that centers on the corpse of a dead man, launched by Ewen Montagu (played by Firth) and Charles Cholmondeley as the Allies prepare to launch an all-out assault on Nazi-held Europe in 1943. John Madden ("Shakespeare in Love") will direct the counterespionage film, which is casting its other major roles. Michelle Guish is Madden's regular CD.