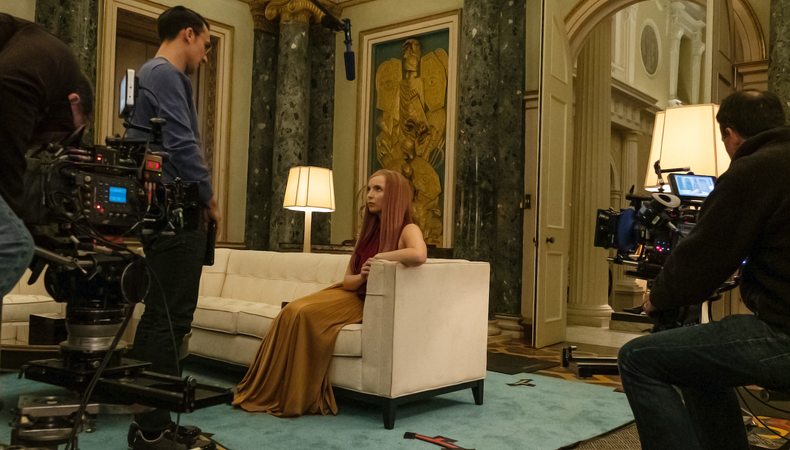 From running at full speed at the start of 2020, the previously booming UK screen industries have screeched to a shuddering halt in the wake of coronavirus, and many are considering what a return to production will look like, and when that will be.
"I don't know anybody who is working at the moment," says Roger Charteris, CEO of talent agency The Artists Partnerships, which represents actors through to writers and directors. The Film and TV Charity recently reported that 93% of industry freelancers were no longer working due to the crisis.
The complete shutdown of the UK industry has been truly staggering to watch. Just last year, spend on high-end television and film production reached a record £3.62 billion. The UK was widely recognised as the world's busiest production hub for its work on big Hollywood features like Star Wars: The Rise of Skywalker, Aladdin, and Rocketman, through to high-end TV like His Dark Materials, Deadwater Fell, and The Crown.
With studios now empty, production stalled and very few onscreen talents earning any money, the industry is frantically working out when and how it can restart – but safely.
As coronavirus quickly spread throughout the UK in March, most cast and crew – fearful of catching the disease – were happy to lockdown at home. Now that case numbers are falling and savings are running out, most want to return to once-busy sets. "A lot of the actors I'm speaking to are really keen to get back to work, which is important to know," says Alex Boden, chair of the Production Guild of Great Britain (PGGB) and whose producing credits include Netflix's Cursed and Sense8. "My heart goes out to cast because it is such a big period for them to be out of work, and not see any income."
How is the industry mapping the route back?
The route to get cameras rolling again on high-end drama and film has required a complex network of discussions led by the British Film Commission (BFC), which has spent more than a month compiling best-practice protocols that are now out for industry consultation. They are expected to be agreed by the end of May.
Its numerous suggestions, which run over 27 pages, include screening of all cast and crew, quarantining international talent flying in from abroad, regular cleaning of sets, encouraging cast and crew to drive in their own vehicles to set, separating departments into small cohorts that minimise wider contact, staggering meal times, and appointing dedicated Covid-19 supervisors to productions.
Meanwhile, broadcasters including ITV, the BBC, Channel 4, and Sky published their own set of guidelines earlier this week, spanning all forms of television, from soaps through to factual and entertainment production. Their 15-page guidance is complementary to the BFC protocols and urges producers to consider people at higher risk of harm, to heighten precautions for everyone at work, and reduce the number of people involved in making shows.
Little, however, will or can be made until the social distancing measures that form the key plank of the UK's coronavirus lockdown are eased.
"Government and Health and Safety guidelines in each country are clearly going to determine what is possible, along with the travel and quarantine regulations in and out of each country," notes Boden. "The good news is that we are seeing progress already."
Indeed, ITV kicked off a phased return to filming for its soap Emmerdale this week, featuring characters under lockdown and a smaller number of actors and fewer scenes.
The BBC has also announced that EastEnders will go back into production at the end of June, but its stars will be socially distanced and will have to do their own hair and makeup, while crew numbers will be strictly limited.
Soaps like EastEnders and Emmerdale are meant to reflect the reality of the contemporary world, so writing in socially distanced storylines – where cast keep two metres apart to reflect real life – is key to restarting production early.
What is happening elsewhere?
Elsewhere in the world, production is slowly emerging from the coronavirus thaw. Iceland announced last week that it will open its borders to international crews and talent on 15 June. In Sweden and Denmark, film and television production is already underway. And Australia's long-standing soap opera Neighbours resumed production in April.
But these are tentative steps. As yet, no major US studio-backed feature or high-end drama with their large cast and crews has gone into production anywhere in the world since lockdown. Extensive discussions are ongoing in Hollywood between studios, producers, guilds and unions about restarting, but for the moment there appears to be an overwhelming sense of caution about doing so. None of the big studios, broadcasters, and streamers, it seems, wants to take the risk of having the first major production to roll again.
As a result, it's still unclear exactly when major US-backed productions will be able to start up in the UK – and there is little consensus on the issue. "I can't see anything going before September at the earliest," says Charteris. "But nobody at this point can guarantee when they are going to start principal photography on anything."
Smaller-scale and more manageable independent films and dramas may be able to go sooner, though even this is not certain. Christopher Aird, the head of drama at Fleabag and Liar producer Two Brothers Pictures, says the company is working on an as-yet-unannounced drama that is relatively "Covid-friendly" in that it has a small cast and uses few locations. He is targeting "end of summer, beginning of autumn" for the shoot.
August at the earliest?
"No one I know is talking about starting filming before August. August or September is when most people are aiming for," says Aird.
Two key factors are contributing to the uncertainty about start dates. The first, and primary one, is safety during filming. Productions will need to implement the relevant protocols being recommended by the PGGB and others in the BFC-led working group. "It's all about safety," says Boden, who says an extra layer of experts will be trained up to make sure production environments are safe for cast and crew. "We will also have to make time in the schedule for implementing these measures and to allow for everything that it takes to ensure that our productions are a safe place to work."
Secondly, insurance has emerged as a major issue. Insurers have already decided they will not cover pandemic-related losses on any new policies. This poses a huge obstacle to restarting film and TV production. Essentially, it means financiers, studios and broadcasters will likely have to take that risk themselves. In many countries, the film and TV industries are lobbying their governments to step in to help with insurance in order to get productions filming again.
Even when major productions decide to restart, it will take time to actually get back on set. For productions that had to shut down mid-shoot, Boden estimates that it will take at least four to six weeks of pre-production before they can get back up and running, "because things really have been shut down." He adds, however, that many of these productions have kept key members of their crews employed, in order not to lose time when the lockdowns are eased.
What will productions look like?
When cast and crew do return to sets and locations, they are likely to find conditions very different. Paula Heffernan, Head of Production at Element Pictures – the company behind Normal People and The Favourite – says that new safety protocols, such as staggered preparation of sets by individual departments, cleaning, and separate mealtimes, will likely reduce the amount of time that shows can shoot each day. "Potentially, it could mean taking two hours off every shoot day – which basically means losing a day a week." Ultimately, it means productions will shoot for longer – and cost more to make.
Locations are also likely to be bigger, with more space and extra facilities for all. Heffernan says: "It really will be a case of ensuring you have adequate space to keep crew outdoors where possible, or in well-ventilated areas, so that when it's time for lunch people aren't all piling on to a dining bus together or that extras aren't all in one green room together." This need for extra space and facilities will also add to the costs of production. It's also likely that there will be fewer people on set during production.
Some are also mulling the radical idea of quarantining cast and crew in order to get drama production back underway, if tight lockdown restrictions drag on. Last month, BBC drama controller Piers Wenger publicly floated the idea of pre-and-post-filming confinement in order that a show's crew and cast can interact in the same space – and make dramas that are more than just isolation stories. "If social distancing continues for a year, we are definitely going to want to start making new drama in that time," said Wenger. "Are we going to look at quarantining actors and crew in order to allow actors to interact in the same space? Who knows."
These work-from-home screen and voice productions are casting now
Even before production restarts, a major issue facing producers, cast and crew is scheduling. Once the firing gun is started, there is likely to be a mad scramble to finalise the talent required for anything that wants to film. If the entire industry is converging on a September restart date, the big question is which productions will get to go first. Will it be those that were closed down mid-way through and need to complete? Or will it be those that were booked in for September anyway? Or big studio films that can muscle in and take first dibs on the talent they want?
For an agent like Charteris, the situation is like "trying to put together the most difficult jigsaw puzzle in the history of jigsaw puzzles" as he juggles clients' calendars. He adds: "There is going to have to be a vast amount of give-and-take, compromise and working through to make it all work."
A permanently changed industry?
The coronavirus lockdown and economic slowdown that has followed has also left many wondering what the industry will look like in the months and years to come. UK commercial broadcasters, in particular, have seen their revenues tumble as advertisers have cut spending. Firms such as ITV, Channel 4, Channel 5, and UKTV which bankroll much of UK television drama are likely to be more cautious about investing in expensive programming. By contrast, the global streamers, like Netflix, Amazon, and Disney, have seen their subscriptions surge during lockdown – and could take even more market share.
Will the industry be able to recapture its record production high, set just last year? Says Charteris: "I think it'll be a while – at least a couple of years until it does."