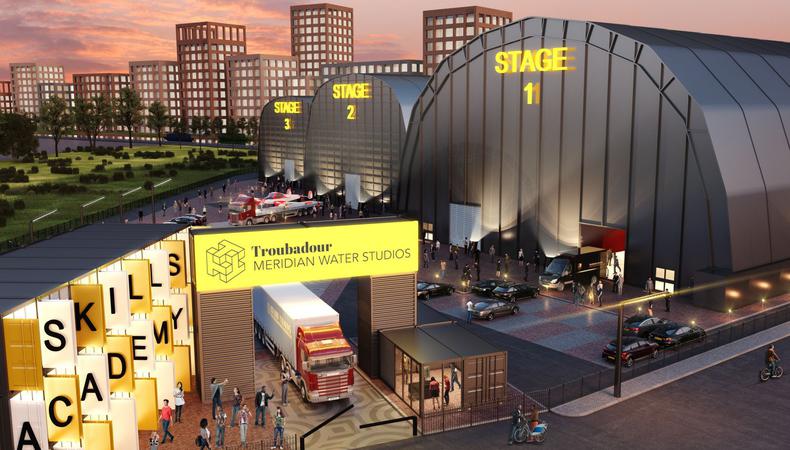 Amid worries about Brexit and the ongoing pandemic, the UK screen industry continues to bet on expansion and future prosperity.
The latest announcement comes from Enfield Council, with the North London borough striking a deal with Troubadour Theatres to build TV and film studios at the £6bn Meridian Water development. Set to open later this year, the complex will be the largest within the North Circular and the closest to central London.
This comes just months after Hollywood's Hackman Capital Partners agreed a £300m deal to build the Eastbrook Studios complex in Dagenham, east London, a site which will boast 12 sound stages, thee acres of backlots, and a pedigree that includes stablemates Silvercup Studios in New York, home of The Sopranos.
Enfield's new complex will be known as Troubadour Meridian Water Studios, and will be housed on a six-acre site with at least five purpose-built sound stages. The team have also announced detailed plans unveiling ambitions for the complex to be a creative hub. Training and support will be provided for the media sector to provide local employment including a Kickstart scheme for unemployed 18–24-year-olds, and an on-site skills academy to train local residents to work in the film and TV industry.
Looking for your next TV role? Check out our UK castings
In a statement, Enfield Council leader Nesil Caliskan said: "This agreement will plug the local economy of Edmonton and Enfield into the dynamic international film and media sector and means Enfield is poised to become one of the leading London boroughs for high-end television and film production."
He added: "The provision of a skills academy will give Edmonton's residents a way of entering the film and TV industry, raising aspirations and improving their employability."
The CEOs of Troubadour Theatres, Oliver Royds and Tristan Baker, said the complex "will not only attract world-class film and television productions to the area, but also the Skills Academy will have an immediate positive and demonstrable local impact in an area currently going through urban and cultural regeneration."
Why now?
Despite all the worries from the pandemic and confusion over Brexit, demand for high-end screen content has skyrocketed in recent years, with spending on UK production hitting £3.6bn in 2019. Demand has accelerated during the pandemic and there is nothing to suggest this will stop anytime soon.
Answering this demand, broadcasters and streamers have been investing heavily in the UK, with Disney – home of the Marvel Cinematic Universe – in a decade-long deal that locks up most of Pinewood Studio's capacity, Netflix building a permanent production hub at Shepperton Studios, and Sky building a vast new film and TV studio complex in Elstree.
Many other projects are progressing around the country, from First Stage Studios in Edinburgh, Littlewoods Film and TV Studios in Liverpool, and a major expansion at Twickenham Film Studios in west London.
What's next?
While the world waits anxiously to see what form theatre and cinemas are in after the traumas of the Covid-19 pandemic, actors and all those involved in the entertainment industry should take this vote of confidence by domestic and global investors as a sign that the future still looks good for the UK's creative industries.