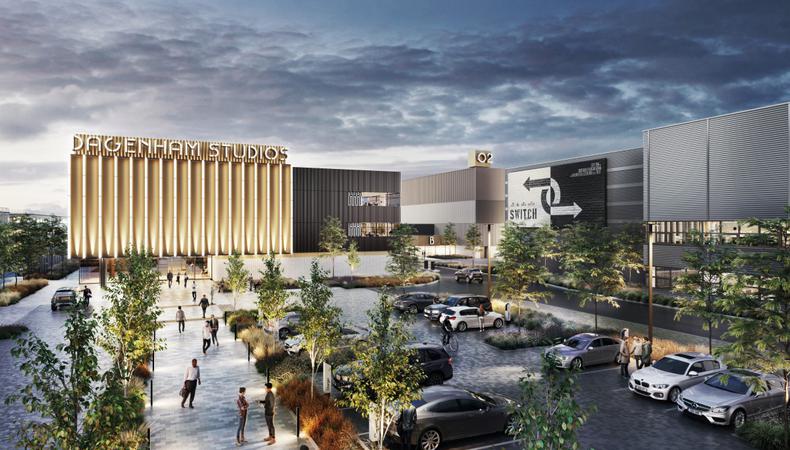 Investors are continuing to pour millions of pounds into developing new UK studio space, betting that the country's film and TV production boom will continue despite the Covid-19 pandemic.
Earlier this month, Hackman Capital Partners, one of Hollywood's biggest property developers, agreed a £300m deal to build the Eastbrook Studios complex in Dagenham in east London.
The site will include 12 sound stages and three acres of backlots, and is expected to be completed by 2023 with some filming beginning as early as mid-2022.
Hackman owns some of America's most well-known studios complexes, including Culver Studios in Los Angeles and Silvercup Studios in New York, where The Sopranos was shot.
Announcing the deal, Darren Rodwell, leader of Barking and Dagenham Council, said: "Dagenham used to be famous for factories and Fords but in the future, we will be equally famous for making films."
On the surface, the timing of the deal seems odd. Hackman's investment was announced in the midst of a second Covid-19 lockdown in England, which has forced cinemas to close. Film and TV production, although continuing, has been hugely disrupted since March.
However, UK production levels are expected to be buoyant next year and beyond, fuelled in particular by increased commissioning from streamers such as Netflix, Amazon, and Disney+, which have thrived during the pandemic.
Many 2020 TV and film shoots have been pushed into 2021 due to the coronavirus hiatus. These will vie to film on top of a wave of recent orders from broadcasters and streamers, creating huge demand next year for studio space amid industry talk of a forthcoming production "traffic jam."
A vote of confidence in UK film and TV
Adrian Wootton, chief executive of Film London and the British Film Commission, described the Dagenham deal as "a real vote of confidence in our industry's ability to return to the growth we saw prior to the pandemic and exceed it in coming years."
Leading producers have complained for years about the challenge of locating studio space in the UK, amid record levels of production. Spend on film and high-end television hit an all-time high of £3.62 billion in 2019, according to the BFI, with the UK hosting features such as No Time to Die and Tenet and dramas including The Crown, His Dark Materials, and Outlander.
Demand for studio space became even more acute last year after Disney and Netflix signed long term leases with Pinewood Studios and Shepperton Studios respectively, which effectively saw them take over most space at the facilities.
A raft of other studio developments are underway throughout the UK, all hoping to tap into demand for production facilities.
US firm Blackhall Studios is to plough £150m into building a studio complex near Reading which will target large-scale film productions. Blackhall currently runs a major production hub in Atlanta, Georgia, which has been home to shoots such as Godzilla: King of Monsters, Venom, and Jumanji: The Next Level.
Meanwhile, Ashford International Film Studios in Kent was granted consent by the local council in April. The £250 million large scale development on a 15-acre site is being carried out by The Creative District Improvement Company and Quinn Estates, with opening set for 2022.
Looking for your next TV role? Check out our UK castings
Elsewhere, north London's Elstree Studios – home to The Crown and Strictly Come Dancing – has won planning permission to build two new large stages, as well as workshops and offices.
Broadcaster Sky has also secured planning permission to build a major new film and TV studio in Elstree on a 32-acre site that is walking distance from Elstree Studios. Sky Studios Elstree will open by 2022, and will include 12 sound stages, production offices, a set construction workshop, screening cinema, a multi-story car park, and post-production and digital facilities. The project is backed by Sky parent company Comcast and will be delivered in partnership with NBCUniversal.
West London's Twickenham Film Studios is also expanding following a £50m investment, also from The Creative District Improvement Company.
Screen Scotland appointed First Stage Studios in March to operate new studios in Edinburgh. The site in Edinburgh's Port of Leith has previously been used as a base for Marvel's Avengers: Infinity War.
Developer Capital & Centric also hopes to start work before the end of the year on the long-awaited Littlewoods Film and TV Studios in Liverpool. In August, the studios secured a £17 million funding commitment from the Liverpool City Region Combined Authority's Strategic Investment Fund. This will be used as part of an overall £54 million regeneration project that aims to turn the derelict Littlewoods pools building into a new home for film and TV production in the region.
Meanwhile, Pinewood in September submitted planning application for a major expansion to its studio in the UK, with new production facilities of up to 350,000 sq feet.
Good news for actors?
With cinemas and theatres shuttered, good news has been in short supply in 2020, and the parts of the culture sector that have survived have done so on fumes, innovation and government largesse. Yet demand for content has never been the issue – it has only increased, and the UK's talent base remains enviable. Against that backdrop, and with a potential vaccine in sight, the clear-eyed investment of so much cold, hard cash is something that everyone involved in the production industry should find reassuring.