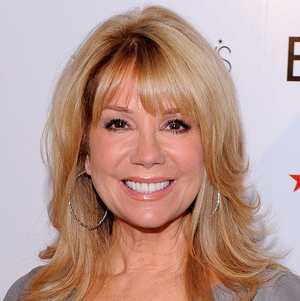 "I've interviewed every mover and shaker in my career, and nobody's life comes anywhere near Aimee's," says Kathie Lee Gifford backstage at the Neil Simon Theatre. "Show me somebody who's been kidnapped once by the KKK, let alone twice."
The Aimee under discussion is the largely forgotten early-20th-century evangelist Aimee Semple McPherson, founder of the Foursquare Gospel and the woman at the center of Gifford's Broadway musical "Scandalous: The Life and Trials of Aimee Semple McPherson," opening Nov. 15. The most famous woman of her generation, McPherson lived the kind of life that reads like fiction. Yes, she was kidnapped by the KKK. Yes, she was, by even the accounts of skeptics, so successful as a faith healer that she became a media sensation in the days before radio and television. And she was put on trial for mysteriously disappearing for five weeks.
Portraying McPherson, in all her complicated glory, is Broadway favorite Carolee Carmello. The singing actor first heard about the show when a co-worker mentioned he'd been part of a reading. After hearing Aimee described, Carmello says she immediately asked, " 'Who's playing my part?' And it was Christine Ebersole, and I went, 'Oh, all right.' "
At that point in the show's development, McPherson was intended for two actors, one older and one younger. When Ebersole left the project and Carmello came on board, she asked Gifford if she'd ever consider rewriting the role for one actor. Sitting on a couch in her dressing room during tech week, she laughs with mock rue at that suggestion.
"Any time during this process that I've been tempted to complain about how hard I'm working I have to remind myself, It's your own damn fault!" she says with a laugh. "What was I thinking? I have to do this eight times a week!" More seriously, she calls playing McPherson a "once-in-a-lifetime kind of opportunity."
And why wouldn't she? Even forced into the confines of a two-and-a-half-hour musical, McPherson's life as re-created by Gifford is still astonishing. "We tried to hone it down to what is the most accessible story for a secular audience," Gifford says. "This was not written to be preached to the choir. This has the power to really impact a lot of young women's lives and inspire them that if they have a pulse, they have a purpose. Aimee was a fierce force of nature in feminine form, who also happened to be fearless, so you can add that 'f' too. And you can add another 'f' if you like!"
McPherson has also become a footnote, something that would have been unthinkable at the time of her heyday. Bringing to life a woman who "changed the face of America," as Gifford puts it, but has little name recognition for audiences today brings its own set of challenges for Carmello.
"I do feel some responsibility, not to be accurate word for word or moment to moment, but to the spirit of that person," she says. "To make sure people understand who they were. Maybe some of the details have been smoothed over to tell the story. But to give them a fair hearing."
She's also not concerned with doing an imitation of McPherson, whose voice on surviving newsreels from the era has a nasal shrillness. Carmello watched the videos available on YouTube instead to get a sense of the powerful charisma that seduced everyone from belligerent atheist H.L. Mencken to Charlie Chaplin—whose life story is playing on Broadway a few blocks south and who makes an appearance in "Scandalous."
"Is Aimee in 'Chaplin'?" Carmello asks Gifford when the topic of the friendship between the two comes up.
"No!" Gifford says with a sigh. "That's what happens in the history books. Women are written out."
Not if Gifford and Carmello have anything to say about it.