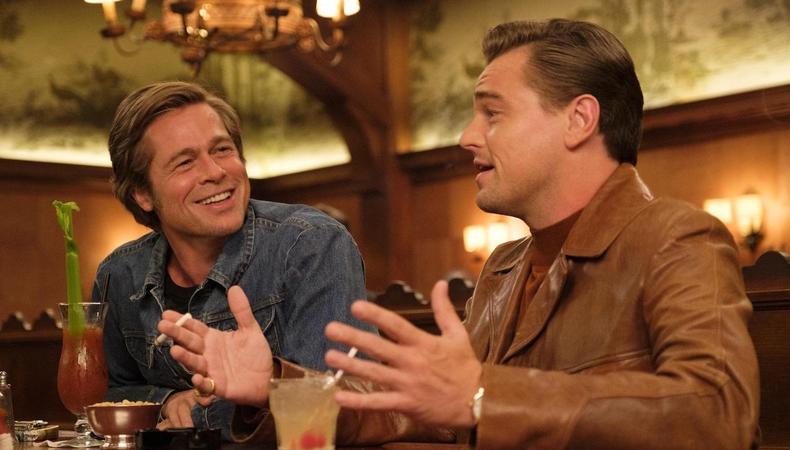 Kicking off both the 2020 awards season and a new decade, the 77th annual Golden Globe Awards honored the brightest talents of film and television. Presented by the Hollywood Foreign Press Association, a group of less than 100 media journalists, the Ricky Gervais–hosted Jan. 5 ceremony at The Beverly Hilton in Los Angeles crowned newcomers and veterans alike, while acknowledging and celebrating the state of the industry today.
READ: Everything You'd Ever Need to Know About the Golden Globe Awards
Emerging as the evening's top film winners were "Once Upon a Time...in Hollywood," earning the Globes for best motion picture comedy or musical, screenwriter Quentin Tarantino, and supporting actor Brad Pitt, and "1917," which took best motion picture for drama and the coveted director prize for Sam Mendes. Netflix, which went into the ceremony with the most nominations for both TV and film, earned two total, including for Laura Dern's supporting performance in "Marriage Story."
The leading acting prizes went to Joaquin Phoenix for "Joker" and Renée Zellweger for "Judy" in the drama races, and, in comedy or musical, Awkwafina for "The Farewell" and Taron Egerton for "Rocketman" (also a winner for Elton John's original song for the film).
Korean filmmaker Bong Joon-ho, accepting the foreign film Globe for his critical hit "Parasite," had a message for American audiences in his speech: "Once you overcome the 1-inch tall barrier of subtitles, you will be introduced to so many more amazing films."
The Globes' TV results mirrored the 2019 Primetime Emmys in most of the female acting categories. Phoebe Waller-Bridge repeated her victories for BBC and Amazon Prime Video's "Fleabag," with a comedy actress win and the show itself taking the comedy series prize. "This really comes down to Andrew Scott," she said, dedicating her first win to her Globe-nominated co-star. "He could have chemistry with a pebble. I loved being Andrew's pebble in this."
Michelle Williams again won as leading limited series actress for "Fosse/Verdon," and Patricia Arquette earned another prize for her supporting work in "The Act." Olivia Colman, meanwhile, triumphed in the drama actress category for her work on Season 3 of "The Crown," eligible at the next Emmys.
The first category of the night, however, continued the HFPA's tradition of recognizing new and less obvious work. Ramy Youssef, creator and star of Hulu's modest comedy "Ramy," joked in his speech, "Look, I know you haven't seen my show. Everyone's like, 'Is this an editor?'.... We made a very specific show about an Arab, Muslim family living in New Jersey and this means a lot to be recognized at this level."
Limited series "Chernobyl" won its top category and for its supporting actor Stellan Skarsgård. "Succession," another HBO award-winning hit, took both best drama series and for leading actor Brian Cox. An absent Russell Crowe won the limited series actor prize for his work on Showtime's limited series "The Loudest Voice"; presenter Jennifer Aniston read his acceptance speech urging everyone to pay attention to the wildfires engulfing his native Australia.
Ellen DeGeneres accepted the second annual Carol Burnett Award in recognition of her enduring TV legacy. Acknowledging how the award's namesake inspired her comedy career, she added, "The real power of television for me is not that people watch my show, but that people watch my show and then they're inspired to go out and...make people laugh or be kind or help someone that's less fortunate than themselves. That is the power of television, and I'm so, so grateful to be a part of it."
Tom Hanks, accepting this year's Cecil B. DeMille Award, gave something of an acting master class in his emotional speech. "You're a dope if you don't steal from everybody you've ever worked with," he said, naming many of his impressive collaborators and getting choked up thanking his family. The eight-time Globe winner and 16-time nominee also threw in a key piece of advice: "Showing up on time is one of the greatest and most liberating acts you can give yourself."
For a complete list of Golden Globe winners, click here. And for more coverage of the 2020 awards races, stay tuned at Backstage!