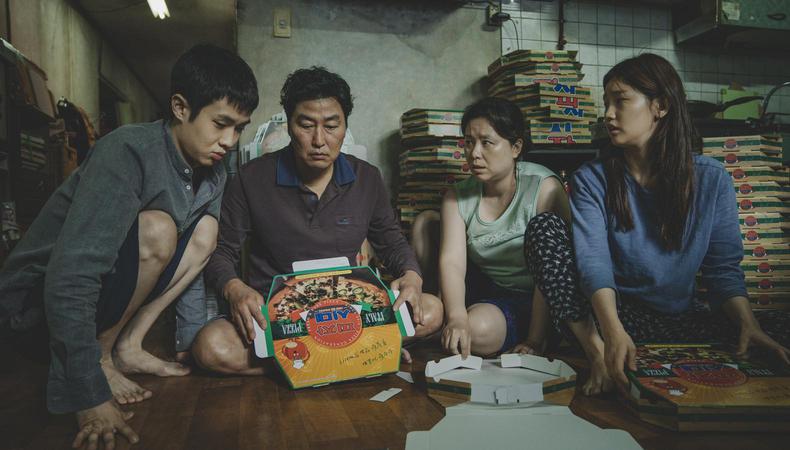 With a historic win for South Korean hit "Parasite," from writer-director Bong Joon-ho, Hollywood's annual celebration of moviemaking magic came to a close Feb. 9 at the 92nd annual Academy Awards.
The first foreign language film to win the top prize in the Academy's history, "Parasite" triumphed over "1917," "Ford v Ferrari," "Jojo Rabbit," "Once Upon a Time in Hollywood," "Little Women," "The Irishman," "Marriage Story," and the nomination list's leader, "Joker." Bong also earned the Oscars for international film (the first Korean film to win or be nominated), directing, and, with co-writer Han Jin-won, for original screenplay, the first Asian screenwriters to do so. The film, distributed by relative newcomer Neon, led the night with four total wins.
Accepting the trophy for best director, Bong called out his fellow nominees. As translated by Sharon Choi onstage, he said, "When I was young and studying cinema, there was a saying that I carved deep into my heart: 'The most personal is the most creative.' That quote is from our great Martin Scorsese. When I was in school, I studied Martin Scorsese's films. Just to be nominated was a huge honor—I never thought I would win. When people in the U.S. were not familiar with my films, Quentin [Tarantino] always put my films on his list…. Quentin, I love you. And Todd [Phillips] and Sam [Mendes], great directors that I admire. If the Academy allows, I would like to get a Texas chainsaw, split the Oscar trophy into five, and share it with all of you."
'Parasite' Director Bong Joon-ho: A Film's Genre Shouldn't Change Your Performance
Presented by the Academy of Motion Picture Arts and Sciences and broadcasted on ABC from the Dolby Theatre in Los Angeles, this year's Oscars ceremony again had no host, but opened with an exuberant celebration of 2019's cinema performed by Janelle Monáe and Billy Porter, jokes from former hosts Steve Martin and Chris Rock, and much more.
Results in the acting races echoed wins at this year's Golden Globes, Screen Actors Guild Awards, and BAFTA Film Awards: Joaquin Phoenix as the title role in "Joker," Renée Zellweger for playing Judy Garland in "Judy," Brad Pitt as an aging stuntman in "Once Upon a Time in Hollywood," and Laura Dern as a powerhouse lawyer in "Marriage Story."
Dern's win marked the first acting Oscar win for small- and big-screen distributor Netflix, one of the night's two victories for the streaming giant, with documentary feature winner "American Factory." "Some say, 'Never meet your heroes.' I say, if you're really blessed, you get them as your parents," said Dern in her acceptance speech. "I share this with legends, my parents, Diane Ladd and Bruce Dern."
The adapted screenplay prize went to writer-director-star Taika Waititi of "Jojo Rabbit." Best animated feature went to "Toy Story 4." Mendes' "1917" earned three total awards; in addition to Pitt's win, Tarantino's "Once Upon a Time" earned the production design prize; Greta Gerwig's "Little Women" won for costume design; and for Phillips' "Joker," Hildur Guðnadóttir became the third woman to ever win in the best original score category.
For a list of this year's Oscar winners and more, visit the Academy's official website.