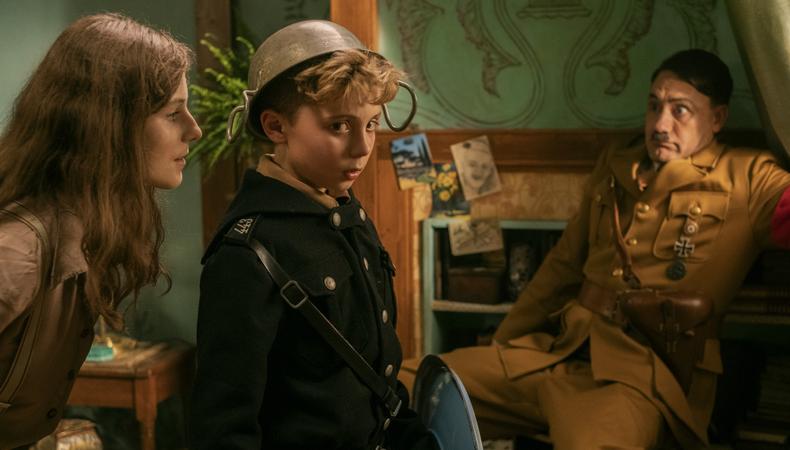 "Now I'm laying down," Taika Waititi says at the top of our interview, swinging his feet up onto the bench where he's seated in the Bowery Hotel's lobby café. He's in New York City for a long press day to discuss his latest film, "Jojo Rabbit"—he can't be blamed for getting comfortable.
Fans of Waititi might know him best for his quirky Kiwi comedy "What We Do in the Shadows," but he earned international recognition for helming 2017's "Thor: Ragnarok." As different as those two projects are, Fox Searchlight's "Jojo Rabbit" might feel the most out-of-left-field. Billed as an anti-hate satire, the film follows 10-year-old Jojo (newcomer Roman Griffin Davis), an enthusiastic member of the Hitler Youth on his quest to earn a spot as the Führer's go-to guy. As things begin to go wrong, he seeks the counsel of his imaginary friend, a less rigid, more ridiculous version of Hitler (played by Waititi) than what is known of the real dictator. Jojo is faced with navigating the meaning of right and wrong and grapples with who comes first—country or family—when he learns his mother (Scarlett Johansson) is hiding a Jewish teen (Thomasin McKenzie) in their house.
READ: An Earlier Oscars Mean a Crazier-Than-Usual Awards Season
That the topic of the film comes as a surprise to those who came to associate Waititi with the world of big-budget action films is intentional. "It's not the very obvious move after 'Thor,' but I thought the most expected thing would be to do another film like that," he says, leaning back in thought. "I tend to try and challenge myself each time I do a project, to make myself feel a bit nervous and on edge."
So he chose to revisit a satirical script he wrote in 2011 based on the novel "Caging Skies" by fellow New Zealander Christine Leunens. "The idea of me making a World War II movie about two kids forming a friendship, understanding each other, and bridging this cultural gap felt like a very un-Taika thing to do, so that means it's a Taika thing to do if it's not what's expected of me," he adds.
That meant lending his irreverently comedic and whimsical voice to the adaptation of Leunens' story. (Don't be surprised to find yourself laughing while crying midway.) But he never initially planned to act in it, too. As the studio signed on and others read the script, it was insisted that Waititi play the film's cartoonish Hitler. And despite his original plan, the multihyphenate naturally enjoys multitasking. "Directing yourself [while] acting in a role I've always found to be beneficial, because I can be in the scene and experience what's happening," he explains.
READ: Jojo Rabbit Wins the TIFF People's Choice Award
When he's not in front of the camera, Waititi's approach to directing requires the actors to be in the moment. "If I'm on set, I don't want to discuss their character shit because I need to move fast. Stop thinking about it, just do it fast," he says. "When you do that, people tend to forget what they had in their mind and concentrate on something physical and simple, which is just to say the lines and don't think about them. Then you're more human in a way, and I often think you get better performances out of that."
It's no surprise that "Jojo Rabbit" is filled with great performances, with Sam Rockwell, Rebel Wilson, and Alfie Allen rounding out the cast. And although Waititi is no stranger to directing big stars, the film's awards pull would seem to add something new to the experience—but he doesn't think about it that way. Whether it's a Marvel film or a period indie, Waititi just wants to get the job done.
"I don't really think there is much difference; you're still pretty much trying to do the same thing," he explains. "Create emotional story within a rectangle and try and keep some humans inside this rectangle and get them to say their lines—fast. Always fast."
This story originally appeared in the Dec. 3 issue of Backstage Magazine. Subscribe here.