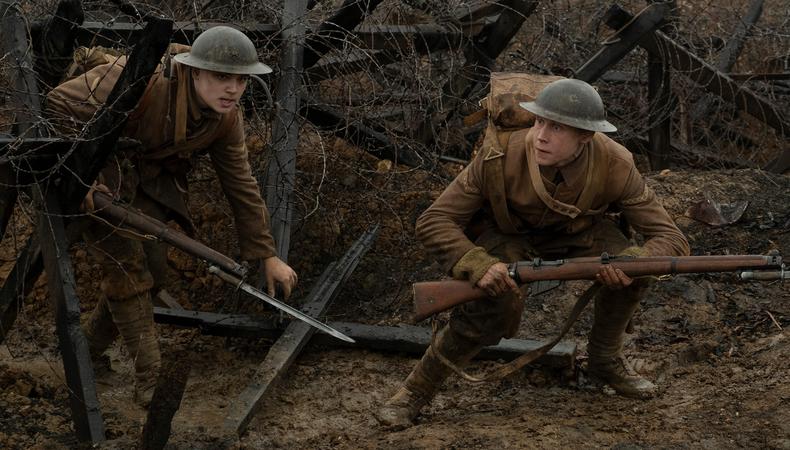 Hosted by Graham Norton on 2 February at the Royal Albert Hall in London, the 2020 British Academy of Film and Television Arts (BAFTA) Awards honoured the best filmmaking of last year. In an especially competitive year, 1917 and its director and co-writer Sam Mendes emerged as the evening's clear winner, taking home seven trophies in total, including for directing, outstanding British film, and best film.
The story of two British soldiers in the trenches of WWI, filmed as one long tracking shot and featuring impressive visual effects, arrived late in this year's awards season, notching surprise wins at the Golden Globes and then taking the top prize from the Directors Guild of America Awards. It's now up for 10 Academy Awards—how many it could win will be revealed at that ceremony on 9 February. Last year's top BAFTA winner, The Favourite, earned an Oscar for leading actress Olivia Colman but ultimately fell to best picture winner Green Book.
Bong Joon-ho's Parasite and Todd Phillips' Joker, both nominated for best picture at the Oscars alongside 1917, also came away from BAFTA victorious; the former earned the non-English film prize while the latter notched wins for leading actor Joaquin Phoenix, original score, and, for the first time in the organisation's history, casting. With her win, Shayna Markowitz became the first casting director to earn a competitive award from a major voting body.
It's About Time Casting Directors Were Given Oscars—Here's Why
Echoing the 2020 Writers Guild of America's awards, also held this weekend, Bong and Han Jin-won's Parasite and Taika Waititi's Jojo Rabbit won in BAFTA's original and adapted screenplay categories, respectively. Phoenix was not the only repeat winner in an acting category after the Globes, Critics' Choice, and Screen Actors Guild Awards. Renée Zellweger of Judy, Brad Pitt of Once Upon a Time in Hollywood, and Laura Dern of Marriage Story all added more gold to their collection. Michael Ward, star of Top Boy and Blue Story, earned the EE rising star BAFTA. Following its domination of this year's Annie Awards, Netflix's Klaus won the animated film prize.
For a full list of winners and more on this year's EE British Academy Film Awards, visit the official site.
For more from Backstage UK, check out the magazine.