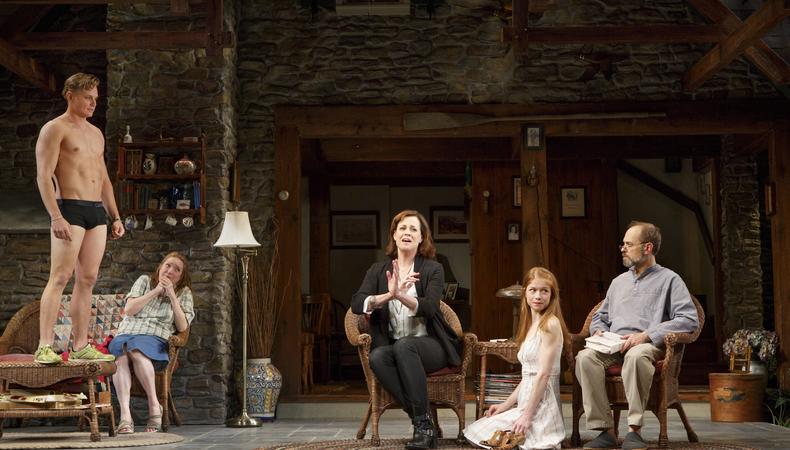 Upon meeting Billy Magnussen, you might be immediately struck by his outgoing, friendly personality, not unlike the character Spike he plays in Christopher Durang's "Vanya and Sonia and Masha and Spike" on Broadway. "He looks at life with such joy. He's not mean," Magnussen says about the character. "He's not malicious. He really wants to know the best in everyone. He's a little doofy, but he really is a sweetheart." Spike is an actor dating Sigourney Weaver's Masha. His crowning achievement is almost getting the lead in "Entourage 2."
Luckily, Magnussen has been more successful in his career than Spike. He started acting after ripping his hamstring wrestling in high school and discovering that drama class was the place to meet girls. He studied at the North Carolina School of the Arts and made his Broadway debut in "The Ritz" in 2007. In addition to playing Spike—a role he originated at the McCarter Theatre in New Jersey—eight times a week, he regularly plays gigs with his band Reserved For Rondee and they just finished recording their first album. He also has a role in the film "The Brass Teapot," about a couple who finds a teapot that gives them money when they hurt themselves, in theaters on April 5.
Magnussen chatted with Backstage about his worst audition, his fitness regime, and how to get the roles you want.
Know your strengths
Magnussen's worst audition was for "South Pacific." It was his first musical audition and he says he was "stoked" and prepared to nail it. "I literally get out of the audition five minutes later and my agent calls me and he's like, 'Hey Billy, listen, so we're not going to do musical theater auditions anymore. We're just going to pass that whole genre,'" he says. "I guess it was that bad that they were like no singing for you." Magnussen doesn't seem too broken up about it, though. He admires the art form, but admits that singing isn't his strength, so now he sticks to straight plays. Even in Reserved for Rondee, he plays guitar and synthesizer. "The fact that I don't sing in the band should be appealing to people," he says.
Eat right
As Spike, Magnussen spends a lot of stage time in his underwear. In order to stay in such good shape, he runs and goes to the gym five times a week, but he says the key is in the diet. "I eat eight times a day. But it's what my intake is," he says. "I eat all the time, but it's good stuff. You want to eat that chocolate? You want to eat that dessert? Have that apple or vegetable instead."
Acting is acting
Magnussen has worked in theater, film, and television (he played Casey on the soap opera "As The World Turns" for two years). He says, "Acting is acting. You have to know where you're living, so in that sense [the mediums are] not different." At the same time, the process might change given the genre or circumstance. He says he was very specific with his choices in creating Spike. "This whole character is very meticulous. It looks chaotic but everything's planned," he says. His costars gave him the freedom to explore and go to extremes to find this character. For example, in one scene he motorboats Kristine Nielsen, who plays Masha's adopted sister Sonia, and gets a huge laugh. He didn't tell her he was going to do it the first time. He says, "She was like, 'I love it. Keep doing it.'"
Look for work you want to share
Magnussen is very grateful for the way his career has been going. While he can't really control the roles he gets, he can choose the roles he goes in for. He looks for interesting stories and characters that he wants to share with the audience. He says the joy he gets out of "Vanya and Masha and Sonia and Spike" is the reason he is able to keep it fresh night after night. "There's nothing better than hearing someone laugh," he says.
Just go for it
When auditioning for those roles that speak to him, Magnussen puts everything into it. "When you really want a role, you just put your soul in it," he says. "I really think you can manifest your dreams. You can manifest your destiny. If you want something hard enough and you're willing to work for it, I think you can get it. I truly believe that."