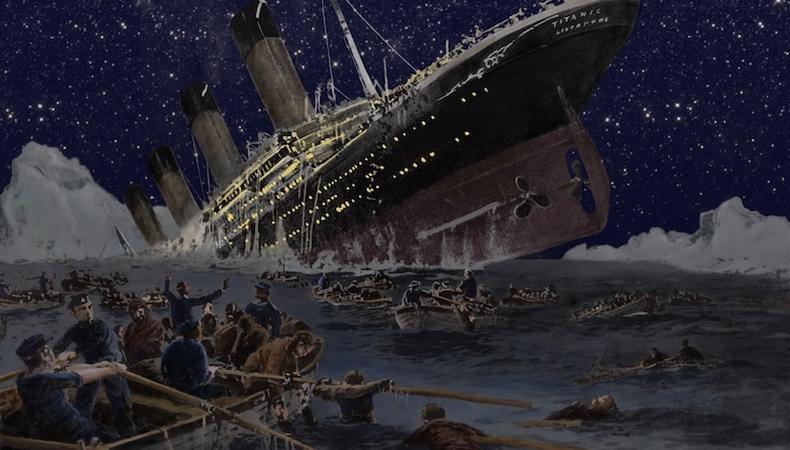 This summer, outside of Atlanta, a production of the musical "Titanic" is sinking—literally. "We're submerging actors into an actual lake with set pieces, so it's a puzzle to figure it all out," says Brian Clowdus, an actor who founded the Serenbe Playhouse, an immersive outdoor company.
Over the past decade, the Playhouse has built a reputation for pulling off some spectacular concepts for popular productions. In 2016, they produced "Miss Saigon" with a real helicopter landing nightly; last summer, it was "Macbeth" on a waterfall; this year, a sinking set. Clowdus—who's also directing the current production—has been eying an outdoor "Titanic" for over a year. With such gargantuan and potentially dangerous visions, how do they keep their actors safe?
"We've set up an environment where everyone feels like they're being elevated and empowered to do their best performances and to be upfront about what they can and can't do," says Jake Guinn, the fight and stunt coordinator of the production. Kathryn Huey, the Playhouse's director of operations, describes how actors were asked to rank and disclose their swimming experience. The cast includes some actors who can't swim and others who have diving and scuba experience.
The set for the outdoor musical is a five-story structure of metal scaffolding floating atop the surface of a calm Georgia lake. With audience seating burrowed into a sandy bank and the orchestra settled in an open-air shipping container, the Serenbe Playhouse team builds a new theater every performance they produce.
APPLY: Atlanta Now Casting: Portray College Students, Diner Patrons + Staff in 'After'
In "Titanic," the set structure—which resembles the skeleton of the historic ship—is connected by the cast in the opening number and then deconstructed and submerged when the sink ships. Engineering informs the design and direction; the structure, after all, has a weight capacity. "We've been working hand-in-hand with Equity [the nation's stage actors union]," says Clowdus, "and they've never had a show put in a lake at this scale, but they've dealt with shows that are in water and shows that have motors and electronics, so they've really helped us guide this process." Equity confirmed their participation in the process. (This type of involvement is what actors can and should expect for a stunt of this caliber!)
"Usually with a theater, you have the fire marshal come once a year," says Joel Coady, the Playhouse's director of production. "The marshal comes about once a week for us."
Scenic designers at Serenbe are often collaborating with structural engineers, general contractors, government regulators, and a construction firm the theater partners with year round. "We deal with a lot more of the logistical planning and preparation part than other companies might have to go through," says Coady.
Performing outside also provides variables beyond calculation. "Mother Nature is our leading lady," says Clowdus, "and there's only so much we can control at Serenbe Playhouse.... It's not a playground for actors who need their indoor dressing room and their AC on. I always say that there are no divas on the farm because, you know, there can't be. You're gonna get hot, you're gonna get covered in bugs, that's just part of the gig—we can't control these elements."
Last summer, during "Macbeth," water snakes inhabited the aquatic set; while perhaps the snakes were an apt metaphor for the Macbeths, they posed a risk to the actors. The playhouse brought in wildlife experts to assess the risk and protect the snakes (luckily, they were not venomous). "These animals are allowed to be here as much as we are," says Coady. That particular production also had its waterfall set washed away during a particularly violent summer downpour. But the Serenbe team flew into action, reassembling the production before the next performance.
"Not only are we outdoors, but every time we do a new set, we're basically creating a new theater from the ground up," says Clowdus. "Actors who work with us need to have a sense of joy and adventure of it all—and there needs to be a little bit of the pioneer in them."
"Titanic" at Serenbe Playhouse is running July 11–Aug. 12. For more information, click here.
Check out Backstage's theater audition listings!