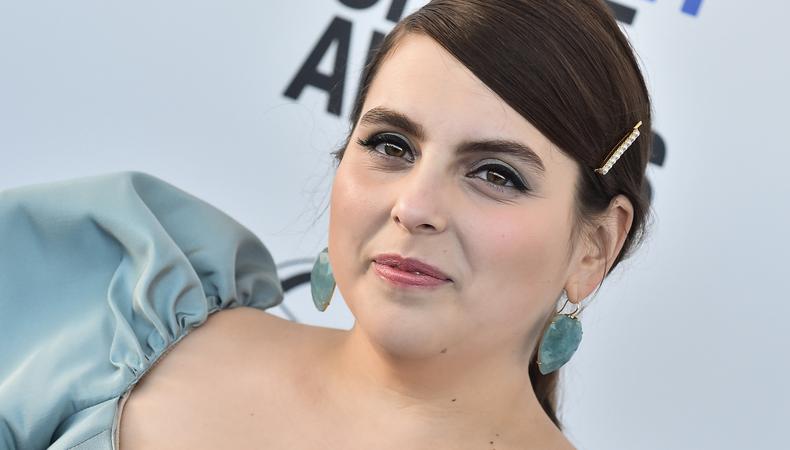 "In the Envelope: The Actor's Podcast" features in-depth conversations with today's most noteworthy actors and creators. Join host and awards editor Jack Smart for this guide on how to live the creative life from those who are doing it every day.
Beanie Feldstein, a theater kid through and through, now finds herself a veritable film and TV star. "I always say that, for theater, you can really practice," she says when asked how she approaches stage performance versus screen performance. "But for film and television, you can't emulate what it's like to be on a professional set."
Not that it's stopped her from racking up SAG and Golden Globe Award nominations. "I actually feel way less nervous on a set than I do on stage, which has been a really huge surprise to me," she adds. "I feel like a sponge. I'm trying to soak [up] all the knowledge and goodness that I can."
At this particularly thrilling point in her career—portraying Monica Lewinsky and producing on FX's "Impeachment: American Crime Story," starring in A24's Stephen Karam family drama "The Humans," and headlining this spring's Broadway revival of "Funny Girl"—Feldstein has harnessed all that knowledge. Her artistic process, regardless of project or medium, has become crystal clear: "Acting is a team sport." Feldstein's most inspired work, she explains, comes from bonding with collaborators who can't help but become family.
"I'm such a people person," she says with a smile. "I always just feel like I can go my deepest and do my best if I know the people around me, whether that's other castmates or the crew—another imperative part of the process."
Credit her childhood, spent performing community theater and studying at the Stagedoor Manor theater camp, for that philosophy. "These people are going to catch you if you fall." Sometimes, as with her Broadway debut in "Hello Dolly!" that's literal; "[my co-star] Taylor Trensch basically picked my body off of the ground multiple times," she remembers. "So if I don't know that he's gonna do that, then how can you go onstage with these people every night?"
Born in Los Angeles to a family of Hollywood professionals (including her brother Jonah Hill), Feldstein opted to study sociology at Wesleyan University instead of going to a drama conservatory: "School really mattered, and I wanted that kind of true academic experience over an artistic experience," she says. Her breakout roles in "Neighbors 2: Sorority Rising" and the SAG-nominated "Lady Bird" led to an award-winning turn opposite Kaitlyn Dever in Olivia Wilde's "Booksmart," as well as in "How to Build a Girl"; she also made guest appearances on "The Simpsons," "Grey's Anatomy," and "What We Do in the Shadows."
"Every opportunity is going to fill you up in certain ways and deplete you in certain ways," Feldstein says of building characters. "In the Venn diagram of the character and of me, where does that overlap? And then, what do I need to sort of take away from my own instincts, or push forward in my own instincts? [I] navigate what parts of Beanie I need to tuck away and what parts [I] need to push forward.
"And then, if you're playing someone real, as I have recently," she adds, "you have to layer in the historical truth of the moment." That actorly task has rarely had higher stakes than Feldstein playing Lewinsky, a fellow producer of "Impeachment"—and, as she puts it, "a real person—a true living person who texts me and calls me." Created by Ryan Murphy and written by Sarah Burgess, the limited series reenacts President Bill Clinton's 1990s sex scandal, including the FBI's brutal interrogation of Lewinsky and her betrayal at the hands of friend and colleague Linda Tripp (played by Sarah Paulson).
In her exhaustive research throughout the pandemic, Feldstein listened to the tapes that Tripp secretly recorded opposite Lewinsky. "As awful as that was, it was equal parts helpful, because all you ever want as an actor is to know what your character's thinking and feeling at every given moment. And I had that. But I had that for the worst reason!"
An entirely different approach was required for "The Humans," Karam's six-person, horror-tinged family drama he adapted for the screen, as well as for the ongoing, years-long filming of Richard Linklater's "Merrily We Roll Along," about which Feldstein can say very little. But for all of her upcoming roles, including Fanny Brice in "Funny Girl," it's certain that the collaborative part of the process will continue to fuel her.
"I can't wait to meet my team," she says. "I feel like that's the thing that I wake up every day excited for: Who's this new family of mine going to be?"
Tune into Feldstein's interview wherever you listen to podcasts. And for a glimpse of the stars of tomorrow, check out Backstage's Emerging Talent Portfolio here.
Listen now on: